Shun and Global are two brands with a very rich history of knife making.
And they are both great brands for anyone looking for Japanese-style knives.
Despite those similarities, these two brands are very different, and they are designed for different types of cooks.
But which one is the best pick for your kitchen?
For most chefs, Shun is the better option.
The brand creates knives that are top of its class, with premium materials, great functionality, and jaw-dropping designs.
And while Shun knives are a bit expensive, they are worth every single penny.
However, Global knives are still a great budget option for some chefs and cooks.
In this Shun vs Global comparison, we'll be diving deep into the main features of both brands to help you distinguish which one is right for you.
| | | |
| --- | --- | --- |
| | Shun | Global |
| Price | $$$ | $$ |
| Construction | Forged, Damascus steel | Stamped |
| Are there block sets available? | Yes | Yes |
| Design | Japanese-style | Western-style |
| Handle material | PakkaWood | Stainless steel |
A Brief History Of Global
This brand was founded by Mino Tsuchida, otherwise known as Mr. Global in 1985.
The founder collaborated with designer Komin Yamada, who is now known to be a visionary to create a collection of 12 knives with an all-steel design, which is still the signature feature of this brand today.
Throughout the years, the company has come up with a wide variety of knives for customers to choose from, and today, you'll be able to find hundreds of knives and knife accessories in their catalog.
And despite having such a wide selection of products, Global is still committed to making sure every single one of their knives is made with close attention to detail and is of the highest quality.
A Brief History Of Shun
The origins of this brand can actually be traced back all the way to 1908, in Seiki, Japan.
They began when Saijiro Endo founded the KAI Group, a company that produces kitchen cutlery of different varieties.
The company takes its inspiration from the rich tradition of Japanese knife-making, which is famous all around the world.
They only began selling to the Western market, however, in 2002, when the Shun brand was launched.
Shun is known as one of the best brands for Japanese-style kitchen cutlery, and since its launch in 2002, it has slowly gained the respect of the worldwide culinary community.
Related: Best Shun knives & knife sets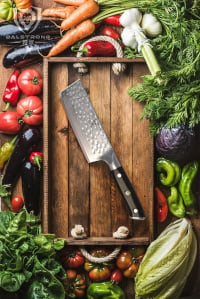 Want FREE Knives?
We give these knives a quick twirl and review, and then we pass them on to a few lucky home chefs!
By subscribing, you agree to get emails from me, Ryan Leavitt. I'll respect your privacy and you can unsubscribe any time.
Shun Vs Global – A Head To Head Comparison
Design
Shun knives have a pretty straightforward and classic design.
They all have the signature look of a Japanese knife, with either a rounded contoured handle or a D-shaped handle for a more comfortable grip.
Depending on the collection you choose, you can either have a Damascus finish, which features swirly patterns on the blade, or you can have a plain matte finish as seen in the Kanso collection.
They also have a collection that features a blade with a swirly Damascus pattern towards the edge and a hammered pattern closer to the top of the blade.
This design comes from the Premier collection, which is one of the brand's most premium and sought-after lines.
Global, on the other hand, will usually feature very unique designs with their products.
Their knives feature an all-steel design, which is very unique in the knife world.
At first glance, it might seem that the entire knife is made out of a singular piece of stainless steel, but that isn't the case.
The way these knives are made is by sandwiching the blade between two solid pieces of stainless steel and seamlessly combining all the elements.
That is why their products have such a sleek and distinct look.
Another defining feature of these products is the recessed black dots placed on the handle.
This not only adds contrast to their design but also allows you to have a non-slip and hygienic grip on the blade.
The handles also have a well-placed spot on them where one can rest their thumb for even more functionality.
Construction
Next up, we're going to look at how the brands make their knives.
Global knives are known to have a stamped construction.
This means that the blades are cut or "stamped" out from a large sheet of stainless steel before they are treated to make them more durable, sharper, and have better edge retention.
Global blades are made with a stamped blade and two pieces of stainless steel that perfectly match to build the handle.
Their knives are made from CROMOVA 18 stainless steel, which is an alloy with Vanadium, Chromium, and Molybdenum.
This blend is known for creating blades with very sharp edges, great edge retention, and rust resistance.
The blades of Global products are also ice-tempered to a Rockwell rating of 56-58, which is a very good number for kitchen cutlery.
Shun knives, on the other hand, are built much differently.
For starters, all their blades are forged from a single piece of stainless steel.
But while they are all forged, the actual way the knives are made and the steel being used will vary depending on which collection you're shopping from.
Here are the types of steel used by Shun: VG-Max, Dual-Core VG10/VG2, VG10, AUS10A, and AUS8A.
All of these materials are high in carbon, which is an ideal quality for knife steel as it will help the blade retain its edge for much longer.
Sharpness
After being forged, Shun blades are then sharpened to a 16-degree angle on each side which is not as sharp as Global knives, which are sharpened to angles between 10 and 16 degrees.
However, this difference is hardly noticeable, especially when you take care of your knives properly.
One of the reasons you won't notice the difference is that Shun knives are double beveled, meaning both edges are sharpened, allowing the blade to glide through the different ingredients much easier.
That being said, Global knives are sharpened to a straight edge, which may take some time for you to get used to, but will be much sharper in the long run.
Again, as mentioned earlier this difference is very slight.
But when you're working in a professional kitchen do a lot of prep work every day, the difference might be clearer.
While Global knives are sharper, because of their construction they do not retain their edge as well as Shun products do, so there will be a bit of compromise regardless of which of these brands you end up choosing to buy.
Pros & Cons Of Shun
Pros:
All their knives will be razor-sharp right out of the box
Constructed with close attention to detail
A variety of designs to choose from
Comes with a limited lifetime warranty
Their blades have great edge-retention
Cons:
The brand is relatively expensive
Pros & Cons Of Global
Pros:
All their knives have a unique all-steel design
The handles are ergonomic and allow for easy grip
Sharpened to a very fine edge
The brand has a wide collection of blades to choose from
Their knives are generally more affordable than Shun
Cons:
They won't retain their edge as long as Shun products
Our Verdict – Which Is The Right Brand For You?
If you're a professional chef who has to prep a lot of food every day, you will need a top-quality knife.
That's why were recommend Shun, especially if you're willing to make an investment for premium products.
All Shun knives are made with expert craftsmanship and close attention to detail, and they will serve any chef well in the kitchen.
However, if you're looking for knives on a tighter budget, then we recommend you go for Global products.
Aside from being more affordable, they will be sharper than Shun ones right out of the box, and the all-stainless steel design is very eye-catching and unique.
On top of that, the brand also has very ergonomic designs that make their knives great for amateurs and professionals alike.
But as long as the brand you choose can serve all your needs in the kitchen and you enjoy using their products, then nobody can tell you that you haven't chosen the right brand for you!
Ryan Leavitt
Hi my name is Ryan Leavitt a Marine Corps Veteran and currently an over the road trucker (Long Haul). I am no expert chef but am enjoying preparing my own meals on the road and testing all the different knives.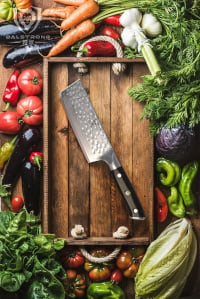 Want FREE Knives?
We give these knives a quick twirl and review, and then we pass them on to a few lucky home chefs!
By subscribing, you agree to get emails from me, Ryan Leavitt. I'll respect your privacy and you can unsubscribe any time.