Japan has a rich 800-year-old history of sword-making.
And when the samurai and their katanas were outlawed, bladesmiths used their sword-making techniques to create quality kitchen knives.
Nowadays, many professional chefs prefer using Japanese cutlery because of its superior features and functionality.
Shun and Kasumi are two of the most popular Japanese knife brands out there, but which brand is the better pick for you?
Many experts and professionals prefer the Shun brand, because the brand has a wide catalog with over 10 different collections, making it easy to find the right model for your kitchen.
Kasumi knives are fairly expensive and chefs don't have too many knives to choose from.
However, Kasumi is still a great brand for those willing to invest in a top-tier collection of blades.
In this Shun vs Kasumi comparison, we dive deep into the features and characteristics of both brands to make it easier for you to find the right pick for your kitchen.
| | | |
| --- | --- | --- |
| | Shun | Kasumi |
| Number of collections | 10 | 4 |
| Are there box sets available? | Yes | No |
| Lifetime Warranty | Yes | Yes |
| Handle material | PakkaWood | PakkaWood, Wood (depends on the model) |
| Edge | 16-degrees per side | 15-degrees per side |
| Price | $$$ | $$$$ |
Shun: Reaching the Peak of Perfection
Under the leadership of Saijiro Endo, Shun started as a tiny shop selling razors and pocket knives in 1908.
A few years later, he started forging kitchen knives in the same manner that katanas were forged.
Since then, this brand is considered to be one of the finest from Seki.
It's not a surprise to see these in many homes and even professional kitchens all over the country.
When his grandson took his place as chairman, Shun entered the competitive cutlery industry of the West.
This proved to be a good gamble as they are now world-renowned beautiful and functional knives.
Related: Best Shun knives & knife sets
Creating the Knife
The Japanese use high-carbon steel which results in hard knives that keeps their edge for a long time.
The downside of high carbon is that the blade tends to chip.
This is what Shun tried to correct by using VG Max – special steel exclusively used by the company.
Shun's knife-making process follows no less than 100 steps.
And most of it, particularly the forging and the honing, is done by hand.
This proves their commitment to the centuries of Japanese blade-forging tradition.
Essential Features
Shuns are deemed heavier than most Asian knives, but still lighter than their western counterparts.
The spine and the belly of the knife are linear, great for up and down motion chopping.
But their thin blades can still slice nearly transparent tomatoes.
Most of their variants have a full tang, thick half bolster, and a more columnar handle.
Depending on the series, the handle materials used are high-quality TPE, the wood resin PakkaWood and the Tagayasan which is famously used for katanas.
Except for their entry-level series, Shun is known for the stunning Damascus patterns on their knives caused by forging several layers of steel.
Pros:
Lightweight knives
Narrow, easier to grip handles
Beautiful Damascus-style design on the blade
Most have a lifetime warranty
Free re-sharpening service
Cons:
Slightly heavier than other Japanese knives
Many say Shuns are overpriced
Best-Selling Variant: Kanso 8-Inch Chef's Knife
Forged using AUS10A steel from tang to tip, this is razor-sharp and wonderfully balanced.
The dark Tagayasan wood handle matches the weathered-like blade, hiding imperfections and giving it a beautiful vintage look over time.
The simplest, most rugged-looking Shun is a huge favorite.
Kasumi: One Hundred Years of Honing Excellence
Sumikama, the company making Kasumi knives, has been in the cutlery industry since 1916.
Like most knife-makers of Seki, they acquired and honed the knowledge of bladesmiths of yore and are committed to keeping this tradition alive.
Today, they only have a few series which include the Damascus, HM Hammered, the Kuro, and Titanium, just to name a few.
Some of these variants received various awards abroad including the Design Plus in Germany (2002 and 2006) and at the Bocuse d'Or in France (2013).
Creating the Knife
Interestingly, most Kasumi knives are made with just one type of stainless steel – VG10 (HRC 59-60).
High in iron and carbon but has good levels of chromium, molybdenum, manganese, silicon, and vanadium, this intricate blend is tough, sharp, and flexible.
Only the Titanium variant is different as it makes use of Titanium steel, as the name implies.
What makes each Kasumi variant different is how it was forged.
For example, the Damascus is made with 32 layers of VG10 giving it that wavy pattern while the HM Hammered has those tiny craters on top of the sharpened bevel.
Essential Features
Kasumi knives are lightweight and razor-sharp, with a 15-degree angle on each side.
However, they don't have the conventional Japanese look.
Their Nakiris and Santokus, usually with a parallel spine and edge, are more curved at the bottom.
All their variants have a full tang and thick half bolsters which give the knife a good balance.
The riveted handles, narrow but arched at the butt, are made of high-quality plastic resin.
The most interesting series in the Kasumi line is Titanium.
The blades are given a cool blue and warm gold color while the handle has a sinuous contour for easy grip.
Pros:
Lightweight and razor-sharp
Slightly curved blades are easier on the wrist
Interesting silhouette on the handle
Cons:
Quite expensive,
Their smallest knives start at $100 or so
Best-Selling Variant: VG10 Pro 18-cm Santoku
Made from VG10, this blade is hard and holds its edge for a long time.
However, it doesn't have the vertical indentations on the bevel like most authentic Santokus.
But it is one of the most well-balanced since the whole knife – from the tang to the tip of the blade – is forged from a single steel piece.
The easy-to-grip cylindrical handle is made of a special resin with a dark marble appearance.
It's a no-nonsense knife. And sometimes, that's what you need.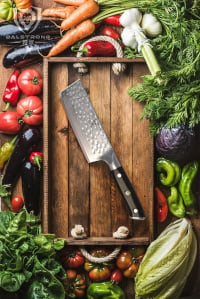 Want FREE Knives?
We give these knives a quick twirl and review, and then we pass them on to a few lucky home chefs!
By subscribing, you agree to get emails from me, Ryan Leavitt. I'll respect your privacy and you can unsubscribe any time.
In Summary
There is no doubt that when you get a knife from Seki, you're getting a remarkable piece.
But if you're looking for a whole lot of options when it comes to steel types, forging methods, and overall design, Shun can deliver better.
Compared to Kasumi which only has four variants, they have nearly a dozen.
And in that regard, if you're looking for a decent knife at a lower price, Shun has more selections.
Their Kai and Sora are considered by many to be good entry-level products at $50 or less.
Kasumi's cheapest is almost a hundred bucks a pop.
And with that free re-sharpening service, Shun is hard to say no to.
Ryan Leavitt
Hi my name is Ryan Leavitt a Marine Corps Veteran and currently an over the road trucker (Long Haul). I am no expert chef but am enjoying preparing my own meals on the road and testing all the different knives.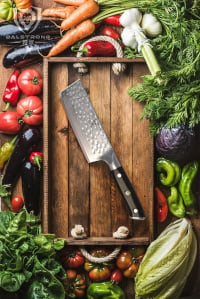 Want FREE Knives?
We give these knives a quick twirl and review, and then we pass them on to a few lucky home chefs!
By subscribing, you agree to get emails from me, Ryan Leavitt. I'll respect your privacy and you can unsubscribe any time.