Japanese kitchen cutlery is known worldwide for its incredible sharpness, functionality, and breathtaking designs.
And two Japanese brands at the top of their game are Shun and Mac, two incredible knife brands from Seiki City.
So, which one is the better pick?
If you're a home cook or someone starting their culinary journey, you'll find that Mac is the better pick.
Mac knives are affordable, incredibly sharp, and made with great craftsmanship.
On the flip side, Shun knives are fairly expensive but are worthwhile investments for professional chefs.
If you can't decide which brand to get for your kitchen, you've come to the right place.
In this Battle of Japan's Finest Blades, we put the Shun and Mac brands up against each other in a head-to-head comparison.
| | | |
| --- | --- | --- |
| | Shun | Mac |
| Price | $$$ | $$ |
| Number of collections | 10 | 7 |
| Lifetime Warranty | Yes | No |
| Free sharpening | Yes | No |
| Handle material | PakkaWood | Metal |
| Construction | Forged | Stamped |
Shun: A Hundred Years of Excellence
Shun, in Japanese, means the very specific time when food is at its ripest, most perfect taste.
This is exactly what Saijiro Endo, the company's founder, wants to achieve every time he forges and polishes a blade.
It has been over a century since Endo started his humble Seki business and, with all the accolades they have received, it looks like the brand has attained their very own Shun.
Creating the Knife
Seki has a long history of blade-smithing – the great katanas of brave samurais are from here.
So it isn't strange to see multi-national and/or world-renowned cutlers still stick to the old way for forging blades.
Shun is one of them.
While they employ state-of-the-art machinery in certain steps of their manufacturing process, a lot is still done by craftsmen manually.
Also, they have their proprietary VG Max, a very special steel blend that yields hard and sharp yet ultra-flexible blades.
Essential Features
There are almost a dozen series under the Shun brand: Fuji, Hikari, and Kanso, just to name a few.
Every series comes with different types of Japanese and a few Western-style knives: Deba, Santoku, Kiritsuke, etc.
Their entry-level series, the Sora, is the most affordable of all.
It looks like it, too, with its thick spine, partial tang, and thermoplastic handle.
The Dual-Core series is Shun's top variant.
Made from layered VG10 and VG2 steel and a Pakkawood handle, this can last a lifetime.
Shun's best feature, besides their very generous warranty offers, is their free re-sharpening service for all series.
Pros:
Many series to choose from
Sora, their entry-level variant, is quite affordable
Free re-sharpening service for all time
Cons:
Thicker spine and bolster make it heavier than most Japanese knives
Some say Shuns are a bit overpriced
Best Selling Variant: Sora 8-Inch Chef's Knife
This is made of VG10 steel core and 420J stainless steel outer layer.
The spine is thicker and the belly more curved, reminiscent of a European chef's knife than a Japanese Deba.
The dark-colored handle, with a decorative badge on the butt, is made of a thermoplastic material.
Of all Shun blades, this is priced most reasonably.
And for under $100, it's a decent enough knife even for professional chefs.
Mac: A Great New Knife on the Block
Mac's chairman, T.Kobayashi, experienced firsthand how tough it is to use a traditional German knife in the kitchen.
It is bulky and heavy, the sharp tip breaks off easily, and it's a pain to maneuver on the chopping board.
When he came home from a restaurant stint abroad in 1958, he began conceptualizing a knife that is lighter, sharper, and easier to use.
Kobayashi started with only two at the time.
Today, Mac offers several series and has sold over 30 million knives all over the world.
Creating the Knife
The whole production process of Mac involves 15 steps, starting from pressing out the basic contour of the knife from a steel plate and ending in a visual inspection before the final product gets packed.
Except for the pressing and baking, the whole process is done by hand by their skilled craftsmen.
The company doesn't have a specific designation for the steel they use.
But the steel has a high carbon content, fortified with various metal alloys.
For corrosion resistance and flexibility, they added Chrome, Molybdenum, and Vanadium.
For enhanced sharpness and durability, they added Tungsten.
Essential Features
Today, Mac offers seven series including the Professional, Japanese, and Damascus, just to name a few.
The Original, the first Kobayashi design, is made of an extremely thin (less than 2mm) and flexible blade with a curved rather than pointy tip.
It is full tang and triple riveted but doesn't have a bolster.
Instead, the wooden handle slightly extends to the spine for a better and safer grip.
The hole punched near the tip for hanging is an interesting addition since, at the time, blocks and magnetic strips weren't invented yet.
The newer variants that followed haven't changed much in terms of the overall look.
It seems like Mac stuck to T. Kobayashi's design because it worked.
Pros:
Hard but flexible
Extremely thin and sharp
Safety features
Some variants are affordable
Cons:
Most handles are made only of wood
Some variants are in the mid-range, the rest are quite pricey
Best Selling Variant: Chef Series 8-Inch Dimpled Chef's Knife
This is great for slicing almost any food because the spine is thin at 2mm, the belly is straight, and curves only towards the tip.
The vertical indentations that run before the blade's edge help to prevent food from sticking.
It has a full tang, no bolster, and the wooden handle is triple-riveted.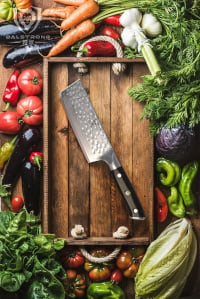 Want FREE Knives?
We give these knives a quick twirl and review, and then we pass them on to a few lucky home chefs!
By subscribing, you agree to get emails from me, Ryan Leavitt. I'll respect your privacy and you can unsubscribe any time.
In Summary
You can rely on the fact that any Japanese brand is good and, therefore, a must-have in the kitchen.
Shun, a reliable brand, is easy to like.
They are one of the few that offer free re-sharpening services for life!
But for a Japanese blade, it is quite heavy. And many have lamented that it is a tad overpriced.
Many love Mac because it is surprisingly light and easy to use.
Some may nitpick that these are stamped and, while that's a fair criticism, it doesn't matter in this particular case because of the hard work the craftsmen put in sharpening and polishing each piece before it gets delivered.
Ryan Leavitt
Hi my name is Ryan Leavitt a Marine Corps Veteran and currently an over the road trucker (Long Haul). I am no expert chef but am enjoying preparing my own meals on the road and testing all the different knives.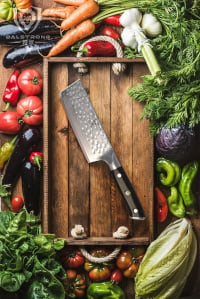 Want FREE Knives?
We give these knives a quick twirl and review, and then we pass them on to a few lucky home chefs!
By subscribing, you agree to get emails from me, Ryan Leavitt. I'll respect your privacy and you can unsubscribe any time.