There are a few companies considered to be the crème de la crème in the industry, most coming from the City of Blades, Seki.
Shun and Misono are two very good examples.
Both Shun and Misono are high-quality and high-priced Japanese knives. Since the two are made from top-rate raw materials and through meticulous traditional processes, it's quite difficult to pinpoint the better blade. However, Shun is the friendlier option for home cooks as this is double-beveled. Most Misonos are single-beveled, made for master chefs.
Shun
Misono
Headquarters
Seki, Japan
Seki, Japan
Steel Used
VG10, VG2, VG Max, etc
Swedish, MV Stainless, etc
Knife Construction
Forging
Forging

Mostly hand-made

Blade Specifications
Double-edged
Have single-edged variants
Premier Collections
Classic
Togiharu X Misono
Best Asset
Free re-sharpening service
Specifically made for professionals
Price Point
Quite expensive
Quite expensive
Read on, understand their differences, and hopefully know which will suit your needs best.
All About Shun
Saijiro Endo, a Seki local and the founder of Shun, first made razors and folding knives in 1908.
When he shifted to cutlery making years later, he became big all over the country.
His sons and grandsons were just as passionate about bladesmithing, continuing the business in the following decades.
On top of that, they were risk-takers.
Koji Endo, Saijiro's grandson, thought it best to bring their wares to the West in 2002.
This risk proved to be the best move for the company because, the very next year, they earned awards and, more importantly, the respect of the biggest names in the cooking and cutlery industry.
Related: What are the best Shun knife series out there?
Formulating the Steel, Crafting the Knife
The company makes use of different steel blends: VG10, VG2, AUS10A, and AUS8A are just some. All these are high in Carbon – a must-have trait in Asian-style knives.
But these are mixed with various other alloys like Chromium, Vanadium, and Molybdenum, eradicating the usual problems with Japanese steel.
They have come up with their very own, though: the proprietary VG Max; and this is used only for the best in their product line.
Shun still follows the traditional Seki method of creating blades: forging, cooling down, grinding, polishing, and sharpening.
But they have mechanized a few of the steps, ensuring that their products leave the factory in optimum shape.
The Shun Line
The company has come up with several variants over the years. They discontinued some and kept the best-sellers.
Here are what they currently have at the moment:
• Classic
• Classic Blonde
• Dual Core
• Premier
• Kanso
• Sora
• Seki Magoroku
• Premier Grey – this is the newest in their product line
Salient Features
One of the best qualities about Shun is that they have combined aesthetics and function quite well. They have some of the most beautiful knives ever made.
Let's focus on just one for now – possibly their best – the Classic Blonde.
• The core is made from the proprietary VG Max (HRC 60-61). It is then clad with 34 layers of Damascus steel on each side, creating a beautiful wavy appearance on the blade.
• These are double-beveled and sharpened to 16-degrees on each side.
• It has a partial, round bolster that is polished and smoothened.
• It has a full composite tang. This means that the steel used for the blade is different from the tang. However, the two are welded seamlessly before the latter gets completely sheathed around the handle. The polished but is the exposed steel end of the tang.
• The Wa handle (round) is made of light-colored Pakkawood.
This color of the handle is the only difference between the regular Classic and the Blonde one.
All About Misono
Established in 1935, this was a small, family-owned business that made vegetable peelers.
Several years later in 1960, they started to make Western-style blades.
News of their high-quality pieces reached abroad, especially among professionals.
Their craftsmanship is highly-acclaimed, even the chefs in the US White House kitchen use Misono.
Misono is now under the Korin Japanese Trading Company, also based in Seki of the Gifu Prefecture.
They also supply well-known brands like Masamoto, Glestain, and Suisin, just to name a few.
There isn't a lot of information regarding Korin except that it is a relatively young company, founded only in 1982 by Chiharu Sugai and Saori Kawano in Sakai, Osaka.
Formulating the Steel, Crafting the Knife
Just like its contemporary above, Misono utilizes different kinds of steel depending on the series they offer:
• Swedish Stainless
• Swedish High Carbon
• MV (Molybdenum and Vanadium) Stainless
• Molybdenum Stainless
Steel alloys from Sweden are a favorite among Japanese craftsmen because of their fine microstructure, especially after heating it, which results in incredible sharpness.
Molybdenum and Vanadium are also favorites because these increase the strength, hardness, and wear resistance of the blade.
There is also very little information about how Misono knives are made. Except for their 50 or so employees, no one is allowed inside their workshop.
But based on the pieces they produce, many experts believe that the process is the same: forging, cooling down, grinding, polishing, and sharpening.
The difference is that this is mostly done by hand. That's why they only produce 150,000 pieces every year.
The Misono Line
It's understandable why they are so secretive about the specifics of their steel blends or production methodology. Every single piece in their line is the embodiment of simple excellence.
Here are the different series under the brand:
• Swedish Carbon
• UX10
• UX10 Hollow Ground
• 440 Molybdenum Steel
• Molybdenum Steel
• Special Purpose
• Togiharu X Misono
Salient Features
Compared to Shuns which some would judge as 'beautiful', Misonos are unembellished and ever so plain. But each series is still different from the next, albeit marginally.
Let's focus on the qualities of their top-of-the-line variant, the UX10:
• The Swedish stainless steel blades (HRC 59-60) are mirror-polished.
• These are single-beveled (70/30).
Ready-made items are for right-handed clients, however, conversion for left-handed clients is offered. Check the specifics of this on their website.
• It has a partial, slightly long bolster that is rhomboid in shape.
The heel is straight and is perpendicular (90-degrees) to the edge.
• It has a full tang, completely covered by the handle.
• The composite wood handle is a mix between a 'Wa' (traditional round) and 'Yo' (Western-style), because it is narrow yet flat, with that distinct comma at the end, and triple-riveted.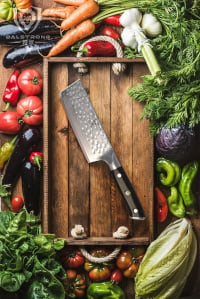 Want FREE Knives?
We give these knives a quick twirl and review, and then we pass them on to a few lucky home chefs!
By subscribing, you agree to get emails from me, Ryan Leavitt. I'll respect your privacy and you can unsubscribe any time.
The Price Difference
To make a good price assessment, let's take the similar knives from each company's best series: the standard 8-inch Chef's knife from Shun's Classic Blonde and the 8-inch Gyuto from Misono's UX10.
The former is offered at $200 (price may slightly vary where you're checking it out) while the latter is $50 more expensive.
Which Should You Get?
Both are pricey pieces. But that's a fact that can't be ignored since you're spending on quality – and that's priceless when it comes to kitchen knives.
Instead of focusing on the cost, it's best to see which knife fits your skill level:
If you've got intermediate cooking skills and just want a high-quality and reliable tool, go for the Shun instead of the Misono.
The latter would just be too much for you.
If you're a bit of an expert who can wield single-beveled knives, the Misono is a must-have.
Ryan Leavitt
Hi my name is Ryan Leavitt a Marine Corps Veteran and currently an over the road trucker (Long Haul). I am no expert chef but am enjoying preparing my own meals on the road and testing all the different knives.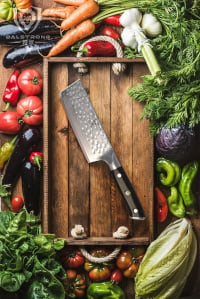 Want FREE Knives?
We give these knives a quick twirl and review, and then we pass them on to a few lucky home chefs!
By subscribing, you agree to get emails from me, Ryan Leavitt. I'll respect your privacy and you can unsubscribe any time.