Japan has long been known for its amazing blade craft, whether it's the katana or the kitchen knife.
And Seiki City, known as the City of Blades is home to two of the top Japanese knife brands on the market today; Shun and Miyabi.
While these two brands both offer great knives, most people as the question, "Which is the better pick for my kitchen?".
Most chefs prefer models from the Miyabi brand because each of their blades is handmade with incredible craftsmanship.
Craftsmen pay attention to the smallest details on Miyabi knives, and it clearly shows in their products.
On the other hand, Shun still boasts some benefits that will make it a more attractive option for some chefs.
And in this short yet comprehensive review, we will give you the information you need to get to a final choice.
| | | |
| --- | --- | --- |
| | Shun | Miyabi |
| Price | $$$ | $$$$ |
| Lifetime Warranty | Yes | Yes |
| Construction | Forged | Forged |
| Number of collections | 10 | 8 |
| Construction | Forged | Forged |
| Are they handmade? | Yes | Yes |
Shun: Continuing the Tradition of Japanese Craftsmanship
Saijiro Endo started his business in 1908 in Seki, making folding knives and razors.
His decision to shift to cutlery has proven to be lucrative for him in the decades that followed.
The company was renamed Kai under Koji Endo, Saijiro's direct descendant.
The next bold idea was to bring Seki's pride to the Western market.
In 2002, they formally introduced their blades to the US.
This scheme paid off immediately as they get accolades and the respect of professional chefs all over the world.
Related: Best Shun knives & knife sets
Creating the Knife
Shun has been using traditional processes in their production but looked for a better steel formulation to eliminate the main problem in Japanese high carbon steel: breakability.
VG10, VG2, AUS10A, and AUS8A are just some of these.
However, the VG Max which is made by and for Shun has a high carbon content for strength but also has other elements to make it resistant to corrosion and sudden impacts.
They also make use of precision forging technology so that layering different types of steel will be easier and more accurate.
Essential Features
Shun blades have that recognizable Japanese look: these have a thin spine and an almost straight belly.
Almost all have that pointy tip except for the Santoku.
But whichever variant you get, you can be assured of the 15-degree angle sharpened edge.
All have a full but narrow tang that extends after the handle and partial bolsters.
Shun's handles are made from these three, depending on the variant: Tagayasan, PakkaWood, or basic TPE.
But the detail that truly makes this brand stand is the pattern on the face of the blade.
This tells you the story of how intricately the knife was made and what a really special tool you've got.
Pros:
Durable and flexible
Stays sharp for a long time
Beautifully made
The entry-level variant is quite affordable
Cons:
The rest of the series is quite expensive
Miyabi: Marriage of Japanese Tradition and German Engineering
This brand is Zwilling J.A. Henckel's nod to Japanese innovation when it comes to blade craft.
Compared to other cutlers in Seki, Miyabi's factory is still quite small, employing a little over 200 people.
But each and one is a skilled artisan who understands Japanese craftsmanship.
Miyabi's are completely handmade from start to finish.
One knife takes 42 days to make so it's not a wonder why the company only makes a million or so in a year.
This makes a Miyabi a real gem.
Creating the Knife
Japanese steel is high in carbon which makes the blades hard, durable, and sharp but brittle, and easily breakable.
So Miyabi decided on layering different kinds of steel before forging it into one solid material to eradicate the foreseen flaw.
There are three steel formulas that the company uses: MC 63 (Microcarbide Powder with HRC 63), CMV 60 (Cobalt Molybdenum Vanadium with HRC 60), and Zwilling's special steel formulation with HRC 57.
Their forging methodology follows the traditional Japanese method.
However, Zwilling's Cryodur technology of hardening the steel has been incorporated to give flexibility and corrosion resistance to the steel.
Essential Features
Like Shun's, Miyabi's also has that distinct Japanese appearance with a thin spine and straight belly.
The difference is in the hand-sharpened edge: 9 degrees!
Besides the accurate slicing, this is virtually sharp for a lifetime.
It also has a full, narrow tang that runs past the handle.
Besides their basic variants which use triple-riveted POM handles, the rest has authentic hardwood: Birchwood, Black Ash, or PakkaWood, to name just a few.
These have the Damascus pattern on the blade, as well as several layers of steel, were used.
However, the amazing attention to detail can be seen in every part of the knife: thin yet rounded out edges on the spine, steel mosaic pin on the handle, and the carved (not stamped) logo.
Pros:
Durable yet flexible
Amazingly sharp edge
Does not require re-sharpening
Elegant overall look
Completely handmade
Cons: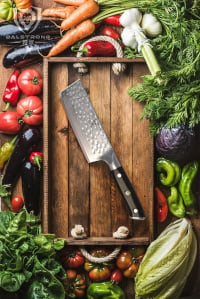 Want FREE Knives?
We give these knives a quick twirl and review, and then we pass them on to a few lucky home chefs!
By subscribing, you agree to get emails from me, Ryan Leavitt. I'll respect your privacy and you can unsubscribe any time.
In Summary
While the two are nearly at par in all aspects, the fact that Miyabi is practically hand-made cannot be ignored.
You can see the difference in the tiniest details – the rounded-off spine, the smooth feel of the handle, and even the intricate logo carving.
This also makes Zwilling's Japanese brand a bit more expensive.
Then again, it all boils down to the user.
The best thing for you to do is go out there and hold the knife in your hand.
Both can do wonders in the kitchen so you will have to settle for which feels good in your hand and your budget.
Ryan Leavitt
Hi my name is Ryan Leavitt a Marine Corps Veteran and currently an over the road trucker (Long Haul). I am no expert chef but am enjoying preparing my own meals on the road and testing all the different knives.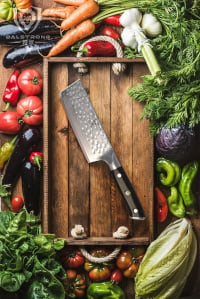 Want FREE Knives?
We give these knives a quick twirl and review, and then we pass them on to a few lucky home chefs!
By subscribing, you agree to get emails from me, Ryan Leavitt. I'll respect your privacy and you can unsubscribe any time.