Chefs from all over the world claim that Japanese chef knives are some of the best on the market.
And when shopping for Japanese kitchen cutlery, many people end up choosing between two top brands; Shun and Tojiro.
Both of these brands produce some of the best knives you can get your hands on, but which one is the better brand?
The answer to this question bounces back and forth because both brands produce great knives within the same price range.
However, many chefs prefer the Shun brand, but only because the brand has been around for much longer, making Shun the more reliable choice.
But if you go through Tojiro's catalog, you'll find a ton of top-quality knives that will be great additions to your kitchen.
If you're still not sure about which brand to choose, you've come to the right place.
In this Shun vs Tojiro comparison, we put these two top brands up against each other so you can figure out the better pick for your kitchen.
| | | |
| --- | --- | --- |
| | Shun | Tojiro |
| Price | $$$ | $$$ |
| Are there block sets available? | Yes | Yes |
| Lifetime Warranty | Yes | Yes |
| Free sharpening | Yes | No |
| Notable collections | Shun Premier, Shun Classic, Shun Hiro | Tojiro DP, Tojiro Origami, Tojiro Pro DP |
| Construction | Forged | Forged |
Shun: Seki's Century-Old Pride
Shun, 113 years old this year, is one of Seki's pride and treasure.
Although Saijiro Endo only made and sold pocket knives and razors in a humble shop in 1908, the craftsmanship he put in every blade is reminiscent of artisans who made katanas for samurais.
This level of commitment to the craft paid off.
Soon, clamor for Shun blades abroad grew.
In 2002, this brand was formally introduced to the United States and the rest of the West.
Today, these authentic Japanese knives are available in 30 countries.
Creating the Knife
Several steel types are used to create the different Shun variants.
AUS8A, for example, makes sharp and flexible blades that are good for filleting.
VG10 is high-carbon steel fortified with chromium, manganese, and silicon, just to name a few.
The additional alloys add to the toughness and sharpness of the blade.
But the steel blend that Shun uses for their top variants is VG Max.
This super steel formulated by the company is not just strong, durable, and sharp.
It is also resistant to chipping or breaking on sudden impact – a flaw that a lot of Japanese blades tend to have.
Essential Features
There are ten main series made by Shun including Sora, Classic, and Dual-Core just to name a few.
Each series have different kinds of knives and may be offered as a block.
The difference lies in the materials used in the blade and the handle and the overall design of the knife.
The Sora, for example, is Shun's most humble option.
It makes use of a VG10 steel core with stainless steel outer layer and a simple thermoplastic handle.
The Kanso is a bit more luxurious. It uses AUS10, has a full-tang, and is double-riveted.
The beautifully contoured handle is made of Tagayasan wood which will look even better with age.
Pros:
Makes use of superior steel, especially their VG Max blend
This has several variants and designs to choose from
The handle material, particularly the PakkaWood and Tagayasan, stand out
They offer a lifetime re-sharpening service for free
Cons:
Besides the Sora, Shun is thought of by many as too expensive
Best Selling Variant: Premier 8-inches Chef's Knife
This is made with the proprietary VG Max for strength and durability.
It has a thin spine, sharp edge, thick and short bolster, and full tang – all wonderfully composed to give the knife a good balance.
But what makes this a real beauty are the hammered-out finish on the blade (which also prevents food from sticking to it) and the polished PakkaWood handle.
Tojiro: The Japanese Newcomer That Amazed All
In 1953, the Fujitora Farm Equipment started producing various parts – particularly blades – for farm machines.
They were pretty good at this that they soon shifted to knife manufacture in 1955.
The company continued to grow that, before the 90s started, they already have four factories in Yoshida.
They may be relatively new in the cutlery industry but it is far from a novice in knife-making.
They have numerous awards in Japan and other countries, proving that it is at par with older, more distinguished brands.
Creating the Knife
Like other Japanese brands, Tojiro also makes use of the dependable VG10 for its endurance and flexibility.
They also use powdered steel, high carbon stainless steel, and Nickel Damascus for extra strength and sharpness.
But what they are proud of are their blades made of Shirogami and Aogami steel.
It's rare to find factories using this because it is quite a challenge to make and maintain.
But Tojiro knows that these are the cream of the crop and, when properly forged and sharpened, are definitely for keeps.
Essential Features
Tojiro makes three different knife styles: Western, Japanese, and Chinese.
Their Western line has the usual look and feel of western blades: thick, bulky, and heavy.
Their Deba (Chef's knife) with its triple-riveted handle and thick bolster can be mistaken for any German or Swiss brands if not for the inscription near the spine.
The Japanese line has the customary thin spine, distinct beveled edges, and cylindrical handles.
Under this set, they have very specific blades for slicing fish and cutting soba.
They only feature five Chinese knives – all having that massive blade face and short handle and perfect for chopping vegetables and slicing large meats.
Pros:
They have Western, Japanese, and Chinese-style knives
Their chef's style knife come in different handle colors
Knives for particular purposes are available, e.g. for eel, sashimi, noodles, etc.
Shirogami and Aogami steel blades won't require re-sharpening
Cons:
Mid-range when it comes to price but may still be too much for many
Best Selling Variant: Pro DP 2-Layered Mini Deba
A Good Design Award winner, this 4-inch chef's knife is easier to maneuver, even with more difficult slicing tasks.
It is made of a VG10 core with an outer layer of stainless steel.
Instead of wood or plastic, the asymmetric D-shaped handle is also made of stainless steel – perfect for clean freaks.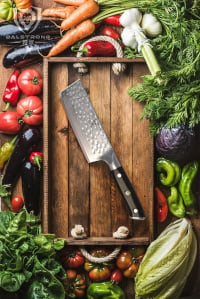 Want FREE Knives?
We give these knives a quick twirl and review, and then we pass them on to a few lucky home chefs!
By subscribing, you agree to get emails from me, Ryan Leavitt. I'll respect your privacy and you can unsubscribe any time.
In Summary
To be perfectly honest, Shun and Tojiro are practically at par with each other in form and function.
They both have specific steel blends for their use.
They have their own attractive and ergonomic design choices, particularly for their first-class variants.
They are generally in the $50 – $150 price range.
If you really had to choose just one and it's still a muddle despite the information you know, the best test is holding it in your hand and seeing if it fits right.
Ryan Leavitt
Hi my name is Ryan Leavitt a Marine Corps Veteran and currently an over the road trucker (Long Haul). I am no expert chef but am enjoying preparing my own meals on the road and testing all the different knives.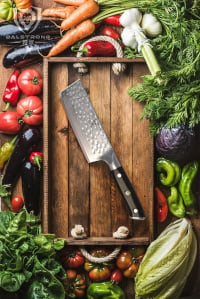 Want FREE Knives?
We give these knives a quick twirl and review, and then we pass them on to a few lucky home chefs!
By subscribing, you agree to get emails from me, Ryan Leavitt. I'll respect your privacy and you can unsubscribe any time.