One of the secrets to performing better in the kitchen is having a great set of kitchen knives.
And while there are a lot of viable budget-friendly brands out there, if you're a budding professional or just a home cook who takes their tools very seriously, you might want to consider investing in a top-tier set of blades.
If you're ready to invest in a quality set of kitchen cutlery, we highly recommend the Shun and Wusthof brands.
Both brands make top-quality knives, but many people still ask the question, "Which is the better option?".
For most chefs, Wusthof is the go-to pick.
As one of the oldest knife brands out there, Wusthof consistently creates incredibly knives that are a dream to use in the kitchen.
However, if you prefer Japanese knives, you might enjoy Shun's selection more.
And in this Shun vs Wusthof comparison, we're laying out the characteristics and key features of each brand.
| | | |
| --- | --- | --- |
| | Shun | Wusthof |
| Number of collections | 10 | 7 |
| Price | $$$ | $$$ |
| Construction | Forged | Forged (except for the Gourmet collection) |
| Knife Steel | VG-MAX, VG10, SG2, | X50CrMoV15 |
| Lifetime Warranty | Yes | Yes |
| Free Sharpening | Yes | Yes |
Shun Knives – A Brief History
Shun is a brand that a lot of people think is new to the knife game since it only launched in the West during the early 2000s.
However, the manufacturer of these products, the KAI Group, has actually been around for a fairly long time.
The KAI Group was established in 1908 by Saijiro Endo in Seki City, Japan, a long time ago.
The company began by selling various types of knives of cutlery through the entire 20th century, making cutlery, folding knives, and razors.
In 2002, the KAI Group launched the Shun brand, which was intended to market their impressive Japanese-style cutlery to the Western market.
And currently, the brand has a wide selection of cutlery that is all exquisitely made by crafts folk in Seiki City.
Wusthof Knives – A Brief History
Wüsthof, on the other hand, can trace its roots back even further than Shun.
The company began in 1814 in Solingen, Germany.
Solingen is also known as the "City of Blades" because of all the great knife manufacturers that hail from there.
Wusthof is the family name of the company's founder, and over 200 years later, the company is still family-owned.
The brand is known for making some of the best knives on the planet, with an exquisite and arduous 60-step process being used to make their knives.
Some of the best chefs in the world are seen to be using Wusthof knives, and considering how respected and popular the brand is today, it doesn't seem like that will be changing any time soon.
Related: Best Wusthof knife sets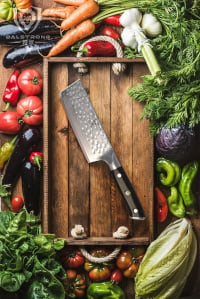 Want FREE Knives?
We give these knives a quick twirl and review, and then we pass them on to a few lucky home chefs!
By subscribing, you agree to get emails from me, Ryan Leavitt. I'll respect your privacy and you can unsubscribe any time.
Shun Vs Wusthof – How Do The Knives Compare To Each Other?
In this section, we'll be taking a close look at some of the features of the brands and how they compare to each other to help you decide which brand would fit your needs the best.
Construction of the Knife
First things first, we're going to talk about how these knives are made.
Most of the knives made by these brands will be forged.
That means that the blades are made from a single piece of stainless steel, which makes them very durable, sharp, and gives them great edge retention.
While forged ones are preferred by most chefs, they also tend to fetch a pretty high price tag.
To counter that, both Shun knives and Wusthof have cheaper knives that are stamped, which basically means that the blades are cut, or "stamped" out from a large sheet of stainless steel.
This makes for a lighter and less durable knife, but it also makes for a more affordable product.
The knives from Wusthof's Gourmet collection and Shun's Blue Steel collection are stamped.
Shun tends to use PakkaWood for their handles, which is real wood that is infused with resin, which is both very comfortable to grip and durable.
Wusthof ones, especially on their chef knives, on the other hand, can be made out of a variety of materials.
Some use synthetic materials, while others use real wood.
There is no "best" material for a handle, but as long as it's durable and feels comfortable in your hand, that should do.
Design or How It Looks
Now let's talk about how these edges are designed.
Since Shun is a Japanese brand, their chef knives or other knives tend to take most of their influence from Japanese knife-making techniques.
This means that the Shun cutters will be a bit smaller, be sharpened to a finer edge, and the handles of the Shun cutters will either be rounded or octagonal.
That being said, the brand still takes some influence from German design to create a fusion of sorts that combines the best of both worlds.
Wusthof, on the other hand, is known for having very traditional German designs that haven't changed too much over time.
After all, if it ain't broke, don't fix it.
These knives will tend to be heavier, have a different handle shape, and will be more ideal for large prep jobs.
And the price could vary greatly based on the models as well.
Notable Collections – Shun or Wusthof?
Shun Premier Kitchen Knife Collection
One of the most famous collections from this Shun brand.
A Shun chef knife might feature a traditional Japanese tsuchime finish, which is a hammered finish that gives the face of the blade a unique texture.
This result is a cutting blade that is more durable overall and one that food doesn't stick to as well, which can make things much easier in the kitchen.
These Shun knives will come with a PakkaWood handle and a look that is truly unique to the brand.
The combination of the Damascus pattern that swirls near the edge and the hammered top is something that would make knife enthusiasts drool.
If you're into traditional-looking Japanese chef knives, then a good chef knife from Shun might be your best pick.
The Most Well-known Wusthof Collection
When talking about Wusthof knives, you have to mention this Wusthof Classic knife set.
It is the brand's best-selling collection, and it's easy to see why.
The knives from this Wusthof Classic use high-carbon German stainless steel that is forged and created using the brand's signature process that has remained unchanged for some time now.
As the name implies, the products have a very traditional look to them, which is very reminiscent of how old-school chef knives used to look.
They have a sleek design and a very clean finish on the cutting blade.
On top of all that, they perform like a dream in the kitchen.
This collection of blades is truly one that you would look forward to being used every single day.
Shun Pros & Cons
Pros:
Incredibly sharp
Shun knives are expertly crafted
Great for those who prefer Japanese style knives
Comfortable to grip
Beautiful and unique designs
Cons:
Wusthof Pros & Cons
Pros:
Large and easy to use knives
Very sharp
Durable
Ideal for professional chefs
Great edge retention
Cons:
It may be too large for some
Wusthof vs Shun – Let Me Know Your Comments & Reply
These two brands are really close, both providing high-quality knives that both professionals and home cooks alike would love to use.
But everyone has different tastes, and that's really the only factor to consider when choosing between the two.
If you are one who prefers traditional German knives that are large and have a good weight to them, then Wusthof is the brand for you.
While their knives might be expensive, it's an investment well worth making, especially if you take cooking seriously.
However, if you prefer precision, speed, and are looking for an extra-sharp blade, we recommend you go for Shun knives.
This is because they are Japanese chef knives that are made to handle the precision that is needed for Japanese and Asian cuisine.
But at the end of the day, as long as you are comfortable with the brand you chose and their knives are tools you enjoy using, then without a doubt, you have chosen the best knife brand for you!
Ryan Leavitt
Hi my name is Ryan Leavitt a Marine Corps Veteran and currently an over the road trucker (Long Haul). I am no expert chef but am enjoying preparing my own meals on the road and testing all the different knives.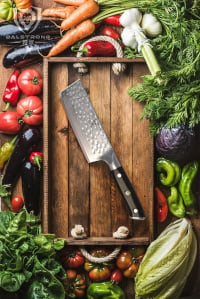 Want FREE Knives?
We give these knives a quick twirl and review, and then we pass them on to a few lucky home chefs!
By subscribing, you agree to get emails from me, Ryan Leavitt. I'll respect your privacy and you can unsubscribe any time.