Two knife brands at the top of their game are Shun and Yaxell.
Both brands hail from Seiki, Japan.
Seiki is a city dubbed as "The City of Blades" because of its rich and long tradition of crafting some of the best blades in the world.
And while both Shun and Yaxell knives are made in this area, which brand is the better pick?
Most chefs claim that Yaxell is the superior brand, handcrafting top-tier knives that would be great picks for any kitchen.
With that said, these knives also cost a fair amount of money, which is why chefs on a budget prefer Shun.
If you're still unsure as to what brand to get for your kitchen, you've come to the right place.
In this Shun vs Yaxell comparison, we dive deep into the features and benefits of each of these brands.
Read on to learn more.
| | | |
| --- | --- | --- |
| | Shun | Yaxell |
| Price | $$$ | $$$$ |
| Are they handmade? | Yes | Yes |
| Are there block sets available? | Yes | Yes |
| Construction | Forged | Forged |
| Handle material | PakkaWood | PakkaWood, Micarta (depends on the model) |
Shun: The Right Mix of Tradition and Technology
Saijiro Endo only made pocket knives and small razors in 1908 for the locals of Seki.
He then started making Gyuto's and Santoku's as his company grew in the years that followed.
In the competitive cutlery industry, he couldn't have imagined that his humble brand would be world-renowned – or a real rival to more established European brands – a century later.
Related: The only Shun knives & knife sets that are money worthy
Creating the Knife
True to Seki's traditional bladesmithing,
Shun manufactures their products by hand up to this day.
But they do not disregard innovation and automation and figured out a way to include this in their 100-step process to ensure consistency.
And because the steel is the heart and soul of the blade, they worked hard on formulating the best.
For strength and flexibility, they use AUS10A and AUS8A.
For durability and longevity of sharpness, they go for VG10, VG2, and Shun's very own VG Max.
For their top-notch variants, two or more of these steel types are layered for forging, hence that Damascus design on the blade's face.
Essential Features
Most Shun blades have the typical Japanese blade structure – thin spine, slightly curved belly, extremely sharp edge, pointy tip, short bolster that doesn't reach the heel, and a full or partial tang.
The distinction in the variants is mainly in the handle's design.
Sora, their entry-level series, is made of a thermoplastic material.
The handle flares from the bolster to the butt.
Their pricier series – Premier and Kanso – are made of fortified Tagayasan and PakkaWood.
These have the more traditional Japanese cylindrical or octagonal handle.
Pros:
Makes use of well-formulated VG Max steel
Has different handle designs
Offers great customer service – especially with free re-sharpening
The entry-level variant is affordable
Cons:
Except for their entry-level variant, Shun is pretty expensive
Some even say this brand is over-priced
Best Selling Variant: Classic Blonde Chef's Knife
This is similar to the Classic chef's knife made with VG Max steel core so you need not worry about chipping and accidental breaking.
The main difference is in the handle.
While the plain Classic uses dark PakkaWood, this has a light wooden color, hence the designation 'blonde'.
Yaxell: Going Beyond What's Expected
Unlike more popular brands, not a lot of information has been released by the company regarding its history except for its founding in 1932.
But that hardly matters because their end product speaks loud for them.
Their blades have won numerous awards all over the world.
One of its most famous variants, for instance, is rated the top knife in Germany – the home of the best European blades, no less – for two consecutive years (2016 and 2017).
Creating the Knife
Yaxell still sticks to the traditional method of knife-making.
However, they make use of different steel blends, depending on the series.
Their entry-level variants, for example, have a VG10 core that is sandwiched by stainless steel on both sides.
On the other hand, their top of the line has a core made of the exceptionally hard SG2 micro carbide powder steel.
This is then layered with 80 sheets of hard and soft stainless steel on either side.
Yes, you read that right: their blade has 161 layers of steel.
Essential Features
Yaxell has the conventional form of a Japanese blade.
The spine is thin and straight, the belly is only slightly curved, the bolster is thick but doesn't reach the heel, and the tang is full, extending out of the butt.
The handle is a cross between the cylindrical a la tsuka form and the bulkier European ones.
It's also riveted (two or three, depending on the variant).
But this isn't an issue when the handle is made of Canvas – Micarta (wood mixed with linen).
With numerous steel layers used in forging, you'll be amazed at the curls and waves on the face of the blade – it's really like no other.
All their knives are fully hand-made – from the forging of the blade to the carving of the logos.
It's no wonder you'll be spending quite a pretty penny with one of these.
Pros:
High-quality materials are used
3 to 161 layers of steel forged resulting in a beautiful Damascus pattern
Completely hand-made
It will last you a lifetime
Cons:
Most handle designs are plain
It's so pricey, their entry-level variant is almost $100 each
Best Selling Variant: RAN Chef's 8"
With a VG10 core and 34 layers of high carbon stainless steel on both sides, this is the height of form and function.
An all-purpose kitchen knife, this Yaxell variant won the best blade award, specifically in Germany for two years (2009 and 2012).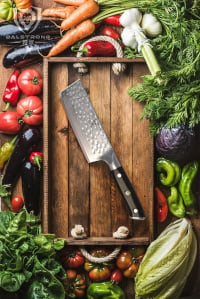 Want FREE Knives?
We give these knives a quick twirl and review, and then we pass them on to a few lucky home chefs!
By subscribing, you agree to get emails from me, Ryan Leavitt. I'll respect your privacy and you can unsubscribe any time.
In Summary
There is no doubt that Shun makes decent knives.
They have been acclaimed by connoisseurs as soon as they introduced their products to the United States and in Europe.
But it is hard to compete with a blade that is hand-made from forging to polishing.
And that is Yaxell's edge in this knife fight.
If you're willing to spend as much as $500 on a piece of genius Japanese cutlery, order a 161-layer Gou or an equally beautiful Ran from Yaxell now.
But if you just want an all-around tool in the kitchen that can last your years and won't break the bank – Shun is the best option for you.
Ryan Leavitt
Hi my name is Ryan Leavitt a Marine Corps Veteran and currently an over the road trucker (Long Haul). I am no expert chef but am enjoying preparing my own meals on the road and testing all the different knives.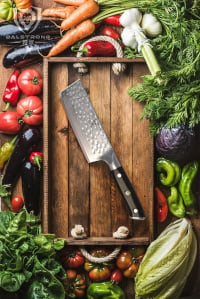 Want FREE Knives?
We give these knives a quick twirl and review, and then we pass them on to a few lucky home chefs!
By subscribing, you agree to get emails from me, Ryan Leavitt. I'll respect your privacy and you can unsubscribe any time.