When it comes to cutlery-making, two countries battle it out year after year as to who will be crowned king: Japan and Germany.
And there's no more specific example of this showdown than the one between Seki's pride Shun and the legend of Solingen that is Zwilling.
So, which is the better brand?
If you're used to German kitchen cutlery, then Zwilling is the obvious pick.
These knives are perfectly engineered for professional use and would be a great choice for any chef.
However, if you prefer the look and feel of Japanese knives, we highly recommend the Shun catalog.
If you're on the fence about which brand to choose for your kitchen, you've come to the right place.
In this Shun vs Zwilling comparison, we dive deep into the features and benefits of each brand to make it easier for you to choose between the two.
| | | |
| --- | --- | --- |
| | Shun | Zwilling |
| Price | $$$ | $$$ |
| Design | Japanese-style | Western-style |
| Knife steel | VG10, VG-MAX, SG2 | High-carbon German stainless steel |
| Handle material | PakkaWood | Wood, plastic, stainless steel (depends on the model) |
| Number of collections | 10 | 15 |
| Lifetime Warranty | Yes | No |
Shun: The Finest in the East
In the Far East, the seemingly average kitchen knives of today actually originated with the swords warrior samurais once wielded.
Seki, the home of Shun, is one of just a handful of towns in Japan that shifted their blade-smithing skills from swords to household kitchen knives.
Shun was only known to the locals since it was founded by Saijiro Endo in 1908.
In 2002, it was introduced to the rest of the world.
Their craftsmanship is proven to be one of the best when, in the year after its world debut, they immediately received accolades including the prestigious 'Knife of the Year' in the Blade Show.
Creating the Knife
Historically speaking, Asian knives have a higher carbon content.
This makes the blade hard and the edge so sharp, it doesn't need re-sharpening for years.
However, that hardness makes it brittle – especially when you drop it on or hit it against something solid.
Also, they rust fast.
Since that is viewed as a slight disadvantage, Shun uses different steel blends (VG10, VG Max, just to name a few) which will give them just the right hardness, long-lasting edge, and prevention from accidental breaking and rusting.
And just like samurai weapons, their blades are numerous layers of thin metals forged into one.
Essential Features
Shun blades have a thin spine that goes straight down until the sharpened edge.
The spine and belly are almost parallel to each other, ending with a tip that curves down.
These help you slice almost see-through sheets of cucumbers!
Most Shuns have a full but thinner tang with a cylindrical-type bolster that doesn't flare down to the belly.
Except for the entry-level series, the handles of most products are made of PakkaWood or Tagayasan.
Dubbed 'ironwood', these have been favored for centuries by bladesmiths because of their quiet elegance and durability.
Perhaps the most interesting aspect of this brand is the different designs (waves, thin curls, etc.) you'll see on the blade's face which is due to the layering of steel during forging.
Pros:
Great for thin, accurate slicing
The narrower handle is easier to grip
Has a simple and sophisticated handle design
Also has a uniquely beautiful blade design
Cons:
Might not be able to slice through bony parts of meat or hard vegetables
Quite expensive – even their budget knives aren't that cheap
Best-Selling Variant: Dual Core Kiritsuke
A multi-purpose knife, this is great for both easy slicing and dicing and some heavy chopping.
Shun layered VG10 and VG2 steel for strength but added a good amount of chromium for durability.
Although this is dearly priced at over $200, it tends to run out in shops fast.
Zwilling: The Best in the West
In the vast European continent, only one town has been trusted when it comes to forging blades since the 12th century: Solingen in the eastern part of Germany.
Zwilling is arguably the most popular.
Peter Henckels may have established the company in 1731 but it was his son, J.A. Henckels, who expanded and opened shops all over the world: New York, Vienna, Paris, and Great Britain.
Although the company manages several cookware brands, they are still and forever will be known for their beautiful blades.
Creating the Knife
European cutlers use a good mix of carbon, chrome, and other metals because this makes their wares hard, sharp, and smooth.
Zwilling has perfected not just their very own steel blend – the Sonderschmelze – but also the process in which they produce their knives.
Sigmaforge and Friodur are the two main steps in their manufacturing procedure:
First, they precision-forge the blades to shape.
Next, they do blast cooling to harden it.
Automation didn't replace craftsmanship, though.
Manual inspection is still a must throughout their process.
Essential Features
Like most German knives, most traditional Zwilling variants have a thick spine tapering down to a sharp edge.
This is good for chopping heartier vegetables like pumpkins and harder meat parts.
These also have a full tang that extends out of the handle on the butt and thickens at the bolster which makes the whole tool heavier.
However, the spine is straight but the belly is curved, meeting to a pointy tip so you only need to rock it back and forth on the chopping board when slicing and dicing.
The dark-colored handle, often made from some tough thermoplastic material, sandwiches the thick tang.
The two are then triple riveted to prevent it from falling apart too easily.
Pros:
Great for almost all cutting jobs; even through bony meat and with hard vegetable
Great balance from handle to the tip
No worries with blade rusting or staining
Cons:
The design, while classic, is pretty boring
Slightly pricey; even their low-cost variants could go for $50 or so
Best-Selling Variant: International Classic Chef's Knife
A fully-forged blade, this is guaranteed to work really well even without daily honing.
Because of the amazing balance that Zwilling knives are known for, it's not just for mincing garlic or dicing potatoes.
You can also slice the meat of the fish from the skin with very little hassle.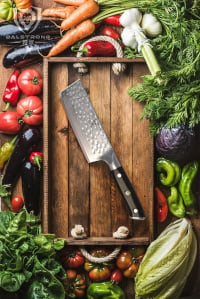 Want FREE Knives?
We give these knives a quick twirl and review, and then we pass them on to a few lucky home chefs!
By subscribing, you agree to get emails from me, Ryan Leavitt. I'll respect your privacy and you can unsubscribe any time.
In Summary
It really is difficult to compare two completely different knives and then choose just one.
When you think about it, they're similar only on one thing – the price.
And they're both expensive.
If you have money to spare, the best suggestion is to get one of each: maybe a Zwilling Chef's knife and a Shun Santoku.
The truth of the matter is, you're getting a pretty special tool that you can pass on to your grandchildren either way.
Ryan Leavitt
Hi my name is Ryan Leavitt a Marine Corps Veteran and currently an over the road trucker (Long Haul). I am no expert chef but am enjoying preparing my own meals on the road and testing all the different knives.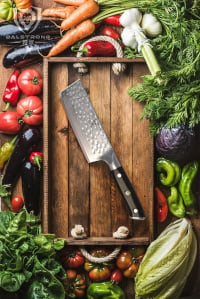 Want FREE Knives?
We give these knives a quick twirl and review, and then we pass them on to a few lucky home chefs!
By subscribing, you agree to get emails from me, Ryan Leavitt. I'll respect your privacy and you can unsubscribe any time.