There are countless steel recipes out there.
This variety makes for a vast world of knives, tools, and other things made out of different types of steel.
And one very popular steel recipe out there is Sk5.
It's a recipe considered by most to be between the low-end and mid-range of steel.
Sk5 is a Japanese steel that is one of the most used recipes for many different tools like razors blades, utility knives, cutting tools, and scalpel blades.
The reason manufacturers enjoy using this recipe is that it's affordable, easy to work, and is very hard.
Sk5 is not stainless, which means that it will be prone to corrosion if not cared for properly.
However, it does have a high carbon content which makes it very hard with great edge retention.
In this Sk5 review, we check out all the unique features and properties of this blade so you can decide whether it's the right choice for you.
Related: Types of knife steel (ultimate guide)
Composition
Normally, the features of one steel are located at its composition. The presence of different elements gives it different features. So, what are the strengths and other features of 440a come from?
Carbon – 0.9%: close to 1% carbon, this element's high rate makes it strong. Besides, the wear and corrosion resistance is also boosted.
Chromium – 0,3% : Chromium helps to enhance tensile strength. The key function of this element is that it improves the edge reliability of the edge. Besides, Chromium is corrosion-resistant and water-resistant. SK5 contains a very low rate of this element.
Nickel – 0.25%: Added to improve toughness.
Manganese – 0.5%: Improves the hardness; the high amount of it will increase brittleness.
Silicon – 0.1% : For hardness and strength.
Phosphorus – 0.04%: Improves hardness and strength like Silicon.
Sulfur – 0.03%: This element will improve the machinability of it.
Copper – 0.25%: This substance helps prevent the oxidation of the surface.
Material Properties
Hardness: The number one factor when evaluating one steel is hardness. With SK5, the hardness can reach up to 65 HRC, which is very high compared to other steel. Therefore, the hardness of SK5 is never a problem.
Edge retention: This is an advantage of this material; SK5 offers perfect edge retention due to the high presence of Carbon (approximately 1%). Therefore cutting tool made SK5 has always received compliments for its quality.
Corrosion resistance: In contrast to the above feature, this is not a strength of SK5. Due to the low Chromium, it only offers acceptable corrosion retention. So, when owning an SK5 cutting tool, you should take care of it carefully to avoid damage and rust.
Wear resistance: A high rate of Carbon gives SK5 an impressive wear resistance.
Ease of sharpening: Harder it, the more difficult it to sharpen it. With the hardness up to 65 HRC, it is understandable that sharpening this steel is a tough matter.
Toughness: With the high rate of hardening elements, you don't have to worry about the toughness; it is very tough.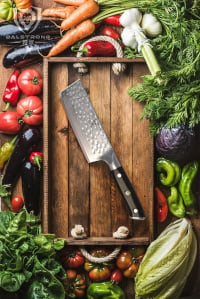 Want FREE Knives?
We give these knives a quick twirl and review, and then we pass them on to a few lucky home chefs!
By subscribing, you agree to get emails from me, Ryan Leavitt. I'll respect your privacy and you can unsubscribe any time.
Can We Use It For Making Knives?
If you get here, you got the answer. Yes, this steel is completely suitable for making knives. SK5 can even be used to make hard knives such as hunting knives and survival knives.
However, if you have an SK5 kitchen knife, you should keep it carefully to avoid getting wet. It could be damaged because of the low corrosion resistance.
However, the final quality of knives is affected by many different factors such as environmental conditions, flaws in the chemicals in the solution, or the forging system. Therefore, the quality will also depend a lot on the manufacturer. Reputable manufacturers will guarantee a more stable output quality.
Best Knives Made With SK5 Steel
CRKT SIWI Fixed Blade Knife
The Siwi knife is a compact knife with an all-black matte finish. This powder coating has the function of increasing corrosion and corrosion resistance. The handle section is designed to be curvy and snugly, giving you a firm grip.
In terms of quality, this is a knife designed for long life. You will not need to replace it after many years.
The knife's original design was created by Major Darrin Sirois, who has over 25 years of military experience. The knife can work well in all the harshest conditions. The machining part is meticulously completed. Siwi can be said to be a knife that exceeded expectations.
CRKT Clever Girl Fixed Blade Knife with Sheath
You could not expect anything more wonderful with this knife. A tactical knife is coated with Carbon to enhance its resistance to rust and corrosion. Besides, the G10 handle gives you a comfortable feeling. The blade is 4.6 inches long, designed for survival situations. The knife has excellent edge retention, perfect for outdoor activities that require extreme rigidity.
This is a perfect tactical knife for a battle in the dark. Black paint makes it harder to spot, increasing your chances of winning.
In A Nutshell
To sum up, for those who are looking for a sharpen knife at the affordability, the SK5 is a type of steel that makes excellent hardness knives at a low price. Although the corrosion resistance is not good, you should protect them carefully or buy SK5 knives with an anti-rust coat.
If you own an SK5 knife, please drop a comment below and share this knife's features with us.
Thanks for reading our SK5 steel review!
Ryan Leavitt
Hi my name is Ryan Leavitt a Marine Corps Veteran and currently an over the road trucker (Long Haul). I am no expert chef but am enjoying preparing my own meals on the road and testing all the different knives.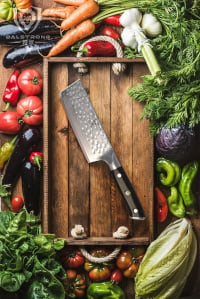 Want FREE Knives?
We give these knives a quick twirl and review, and then we pass them on to a few lucky home chefs!
By subscribing, you agree to get emails from me, Ryan Leavitt. I'll respect your privacy and you can unsubscribe any time.