When shopping for knives, many people have to choose between Stainless Steel and Carbon Steel blades.
While both of these materials offer a wide range of benefits, many people wonder which one is the better choice.
For most professional chefs, carbon steel is the best choice.
Carbon steel blades offer better edge retention than stainless steel knives, which is why it's recommended for chefs who use their knives a lot.
With that said, stainless steel still offers some benefits that make it a better option for other cooks.
And in this Stainless Steel vs Carbon steel blade comparison, we check out the pros and cons of each material so you can decide on the best option for you.
| | | |
| --- | --- | --- |
| | Stainless Steel Blades | Carbon Steel Blades |
| HRC | 30-50 (depends on the recipe) | 10-70 (depends on the recipe) |
| Corrosion Resistance | Yes | No |
| Dishwasher Safe | No | No |
| Key Features | Corrosion Resistance | Edge retention & hardness |
| Is the material ideal for knives? | Yes | Yes |
In-depth Analysis
Stainless Steel Blade
To put it simply, steel consists of iron and carbon. Thus, a stainless steel blade contains carbon, meaning it has quite a fair degree of hardness.
Thanks to chromium, this particular product will not get rusty easily. They are not prone to corrosion for a very long time. You will be surprised by how it can still retain its sleekness over such a long period of use!
It is quite a piece of cake to maintain knives made of stainless steel. Because they do not get much rust, this item does not require a lot of maintenance, exactly what all cooks desire.
With such hardness as mentioned above, the knife is non-brittle. You won't expect any chip if you leave it in the dishwasher.
However, this kitchen gadget's downside is that it is quite a hassle to sharpen. Because it is quite soft, you may have to spend more time and effort than usual to sharpen it.
Also, stainless steel knives are rather costly. But it would be a worthwhile investment with its distinctive features.
Pros
Hardness
High rust resistance
Easy maintenance
Non-brittle
Cons
Difficult to sharpen
Expensive
Carbon Steel Blade
The other competitor is made of carbon steel, which has virtually 0% chromium. This characteristic is one of its plus points as it can retain the utmost hardness.
Therefore, this kitchen gadget can hold the edge longer than the ordinary ones. Knives of this kind also offer better performance, adding to their unparalleled sharpness.
These knives pride themselves on their resistance to wear and tear. They are more reactive to environmental factors, such as moisture and acidity, so they are less likely to get damaged.
With its supreme hardness and strength, this kitchen gadget can be sharpened without any difficulty, an aspect that most cooks dream of.
About the price, the product is very affordable. You can purchase this splendid kitchen item without breaking the bank.
This product's minus point is its brittleness. You might expect some chips if you leave them in the dishwasher for too long.
Because these knives have no chromium, it does not have high rust resistance. They can get rusty and lose their color very easily if they contact onions, wine, vinegar, citrus fruits, and tomatoes.
As this kitchen gadget is prone to rust, it requires some careful maintenance. You should not leave it in any wet places or underwater for too long.
Pros
Sharpness
Hard and wear-resistant
Easy to sharpen
Affordable price
Cons
Which One Is The Perfect Choice For You?
Carbon steel knives need careful maintenance and get rust quickly but are much sharper and easy to sharpen.
In contrast, stainless steel counterparts are highly rust-resistant and easy to preserve, but they are costly and difficult to sharpen. So if you can use knives skillfully, those drawbacks will not be a problem.
While one knife is suitable for one individual, it may be a disaster for others. That is to say, none of the knives are overall better than the other. The important thing is that you consider every feature that each knife has, according to your needs and preferences.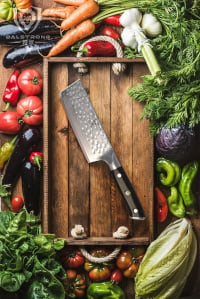 Want FREE Knives?
We give these knives a quick twirl and review, and then we pass them on to a few lucky home chefs!
By subscribing, you agree to get emails from me, Ryan Leavitt. I'll respect your privacy and you can unsubscribe any time.
How To Choose The Right Knives
Before we go over the two knives' distinctive features, let's take a look at our detailed buying guide to get a deeper understanding:
Grip
The grip is the first thing you should consider when buying a knife. This criterion is especially important as it will partly determine whether you can succeed in cooking or not. Even worse, you may end up hurting yourself if the grip does not feel right.
Thus, you should test the grip before purchasing this kitchen gadget. Ask yourself these questions: Do you feel comfortable when holding it? How does the grip feel in your hand?
Specifically, its grip must feel just right. That is to say; the handle must be neither too thick nor too thin. If your fingertips touch each other too much when holding the handle, you should consider another one.
Weight
Besides the grip, the weight is also worth considering. You can not cook well with a knife that is either too light or too heavy.
There is one method to find out whether the weight is ideal or not. Try holding the kitchen gadget for about 15 minutes. If your hands and arm feel tired, it may be too heavy for you.
Furthermore, a knife that is too light is not recommended. It may not be strong enough to cut or chop food. In the worst scenario, it may slip off your hand for not being heavy enough, causing unwanted incidents.
Length
Now let's have a look at the blade. A too long or too short blade can cause you difficulty in cooking.
For example, we would recommend amateur cooks to use a knife with a smaller blade. For professionals, a longer blade is usually preferred.
Materials
Materials are another factor to consider when choosing this kitchen item. They determine the knife's quality and sturdiness.
Overall, a hard knife means that it would require a lot of effort to sharpen. On the other hand, a less hard one is easier to do the task.
If you want a durable knife, look for those with a stainless steel blade. This material does not corrode easily – it won't get much rusty for a long time. However, the process of sharpening is quite a hassle due to its hardness.
On the contrary, you can sharpen carbon steel knives with little to no difficulty. The only downside is that it is not very sturdy. Knives made of this material are more prone to rust and discoloration.
Functions
Most knives retain the same function and performance in the kitchen. The only thing that makes a difference is how skillful you are at cooking. Thus, it is vital to choose a perfectly suitable knife for a better cooking experience.
For those who have an impressive mastery of cutting skills, it will not be a problem. You can virtually choose any knife with any degree of hardness, edge retention, and sharpness.
But if you have not yet mastered the cutting skills, please pay extra attention to your equipment. Not all knives are safe for novice cooks to use – some require experience and skills. You may end up hurting yourself should you use the wrong one.
To learn about a knife's function, check out its description and specifications from its official source.
Sellers
It is essential to know where you get the product from. That is to say; you need to make sure whether the manufacturer is reliable or not.
Generally, it is advisable to go for producers that have a high reputation in the knife-making industry with higher quality products and better customer services.
Also, be on the lookout for authentic products. Many forged knives are sold at a very cheap price or on a mass scale.
These knives are very complicated to make, so you should beware – in this case, the very appealing price may be too good to be true.
Cost
Knife prices vary greatly; some are extremely cheap, meanwhile, others cost an arm and a leg. With such a price discrepancy, you should pay careful attention to how much the kitchen gadget costs.
Usually, an expensive knife goes hand in hand with higher quality and better performance. Although it might not always be the case, it is worth investing a fair amount of money to buy an expensive one.
If you intend to use it on a long-term basis, don't hesitate to purchase a more expensive one. It would be more cost-effective than buying low-quality knives and replacing them with a new one every now and then.
But for those who only want to try new knives, it may not be a good idea to buy the expensive ones.
On the other hand, a cheap knife may be of low quality. Although no one indeed wants to spend lavishly on a single kitchen item, cheap prices can be deceptive. If you spot one product that costs very little but offers a lot of features, it is simply questionable.
Besides, have a look at your financial position. If you are on a tight budget, look for an affordable option.
Your Preferences
Lastly, consider your preference. At the end of the day, who would want to cook with a dull-looking kitchen item?
You can choose the knives you love with some nice add-ons for a more enjoyable cooking experience. Those decorations will not affect your cutting skills, so don't worry.
Conclusion
So, what is your opinion? Have you made up your mind about which of the two knives to buy? We are confident that this article already gives you an answer with its detailed, in-depth analysis about stainless steel vs carbon steel knife blades.
Each one has its distinctive features and performances. Thus, it would be very difficult to claim one is inferior to the other.
So, the decision is down to your personal needs and preferences. You can use our buying guide to help make up your mind.
Lastly, thank you for taking your time to read! We hope you can choose the right item that best suits you and have an enjoyable cooking experience!
Ryan Leavitt
Hi my name is Ryan Leavitt a Marine Corps Veteran and currently an over the road trucker (Long Haul). I am no expert chef but am enjoying preparing my own meals on the road and testing all the different knives.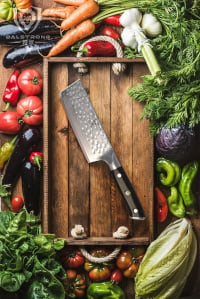 Want FREE Knives?
We give these knives a quick twirl and review, and then we pass them on to a few lucky home chefs!
By subscribing, you agree to get emails from me, Ryan Leavitt. I'll respect your privacy and you can unsubscribe any time.