Your kitchen knives are your most important tool when cooking, whether you're a professional in a hot kitchen or a beginner home cook learning the ropes.
Since your knives are your go-to tools for food prep, it's very important to invest in a good set of kitchen cutlery.
And in this day and age, Japanese-style kitchen cutlery is slowly becoming the top pick for chefs.
There are many different brands for Japanese knives out there, but Tojiro is without a doubt a stand-out choice.
The company makes great blades that are sharp, functional, and durable, which is why many chefs invest in these blades.
In this review, we've selected the five best Tojiro knives on the market today.
Our list is comprised of the best of the best from the Tojiro brand, to help you find the best knife for your kitchen.
Read on to learn more.
Best Tojiro Knives For The Money (Editor's Picks)
We earn a commission if you make a purchase, at no additional cost to you.
A Brief History
The brand traces its roots back to 1955 in Japan, although the company looked much different than it does today.
In the beginning, the brand was known as Fujita and primarily made farming tools and supplies.
The brand's first knife came in 1957 when they released a stainless steel fruit cutting knife.
Fast forward a couple of decades and the brand released a line of quality knives under the Tojiro name before changing its name to Tojiro in 2015.
The brand is built on providing quality and sharp blades that are accessible and affordable.
Nowadays, it has a ton of different knife collections, they have Western blades, Japanese blades, and even Chinese-style blades fit for different chefs.
The brand is a favorite in the culinary world as you are always assured of a sharp, durable, and high-quality blade when you invest in their knives.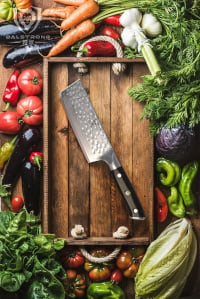 Want FREE Knives?
We give these knives a quick twirl and review, and then we pass them on to a few lucky home chefs!
By subscribing, you agree to get emails from me, Ryan Leavitt. I'll respect your privacy and you can unsubscribe any time.
Are Tojiro Knives Worth It?
While Tojiro blades are more affordable than other knives of the same quality, they aren't exactly budget options.
These blades can cost you anywhere between $60-$200, depending on the type of knife you get.
However, every penny you spend on a Tojiro blade is more than worth it.
When you pay for these knives, you pay for quality and craftsmanship.
Each knife goes through an arduous process to ensure it meets the brand's standards.
The knives are forged out of high-quality steel, sport ergonomic designs, and are also visually striking tools to have in your kitchen.
These blades will serve you very well whether you're a professional chef in a busy kitchen or a beginner starting to learn how to use the different kitchen knives out there.
Top 5 Tojiro Knife Reviews
1. DP Gyuto
We earn a commission if you make a purchase, at no additional cost to you.
Our first pick for chefs out there is the Tojiro DP Gyuto.
A Gyuto is the Japanese equivalent of a chef's knife, so you can use this blade as a multi-purpose kitchen tool for a variety of tasks.
This blade is great for slicing meat, chopping vegetables, and even dicing herbs.
The main difference that this knife has compared to standard Western chef knives is the blade profile.
The Tojiro DP Gyuto has a flatter blade profile, meaning you can't utilize a rocking-chop motion.
This blade is made by fusing different layers of steel over a tough VG10 core, making it a very tough and durable blade.
The knife also has a bolster, which can protect your from the heel of the blade while also allowing for a stable and comfortable grip.
All in all, the Tojiro DP Gyuto would be a great pick for anyone looking for a sharp and versatile kitchen knife.
Pros:
Very sharp out of the box
Full-tang
Durable blade
Good edge retention
Multi-purpose kitchen knife
Cons:
The bolster could be made better
2. DP Santoku
We earn a commission if you make a purchase, at no additional cost to you.
Our next pick comes from the same collection, the DP.
That means this blade shares the same construction and feature of the first entry in our list.
The difference, however, is that this blade is a Santoku.
The Santoku is another multi-purpose Japanese blade that is slightly smaller than the Gyuto.
With this blade, you get a lot of control when slicing, making it great for precise slicing tasks.
This knife is also great for those with smaller hands, as you can use it for a wide variety of tasks but it isn't as large and bulky as a chef's knife.
Like all of the Tojiro DP blades, this comes out of the box very sharp and is made with excellent craftsmanship.
Pros:
Great quality for the price
Razor-sharp right out of the box
Balanced and ergonomic handle
Great edge retention
Ideal for chefs with small hands
Cons:
Slight imperfections on the bolster and spine
3. DP 2-Piece Chef's Knife Set
We earn a commission if you make a purchase, at no additional cost to you.
If you need to build a collection of knives that can cover most of your kitchen needs, this is a great choice.
This two-piece Tojiro DP set is a great starter kit for culinary students and even home cooks.
In the set, you get a chef's knife and a paring knife.
Since it's part of the DP collection, you also receive all the features of DP knives such as layered steel construction, bolster, full-tang, and a very sharp edge.
The paring knife and chef's knife are two tools many cooks can't live without, so it would be ideal to get these two blades to start your collection.
These knives are sharpened down to 12-degrees on either side, which makes them incredibly sharp and able to easily cut through just about any ingredient out there.
Pros:
Ideal for beginners
Blades are razor-sharp right out of the box
3-layer clad steel construction
Full-tang
Great edge retention
Cons:
The handles aren't ideal for those with small hands
4. DP 8-Piece Block Set
We earn a commission if you make a purchase, at no additional cost to you.
For those in need of a complete set of kitchen cutlery, this is the pick for you.
The Tojiro DP 8-piece set is a very popular choice for anyone building their set of kitchen tools.
You get all the knives you'll need in this set and even some specialized tools such as a nakiri and a straight paring knife.
On top of that, this set comes with a beautiful Acacia knife block that can safely store all your blades.
While many chefs don't recommend knife blocks, they are still a stylish and efficient way to store your kitchen cutlery.
All of the blades in this set are top-quality and can stay razor-sharp for a very long while.
And once you get your hands on this set, your kitchen tool kit will be mostly complete!
Pros:
Contains all the knives you need
Very sharp
Great construction
Great edge retention
Comes with a knife block
Cons:
The knives aren't dishwasher friendly
5. Flash Chef's Knife
We earn a commission if you make a purchase, at no additional cost to you.
Our last pick on this list is one of Tojiro's premium selections.
The Flash Chef's knife is a blade made with expert craftsmanship and boasts amazing features.
The first thing you'll notice is the beautiful pattern on the blade.
The pattern is a result of the Damascus steel with over 63 layers of alternating high and low carbon steel.
So, not only do you get a beautiful knife, but you get a very durable one as well.
The core of the knife is VG-10, which is a premium material used for the top knives in the market.
This model sports a black Micarta handle which is as beautiful as it is ergonomic.
As an 8.25" chef's knife, this model can do just about any kitchen task.
Whether you're looking to chop meat, slice vegetables, or dice herbs, this knife can handle the task.
While it is on the pricier side, you truly get your money's worth from this Tojiro blade.
Pros:
Very sharp right out of the box
Superior craftsmanship
Damascus steel
Ergonomic Micarta handle
The bolster gives it balance while making the knife easy to sharpen
Cons:
Pros of Tojiro Knives
The first advantage you get when you invest in a set of Tojiro knives is quality.
Each blade is made with quality craftsmanship and the company ensures that all its products comply with their standards.
And in the event of a factory defect, they have a Lifetime Warranty against it so you can simply return the knife to have it replaced.
However, the warranty doesn't cover damage that comes from misuse and abuse of the product.
Another great advantage of the products from this brand is the wide and varied collection of kitchen knives.
Tojiro boasts a wide range that covers Japanese, Western, and Chinese-style kitchen cutlery.
When you get a Tojiro blade, you'll notice that it's incredibly sharp right out of the box and can easily slice through just about any ingredient out there.
The company makes sure to use tough steel that won't degrade over time.
While the blades aren't stainless, they are very hard can hold their edge for a very long time.
And if you get your hands on a premium Tojiro knife, there's a good chance it will be made with Damascus steel.
Damascus steel is much stronger than other materials since it consists of multiple layers of high-quality steel and also sports a beautiful and unique pattern on the face of the blade.
Cons of Tojiro Knives
No brand is perfect, and Tojiro does have a couple of cons you should keep in mind when shopping.
For one, the brand does have some issues when it comes to ergonomics.
Keep in mind, these are very tiny issues that are easily remedied, but they can be annoying nonetheless.
For example, many of their bolsters have an odd angle to them, which can make it tough for you to get a proper grip on the knife.
Other customers also report that Tojiro knives tend to have a very wide spine and some chefs need to grind that out for extra comfort.
Notable Collections
As mentioned earlier, there are many different Tojiro collections.
So, it can be hard to choose the right one for your kitchen.
With that said, there are definitely some Tojiro models that stand out amongst the rest.
We would like to mention the ones like DP, Zen, Pro DP, and the Flash collection.
All of these collections boast incredible knives that can handle just about any kitchen task.
Conclusion
And there you have it, a collection of comprehensive Tojiro knife reviews.
We made sure to do all the proper research to provide you with accurate and honest reviews of these different blades.
And if you think you found the right knife for you on this list, then all that's left to do is head out and get your hands on one for yourself!
Ryan Leavitt
Hi my name is Ryan Leavitt a Marine Corps Veteran and currently an over the road trucker (Long Haul). I am no expert chef but am enjoying preparing my own meals on the road and testing all the different knives.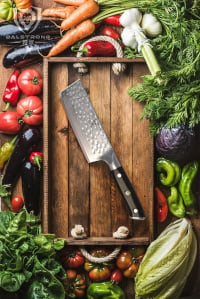 Want FREE Knives?
We give these knives a quick twirl and review, and then we pass them on to a few lucky home chefs!
By subscribing, you agree to get emails from me, Ryan Leavitt. I'll respect your privacy and you can unsubscribe any time.