It surprises many to know that Tojiro and Fujitora are the same. The former is the brand name used for international marketing while the latter is the designation for local marketing in Japan. Another surprising fact about Tojiro is that it doesn't cost an arm and a leg considering its awesome quality; that's why this is a must-have in anyone's kitchen.
Japanese knives are becoming more and more popular these days among home cooks despite their incredibly high costs because of sheer quality and superb aesthetics.
Usually, the place people turn to for premium J-knives are brands like Shun or Miyabi because these hail from Seki, the country's City of Blades.
But there are several other bladesmithing hubs in the country which are homes to talented artisans that create equally amazing pieces.
One is Tsubame in the Niigata Prefecture, the home of a wonderful cutlery company known to the world as Tojiro.
FYI: Tojiro and Fujitora is Just One Brand!
Before we move on to more specific details, everyone should know this slightly unknown bit of information: these two names are just one brand.
Tojiro is the name used to market the pieces internationally.
Fujitora is the name used to market the pieces to locals in Japan.
Now that's out of the way, let's proceed…
A Short Historical Backgrounder About Tojiro
The company, established in 1953 as the Fujitora Farm Equipment, first created blades and machine parts for (no surprise here) farm equipment.
Thinking they were pretty good with manufacturing the blades, they started making knives in 1955.
The next two decades saw continued expansion, wherein three new factories were built.
Funding all that seemed to have worked because, by 1980, they are winning awards for their products locally.
In the early 2000s, they brought their wares to Frankfurt Messe for an exhibit.
This introduction to the Western market was a success as they also received awards in Germany – another country known for high-quality knives.
Not from Seki but a Superstar, Nonetheless
Seki in the Gifu Prefecture is considered to be the Japan's City of Blades.
A lot of the most famous cutlery companies hail from this area – Mac and Shun are just some. But it doesn't mean that companies not headquartered in Seki are inferior already.
Tojiro, located in Tsubame, Niigata Prefecture is one great example.
Tsubame, just four hours away from Tokyo by bullet train, is just as historical as Seki when it comes to metal crafting.
Their industry goes way back to the Edo Period when the Wakugi or the Japanese nail was invented. They also made tobacco pipes from various metal alloys and Tsuiki copperware – beautifully hammered pots and kettles – at the time.
Very recently, a local factory was chosen to polish the First-Generation iPod in 2001.
Since then, the city was known to have the best technology for metal polishing all over the world.
Tojiro may be the most popular knife-maker in the city but they aren't alone.
With numerous blacksmith training halls all over town, the well-honed traditional of metal crafting is sure to be handed down to subsequent generations in the future.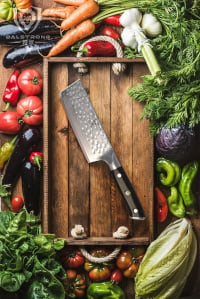 Want FREE Knives?
We give these knives a quick twirl and review, and then we pass them on to a few lucky home chefs!
By subscribing, you agree to get emails from me, Ryan Leavitt. I'll respect your privacy and you can unsubscribe any time.
It's All About the Steel
One of the most vital components of a Japanese knife is steel. That is what can make a piece incredibly lightweight, hard, and stay sharp.
The company makes use of different steel blends:
• VG10
A favorite blend for Japanese knives and other stainless steel cutlery, this contains Carbon, Chromium, Molybdenum, Vanadium, and Cobalt.
• Nickel Damascus
Another High-Carbon steel, this blend is also packed with Nickel that gives that sheen over the beautiful rings and waves on damask knives.
• Molybdenum Vanadium
As the name implies, this blend has a lot of Molybdenum and Vanadium.
• Powdered High Speed
This blend has the same elements as other stainless steel alloys but the manufacturing process is different, resulting in a more uniform microstructure.
• High Carbon Stainless
As implied, the blend still contains a good amount of Carbon but is mixed with a lot of Chromium and Iron to minimize rusting and staining.
• Aogami or Blue Steel
Removed of most impurities and reinforced with Tungsten and Chromium, this results in incredible resistance to wear and longer-lasting sharpness.
• Shirogami or White Steel
This has a good amount of Carbon for hardness and toughness. It still has a bit more Phosphorus and Sulfur (considered impurities) as well, compared to Aogami.
Crafting the Knife
Although top cutlery companies still adhere to traditional forging, most of them utilize automation to speed up the process and ensure consistency.
Tojiro also makes use of machinery – like an oven instead of a hearth and a mechanized hammer instead of the conventional one that can be carried with your hand. However, a craftsman is present the whole time, holding the piece from start to finish.
The company employs only 100 people, and every single one of them is sure to have touched or inspected the piece before it is sent out to their clients.
A Truly Varied Product Line
It would seem like they have kept most of their designs – even the very first ones they created in the 50s – in their current website. The knives are categorized based on various factors.
Per Style:
• Traditional Japanese
These are knives, traditionally made and used such as Debas, Usubas, and Yanagis. A lot of these are single-beveled.
• Western-Style
This generally refers to Japanese blades which have the traits of German ones like Santokus, Gyutos, and Nakiris. However, they have the usual must-haves like Chef's and utility knives, for people who are more comfortable with these.
• Chinese-Style
There are only five items in this category but all of these are just hefty cleavers for both meat and vegetables.
Per Series:
• Flash
• Shippu and Shippu Black
• Zen and Zen Black
• DP and DP Damascus
• A1
• Powdered High-Speed Steel
• Pro, Pro Nickel Damascus, Pro Meister, and Pro Japanese Style
• Origami and Origami Black
• Color
• Aogami and Aogami Damascus
• Shirogami and Shirogami Double Bevel
• MV, MV Double Bevel, and MV Elastomer Handle
• Wakisashi
• Tsubame
• Oboro
• Gai
• Hammered
• Soba Cutters
Tojiro's Other Kitchen Essentials
Aside from the knife, they also make must-have accessories.
One of the items which you probably should get is their sharpening starter kit which includes a whetstone, a strop, and even a carry case which you could use as a sink. If you're not confident with your skills in this regard yet, go for their rods and rolling sharpeners instead.
They also have shears, minimalistic stands and blocks, cutting boards, table forks and knives, and so many more.
Check out the Tojiro website for more information.
Price Points: How Much Are These Pieces?
Many people expect to pay a whole lot for Tojiro knives. And it is fair to suppose that because these are high-quality, hand-made pieces.
But many are pleasantly surprised to find that some of their series are quite affordable – a whole lot cheaper than their contemporaries – at less than $100 apiece.
In Conclusion
If you're thinking of getting a Japanese knife, go for a Tojiro (or a Fujitora, if you're currently in Japan).
These are some of the best, used by the best pros, and you won't regret your decision.
Ryan Leavitt
Hi my name is Ryan Leavitt a Marine Corps Veteran and currently an over the road trucker (Long Haul). I am no expert chef but am enjoying preparing my own meals on the road and testing all the different knives.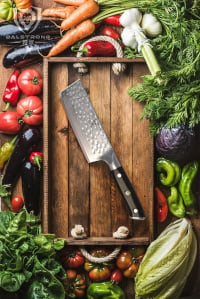 Want FREE Knives?
We give these knives a quick twirl and review, and then we pass them on to a few lucky home chefs!
By subscribing, you agree to get emails from me, Ryan Leavitt. I'll respect your privacy and you can unsubscribe any time.