Japanese knives are often thought to be extremely expensive but Tojiro and Global have erased that misconception as they match the quality of top brands but are offered at ridiculously lower rates.
Tojiro and Global are two Japanese knife brands from Tsubame Sanjo, another bladesmithing hub in Japan. Although both are at the same mid-range price point, it's very difficult to compare the two because they're completely different in form. The former is quite traditional in look and feel (although they do have Yo / Western-style handles) while the latter has a very ultra-modern design, particularly with the dimpled handles.
Tojiro
Global
Headquarters
Niigata, Tsubame-Sanjo
Tsubame, Japan
Steel Used
VG 10, Powdered High Speed,

Nickel Damascus, etc.

CROMOVA 18
Knife Construction
Forged
Stamped
Premier Series
Flash, Shippu Black
UKON, SAI
Best Asset
Wide variety of knives,

including traditional Japanese blades

All steel construction

Pricing

Price Point
Fairly priced
Great value for money
The Hubs of Japanese Knife-Making
Seki is home to most of the aforementioned skilled artisans.
It also became the headquarters of a whole lot of well-known Japanese cutlery companies of the 21st century. But it isn't the only one.
Sakai near Osaka (Masamoto, Kageyiko), Tosa Kurouchi (Matsubara, Akira Saku), and Takefu (Kitaoka, Saji) are also respected sites when it comes to bladesmithing, thanks to the land's abundance of raw materials.
Another town that is now considered as the home to great cutlery brands is Tsubame Sanjo.
This is the home of two of our featured knives: Tojiro and Global.
All About Tojiro
This Tsubame-based company was established in 1953 as the Fujitora Farm Equipment. In 1955, they decided to make knives, thinking it was a bit more lucrative.
This proved to be a great idea because it helped them expand that by the 80s, they had three factories and are winning various local awards for their amazing designs.
Company CEOs thought it best to introduce their brand to the West, starting with an exhibit in Frankfurt Messe.
This, again, was a great idea since they started winning international awards and, more importantly, became more and more of a household name.
Formulating the Steel, Crafting the Knife
Tojiro uses a wide array of stainless and High-Carbon steels for their products: VG10, Nickel Damascus, Powdered High Speed, and local favorites Aogami and Shirogami, just to name a few.
The most interesting tidbit about their manufacturing process is that they are doing practically everything manually.
Sure, they use types of machinery such as an automated hammer and an electric furnace, but at least one of their 100 employees has touched the piece and worked on it from start (forging) to finish (polishing).
The Most Highly Acclaimed Series in the Tojiro Line
There are almost two dozen collections in their product line.
Compared to other cutlery companies, it would seem that they haven't gotten rid of any variant since they started.
The best, according to chefs and connoisseurs, is the DP made from VG10 + 13 Chrome steel. And under this series, most buyers go for the 8-inch Western Deba.
• The blade (most of it) and the handle's spine are one straight line. The piece is simple, embellished only by the logo near the spine and the bolster.
• It features a double bevel, although there are no specifications regarding the degree of sharpening.
• There is a partial bolster that is positioned a few millimeters after the long, straight heel.
• It has a full tang that is completely covered by the handle.
• The narrow 'Yo' (Western-style) handle is triple-riveted to the tang and is made of a dark-colored reinforced laminated material.
Tojiro DP at a Glance
• Japanese, made in Tsubame
• Uses VG10
• The handle is made of reinforced laminated material
• This line includes Western-style blades, often double-beveled
• Has a Yo handle
• Classic Chef's knife 8-inches costs less than $100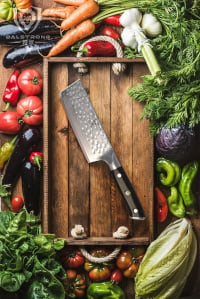 Want FREE Knives?
We give these knives a quick twirl and review, and then we pass them on to a few lucky home chefs!
By subscribing, you agree to get emails from me, Ryan Leavitt. I'll respect your privacy and you can unsubscribe any time.
All About Global
Mino Tsuchida, Mr. Global himself, is the man behind the brand.
As soon as he finished high school, he started work at a cutlery company in Seki while studying in college.
His love for crafting tools mixed with his smarts in export sales led him to establish the Global brand with a brilliant industrial engineer, Komin Yamada.
In 1985, they launched 12 knives. By 1990, they were already exporting to Australia, Canada, and Spain.
Today, they have hundreds of knives and knife accessories in their product line, all exported to 88 different countries all over the world.
Formulating the Steel, Crafting the Knife
The masterminds of Global decided to keep things as simple as possible, ensuring three important factors for success: German durability, Italian aesthetics, and Japanese precision.
To accomplish this, they only needed one kind of steel: Cromova 18 stainless steel. This blend has 18% Chromium content, ensuring that the knife won't rust or get stained.
Designer Komin Yamada also thought it best to stick to that material from the tip to the end of the tang, that's why all Global knives are made of just steel.
The manufacturing process is a mix between stamping and forging:
• Stamping of the steel into the shape of the blade, bolster, and handle
• Heat treating of up to 1000 degrees Celsius
• Rapid cooling at -80 degrees Celsius
• Another heat treatment that lasts for four hours for refinements
The Most Highly Acclaimed Series in the Global Line
They have kept it simple in this regard as well, only coming up with three basic collections: Classic, SAI, and Ukon.
Let's zoom in on the features of their first-ever series and possibly the most popular: the Classic. And to give you a good description, let's use the 7.5-inch Chef's knife as a sample.
• The blade's spine is mostly straight. This horizontal line goes on until the end of the handle. The face is mirror polished and unembellished except for the logo and brand name that is etched near the spine.
• All Global pieces' edge is straight. This means that the steel is tapered from the spine towards the edge. This is sharpened to a 15-degree angle.
Traditional Japanese knives in the line are sharpened up to 10 degrees on one side and are slightly concaved on the other.
• All their knives do not have bolsters or tangs. Again, these are made from one single chunk of steel.
• The handle is a modern take on the 'Wa' handle. It is round but is made of steel and has dimples all around.
Global Classic at a Glance
• Japanese, made in Tsubame
• Uses Cromova 18 stainless steel
• Straight edge, with a 15-degrees on each side
• No tang and bolster
• Made from a single material from tip to handle butt
• Has a Wa handle
• Classic Chef's knife 8-inches costs over $100
In Conclusion
These two companies make exceptional tools, just as amazing as those in Japan's famous City of Blades, Seki. Some would go as far as to say that maybe they're even better.
And that's probably because they are both simple – their founders wanted to make functional pieces and they did that.
These may not be the prettiest items on your knife block but you can be assured they're probably the sharpest. To be honest, that is all you need.
Ryan Leavitt
Hi my name is Ryan Leavitt a Marine Corps Veteran and currently an over the road trucker (Long Haul). I am no expert chef but am enjoying preparing my own meals on the road and testing all the different knives.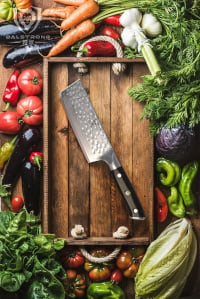 Want FREE Knives?
We give these knives a quick twirl and review, and then we pass them on to a few lucky home chefs!
By subscribing, you agree to get emails from me, Ryan Leavitt. I'll respect your privacy and you can unsubscribe any time.