The knife, one of the most important tools in the kitchen, is a cook's best friend; that is why you need to be extra fastidious when looking for the one to accompany you on your culinary journey.
There are several factors that you need to consider when you're out shopping for this – the general kind of knife, the overall size and weight, your budget, and so many more.
It's All About the Blade
But if you ask a professional or a connoisseur about the first feature that they zoom in on, they will all tell you that it's the material used for the blade's construction.
The very simple reason for that thinking is that many of the aforementioned features that people usually consider when buying – the size, thickness, weight, sharpness, and even price – are all based on the material that is used for the construction.
Below are five different materials most knives are made of:
1 – Carbon Steel
Perhaps the oldest substance used for blades based on historical accounts from 500 AD, high carbon steel is highly favored by bladesmiths, master chefs, and blade connoisseurs all over the world up to this day.
This contains iron and carbon mostly with very little to no other components.
Pros:
• This makes for hard and thin blades that retain sharpness for a very long time.
• With good care, this can last for decades, even centuries, as evidenced by artifacts from ancient history.
Cons:
• Tends to rust or stain with the tiniest bit of moisture (not dishwasher safe)
• Quite brittle with a tendency to break or chip when dropped.
• Requires a bit of skill and a few special tools to sharpen.
• Extremely expensive.
Brands (and Series) Featuring Carbon Steel:
Miyabi Mizu SG2, Shun Classic, Yoshihiro Mizu Yaki Blue
2 – Stainless Steel
Invented at the turn of the 20th century by Englishman Harry Brearly, stainless steel became the preferred main ingredient for cutlery because it eradicated the problems people had with the first type noted above – corrosion and rusting – simply by adding a good measure of chromium to iron.
Pros:
• Overall low maintenance because it is resistant to corrosion and rust.
• Softer so pieces can be stamped instead of forged.
• Makes for cheaper knives.
Cons:
• Because this is soft, it requires frequent re-sharpening.
• This won't last as long, too.
Brands (and Series) Featuring Stainless Steel:
Rada Cutlery, Home Hero, Dexter Russell
3 – High Carbon Stainless Steel
Decades after Harry Brearly introduced his innovation, many tried to reformulate it so that it would have the qualities of the two types first mentioned in this list.
High carbon stainless steel cannot be credited to just one person or company because many have come up with their own mix to highlight a feature that their knives have.
One thing is for sure: this has a huge carbon component and an equally high level of Chromium. It also contains other elements like Molybdenum, Vanadium, and Tungsten, just to name a few.
Pros:
• Remarkably low maintenance because of the corrosion and rust-resistant layer
• Extremely sharp
• Quite durable
Cons:
• Very expensive
• Still not dishwasher safe because of its carbon content
Brands (and Series) Featuring High Carbon Stainless Steel:
Victorinox, Zwilling J.A. Henckels, Korin, Global
4 – Ceramic
Although ceramic has been used in the kitchen for hundreds of years, it was only recently that knives were crafted using this material, specifically Zirconia which is a relative of the incredibly hard diamond.
Chefs would still prefer the aforementioned traditional kinds but this type is becoming more and more popular among home cooks for several reasons.
Pros:
• Lightweight
• Incredibly sharp
• Easy to clean (dishwasher safe) and all-around low-maintenance
• Very cheap
Cons:
• Almost impossible to re-sharpen
• Brittle and quick to chip
Brands (and Series) Featuring High Carbon Stainless Steel:
Cuisinart Advantage, Kyocera Revolution, ZenWare
5 – Plastic
No, we're not referring to the clear plastic knife used for picnics.
Believe it or not, some companies have made actual kitchen knives out of this synthetic polymer, although these have very specific uses like cutting green and leafy vegetables or crusty bread.
Pros:
• Relatively safer to use since it's not sharp
• Lightweight
• Dishwasher safe
• Cheap
Cons:
• Have very limited uses
• Isn't durable and won't last long
Brands (and Series) Featuring High Carbon Stainless Steel:
ZYLISS, Norpro, Hombae Kids Knife Set
Always Go For What Suits You Best
It's always important to choose the knife that would fit your cooking process and overall lifestyle and, once you do, cherish that piece like you would the love of your life.
Taking good care of your knives is a completely different topic altogether (and this article would become way longer than it should be) but do take the extra steps to maintain your blades at their optimum, almost factory-level quality and you won't need to shop for another one in decades or, hopefully, ever.
Ryan Leavitt
Hi my name is Ryan Leavitt a Marine Corps Veteran and currently an over the road trucker (Long Haul). I am no expert chef but am enjoying preparing my own meals on the road and testing all the different knives.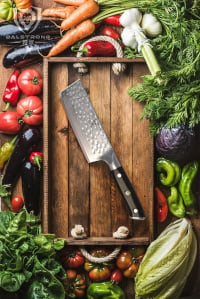 Want FREE Knives?
We give these knives a quick twirl and review, and then we pass them on to a few lucky home chefs!
By subscribing, you agree to get emails from me, Ryan Leavitt. I'll respect your privacy and you can unsubscribe any time.