In this day and age, Japanese kitchen cutlery has become a top choice for chefs.
These knives are known for superior sharpness and great functionality, making them a favorite of professional chefs and home cooks alike.
And one of the reasons these blades perform so well in the kitchen is the steel that they use.
Every manufacturer uses a different steel recipe, but there are a whole lot of knives out there that use VG10 steel.
It's a top choice for Damascus knives and is known for being a very hard material.
VG10 has great edge retention because of its high carbon content, and it also has great corrosion resistance.
A lot of manufacturers consider this steel one of the top choices for any blade.
This steel recipe can also be brittle though, because of how hard it is, so make sure to take good care of a knife with VG10 steel.
In this VG10 steel review, we take a close look at the qualities of this material, so you can figure out whether or not it's the right choice for you.
Related: Types of knife steel (ultimate guide)
What is VG10 steel?
VG10 is a steel line in the High-end segment of Japan, produced by Takefu Steel Corporation. Its main feature is resistance to rust and corrosion and high hardness thanks to the high carbon and chromium content. Besides, this steel also has a high edge, so it is very sharp, and the cutting process is even easier.
An added plus is its excellent wear resistance thanks to the high chromium content in steel, so you won't need to sharpen knives as often. The low wear resistance also gives this product the highest durability on the market today.
Chemical composition
1.5% Carbon: Helps to improve the hardness and increase wear resistance.
15.5% Chromium: Enhances the strength, sharpness, and resistance of knives to corrosion and wear
0.5% Manganese: For hardness and brittleness
0.03% Phosphorus: Increases strength
1.2% Molybdenum: Makes it more comfortable to work with and enhances the strength
0.3% Vanadium: Increases abrasion resistance and hardness
1.5% Cobalt: Enhances the individual effects of the above ingredients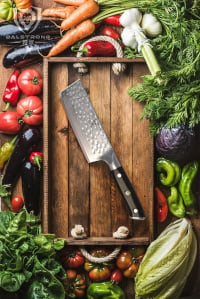 Want FREE Knives?
We give these knives a quick twirl and review, and then we pass them on to a few lucky home chefs!
By subscribing, you agree to get emails from me, Ryan Leavitt. I'll respect your privacy and you can unsubscribe any time.
Is VG10 steel suitable for making knives?
The answer is yes. Thanks to its good rust resistance, it is suitable when you need to work in wet environments often regularly. The VG10 is easy to work with, so it won't be too difficult to manufacture a knife from it. In addition, this steel has a high balance between the chemical components. Specifically, the carbon and chromium content is highly balanced, giving it excellent rust resistance and durability.
The high corrosion resistance and hardness will be an extremely outstanding advantage of the VG10 steel knife. Cutting and processing the ingredients is easier because of the sharpness of it. Especially for dishes that need a sharp knife to make perfect slices like Sashimi or fish fillet, this knife is an ideal choice for you.
Notable knives made from VG10 steel
Spyderco Dragonfly 2
It has a compact and lightweight design, making it extremely suitable for carrying around without entanglement. Spyderco Dragonfly 2 is made from VG10 steel with excellent resistance to wear and corrosion. The blade is sharp, durable, and easy to sharpen on surfaces like wood. It is medium in size and optimized for cutting despite its modest size.
The FRN handle feels comfortable and safe when using and handling it. The handle is designed in an ergonomic handle for easy handling, grip, and use. Not only that, but this handle design also helps to improve and optimize its efficiency. It is perfect for carrying with you when going out for hunting, camping, or for sharpening surfaces like wood.
One major drawback of this type of knife is that the screws on the blade are quite loose. So you may have trouble folding the blade inwards if the screws are tightened, or the edge feels loosened after using it for a while.
Pros
Small, gon, easy to carry with you
Safe when using
Cons
Easy to loosen after a period of use
FANTECK Kitchen Knife
Fanteck kitchen knife will be a perfect knife for slicing raw foods like red meat.
The blade is made of VG10 stainless steel with 67 grades of steel to prevent tarnishing. This material is also durable over time and extremely resistant to corrosion. When fabricated, the steel is treated by vacuum heat technique and cooled by cold nitrogen, thus retaining all of its best properties.
The blade part is sharpened 10-15 degrees on each side so that the cutting process can take place effortlessly. It is not only suitable for the family kitchen but also perfectly reasonable in the professional cooking environment.
However, its price is relatively high compared to the market's general level, so you should consider if your shopping costs are limited.
Pros
Durable, not tarnished
Excellent wear resistance and wear resistance
A nice form of a knife
Cons
Sujihiki Slicer Knife
If you are looking for a suitable knife to cut Sashimi, this product is worth your reference. What makes this knife so special is that it is made entirely by hand by highly skilled craftsmen.
The blade part is made of VG10 steel, wrapped in a Damascus layer that adds rigidity and durability. It is hammered in a hammer structure that reduces friction and keeps food from sticking to the edge. Therefore, this knife will be extremely suitable for sashimi processing or slicing vegetables without affecting food quality.
VG10's handle is made of traditional Japanese octagonal Shitan Rosewood for a classic style. Also, users will easily control the blade comfortably thanks to excellent balance and the right handle size.
However, this product will not be suitable for use on frozen and acidic foods. VG10's high cost is also one of the disadvantages compared to other products.
Pros
For nice slices
Durable over time
Comfortable handle
Cons
Not usable for a wide variety of foods
High price
Conclusion
The VG10 steel knife has many useful features: durable, highly resistant to corrosion and corrosion. If you are looking for a knife with high sharpness and does not need a lot of sharpening, this is the right knife for you. Hopefully, the above Vg10 knife steel review has given you useful information about this knife.
Ryan Leavitt
Hi my name is Ryan Leavitt a Marine Corps Veteran and currently an over the road trucker (Long Haul). I am no expert chef but am enjoying preparing my own meals on the road and testing all the different knives.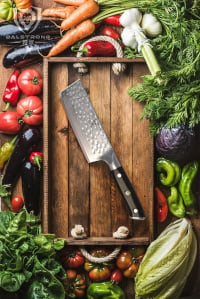 Want FREE Knives?
We give these knives a quick twirl and review, and then we pass them on to a few lucky home chefs!
By subscribing, you agree to get emails from me, Ryan Leavitt. I'll respect your privacy and you can unsubscribe any time.