You know what?
This knife makes your food preparation swifter and more comfortable.
With it, you're able to work on all foods, both light and tough, without any difficulty.
The Victorinox Fibrox also offers you adequate safety as you go about peeling, chopping, and slicing your foods.
Read my review for more information on the features that make this cutlery a must-have in the kitchen.
Pros:
Stainless steel that doesn't stain and that cleans easily
An ergonomic handle that's also slip-resistant for comfort and safety
Quality and sturdy materials for durability
High-carbon steel that sharpens easily and retains the sharpness for long enough
An adequate length for versatility
Cons:
The lightweight is suitable for smaller foods but inconvenient for large ones
It could do with a bit of weight balance
We earn a commission if you make a purchase, at no additional cost to you.
Easy-to-Maintain Blade
Keeping the blade of this model free of stains is easy, even when it has gone through colored fruits and vegetables.
The stainless steel used to make it resists discoloration.
It only takes a piece of cloth dipped in water to restore the blade's shiny appearance.
Or, you can wash it in the sink and watch any food particles it may have picked fall off with ease.
Keeping the edge of this knife sharp is as easy as cleaning it.
The high-carbon stainless steel blade is stamped from hones with unbelievable ease.
A few strokes of a sharpening tool is enough to produce a razor-sharp edge.
The steel also has an excellent edge retention capacity, reducing the number of times you have to sharpen it.
See more:
Ergonomic and Durable Handle
The handle of this cutlery won't make your hand hurt or feel numb from extended use.
It doesn't even matter if you've been cutting into hard foods.
The ergonomic design offers enough comfort to prevent your palm and wrist from becoming painful.
The handle provides a firm grip even when wet.
In addition to improving the comfort it offers when working, the non-slip property helps to make the knife safe to work with.
You're assured that you won't lose control of the handle and risk your hands.
It also means less damage to the foods you prepare.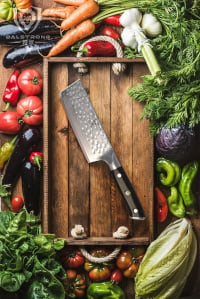 Want FREE Knives?
We give these knives a quick twirl and review, and then we pass them on to a few lucky home chefs!
By subscribing, you agree to get emails from me, Ryan Leavitt. I'll respect your privacy and you can unsubscribe any time.
Razor-Sharp Edge
The Victorinox Fibrox skins fruits and vegetables with great precision.
It also cuts different types of foods with utmost ease, thanks to its super-sharp edge.
It will make one-touch cuts on smaller foods and effortless slices for larger ones.
You only need to keep honing it as soon as you notice the blade has dulled.
The extra-sharp edge makes this kitchenware versatile and allows you to work with speed.
Your precision is also bound to improve with this super sharp edge.
Ideal Length for Powerful Strokes
With a length of 8 inches, this model is long enough to provide the leverage you need to cut large foods.
It also gives the knife a larger cutting edge to enable you to slice full foods with ease.
The length makes the product to achieve the versatility not found in shorter ones.
With it, no cutting task will prove too hard to perform.
Quality Materials for Durability
This cutlery is made from quality materials that allow it to serve you for long.
The blade is robust stainless steel that doesn't wear out easily.
It resists the corrosion that results from working on highly acidic foods.
The handle is fibrox, a plastic material that resists damage from temperature extremes and oils found in the kitchen.
Being plastic, the handle is impervious to water, so you need not worry about washing it in the sink.
Conclusion
For a busy kitchen with lots of foods to work on, this product would make an excellent choice.
The versatility it offers is fantastic.
It comes with an ultra-sharp edge that enables you to create slices, minces, and dices with minimal force.
It's also a durable piece of kitchenware, with quality stamped steel for the blade, and patented fibrox material for the handle.
If you're a professional looking for a chef's knife to help hone your skills, this model would make a good pick.
The blade is also ideal if you are not experienced or professional; it's easy to maneuver and lightweight enough for use by anyone.
Get this knife today, and improve your precision and speed in the kitchen.
Ryan Leavitt
Hi my name is Ryan Leavitt a Marine Corps Veteran and currently an over the road trucker (Long Haul). I am no expert chef but am enjoying preparing my own meals on the road and testing all the different knives.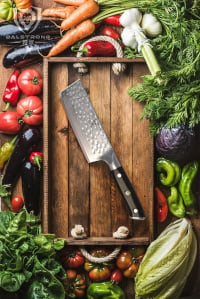 Want FREE Knives?
We give these knives a quick twirl and review, and then we pass them on to a few lucky home chefs!
By subscribing, you agree to get emails from me, Ryan Leavitt. I'll respect your privacy and you can unsubscribe any time.