Whether you're a master chef or merely a gourmand at home, dishes can be made spectacular if you have two things: the best ingredients and the right tools.
This is why owning a trusty knife – even just one – is vital.
For home cooks, two great brands for kitchen knives are Victorinox and Mercer Culinary.
But which is the better option for your kitchen?
For most cooks, Victorinox is the best bet.
While both brands create high-quality blades, Victorinox has been creating knives for much longer, which is why many chefs believe them to be the more reliable brand.
However, many chefs and cooks all over the world use Mercer Culinary knives on a daily basis with no complaints.
If you're on the fence about these two brands, you've come to the right place.
In this Mercer vs Victorinox comparison, we dive deep into the feature and characteristics of both brands to see which one belongs in your kitchen.
| | | |
| --- | --- | --- |
| | Victorinox | Mercer Culinary |
| Price | $$ | $$ |
| Are the block sets available? | Yes | Yes |
| Construction | Forged and Stamped (depends on the model) | Forged (except for Mercer Millennia knives) |
| Lifetime Warranty | Yes | Yes |
| Tang | Full-tang | Full-tang |
Victorinox: A World-Renowned Legend
Victorinox's Swiss Knife's efficiency and practicality make it one of the most ubiquitous tools ever made.
What many people don't know is that they are primarily a cutlery company and that they have been making great knives since their founding in the late 1800s
Their kitchen implements may not be as popular as their compact tool since Forschner distributed the former for several decades.
But now that they have taken the reins and have come up with amazing innovations, Victorinox has been praised by so many in the gastronomic world.
Related: Best Victorinox knife sets
Construction Components of the Knife
The company uses a specialized alloy X55CrMo14, said to be a mix of German and French steel.
Just the right amount of Carbon, Chromium, Molybdenum, and a few others give their blades that shiny luster, the right hardness, corrosion protection, edge retention, and, most importantly, longevity.
Essential Features
They have a line of full-tang, triple-riveted, and thickly bolstered forged knives.
Their line of stamped knives doesn't have any of those features but is still competitive, in a way.
For example, the thinner edges make it sharper. The handles were made from either high-quality wood or colorful TPE (Thermoplastic Elastomer), resulting in a lightweight and easy-to-handle blade.
The brand is all about innovation – they wouldn't have survived a century if they stuck to what they're used to
Their search for a fresh perspective has paved the way to ensure these three: better function, interesting designs, and reduced prices.
Pros and Cons at a Glance
Pros:
Long history in the cutlery industry guarantees high quality.
It comes in stylish and modern or simple and classic designs – you can take your pick!
Affordable for its quality
Cons:
Their stamped variants aren't as good as forged ones.
Certain handle designs aren't for everyone.
Notable Variants
Grand Maitre Chef's Knife
One of Victorinox's forged blades is a favorite among professional cooks because of its seamless construction – full tang, triple-riveted, and so on.
Despite all its wonderful features, it can be had for a little over a hundred bucks.
It's a real treat!
Swiss Modern Santoku
This is the company's modern take on the traditional Japanese knife.
It has a fluted edge and thin vertical indentations on the blade, which lessens the friction with food but its PPC (Polypropylene Copolymer) handle has simpler, cleaner lines
Mercer: The Newcomer That Stunned All
Rarely will you see a new brand make such waves in the culinary market filled with century-old names?
Mercer, only 50 years old in the industry, was founded in 1968 in Ronkonkoma, New York.
In their commitment to delivering only the best, they worked closely with professionals – chef educators especially – since they know exactly what they need.
That smart move earned them the respect of culinary schools as they are the go-to-supplier of great knives, kitchen cutlery and accessories, and even chef's clothing all over North America.
Construction Components of the Knife
Most products in the Mercer line are made of German steel.
Lower carbon content means softer steel making the edge easier to sharpen if necessary.
This quality also increases the blade's durability, preventing sudden chipping.
Another interesting facet of their knife is how it was made.
Instead of using just one homogenous steel, the company decided to go for lamination – the process of forging two layers of different steel.
A perfect example of this is Mercer's MX3, a VG10 steel core and a high carbon out layer.
Essential Features
Because chefs were included in drafting their designs, you will see features such as full tang, triple rivets, thicker bolsters, and rounded spines in their knives.
All these ensure stability and balance while chopping.
Most in their product line are also precision-forged.
Their handles come in two types: Delrin and Santoprene.
Both offer better grip, safety, and endurance, particularly in hot and cold temperatures.
Some people like classic handle designs – plain black or wooden – while some like popping colors such as bright yellows, whites, and even purple.
You'll be glad to know this brand has both.
Best of all, Mercer knives are cheap.
Most of their variants are under $15, and rarely will you find one over $50
For all its awesome features, this makes Mercer a must-have
Pros and Cons at a Glance
Pros:
Incredibly low-priced, starting at $13 apiece
It has the same high-quality features you'll find in $100 blades
Several stylish designs that fit anyone's preference
Cons:
Sharpness is said to last for 6 months – quite a short time before re-sharpening
Inconsistent sharpness in certain variants
Notable Variants
Renaissance Chef's Knife
Only under $50, this classic-looking knife with great capability can be used for a whole year with minimal sharpening.
Some even swear it has the same quality as $300 knives in the market.
MX3 Gyuto
This laminated knife is possibly one of the best in the brand's line – and the most expensive.
Like many professional tools, this is perfect for slicing soft meat and hard vegetables.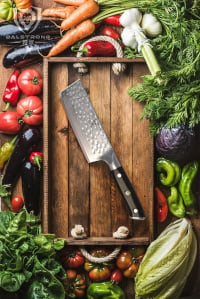 Want FREE Knives?
We give these knives a quick twirl and review, and then we pass them on to a few lucky home chefs!
By subscribing, you agree to get emails from me, Ryan Leavitt. I'll respect your privacy and you can unsubscribe any time.
In Summary
Both Victorinox and Mercer have knives that even professional chefs laud for their efficiency and price.
But they have variants that don't work for everyone with the oddly-designed handles or meticulous maintenance.
The best thing to do is know what you want from a knife before buying one or going for the most reliable variant in any of those two brands.
Ryan Leavitt
Hi my name is Ryan Leavitt a Marine Corps Veteran and currently an over the road trucker (Long Haul). I am no expert chef but am enjoying preparing my own meals on the road and testing all the different knives.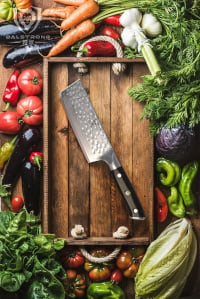 Want FREE Knives?
We give these knives a quick twirl and review, and then we pass them on to a few lucky home chefs!
By subscribing, you agree to get emails from me, Ryan Leavitt. I'll respect your privacy and you can unsubscribe any time.