In the world of knives, Victorinox and Henckels are two brands often mentioned in the same breath.
So, which brand is better for your kitchen?
The answer to this question largely depends on your own needs and preferences in the kitchen.
Most professional chefs recommend the Henckels brand as it is more suited for heavy use in a professional kitchen.
However, these knives are fairly expensive, and home cooks looking to save on money might prefer getting a Victorinox knife.
In this article, you will get to know more about these two brands – from their history to their best bets – so you can have an informed decision before you go shopping.
| | | |
| --- | --- | --- |
| | Victorinox | Henckels |
| Price | $$ | $$$ |
| Premier Model | Fibrox | Henckels Classic |
| Construction | Forged & Stamped (depends on the model) | Forged & Stamped (depends on the model) |
| Handle material | Fibrox, Wood, and PP | Polypropylene |
| Number of collections | 5 | 17 |
Victorinox: Unparalleled Swiss Expertise
Founded in 1884 in Ibach-Schwyz by Karl Elsener, Victorinox is one of the most long-standing brands in the industry.
The Swiss Knife may be the most familiar tool in the company's product line but their kitchen blades have been getting the prominence it deserves in recent decades.
Now, the company has expanded.
They own factories in other countries making travel gear, watches, and even fragrances.
But in their commitment to their century-old history, cutlery manufacturing is in Ibach up to this day.
Creating the Knife
Since its founding, the company has been using Inox or stainless steel in its knives; hence the inclusion in their name.
But they have endured because of the numerous innovations they have made over the years.
Today, Victorinox makes use of a very special metal called X55CrMo14.
They acquired the best qualities in French and German steel and then combined the two to come up with a blade that is sharp, durable, lightweight, and most importantly, inexpensive.
Essential Features
Victorinox has a few forged knives which one may find in kitchens of high-class restaurants.
But this company is more known for its stamped (cut from a larger sheet of steel) lines.
Some assume that they do this so that they can lower their cost.
But that doesn't mean that they have ignored quality altogether.
Their blade is sharper, the weight from the tip to the butt is well-balanced, and its overall durability is guaranteed.
Pros and Cons
Pros:
Lightweight so your wrists won't get strained when chopping
Perfect for amateur cooks
Several attractive designs to choose from
Great value for money
Cons:
Most Victorinox variants are stamped rather than forged
Some of their designs – particularly the handles – are too peculiar and difficult to get used to
Notable Product Lines
Swiss Classic Chef's Knife
Just like their pocket tool, this one is a multitasker.
It can be used for slicing and dicing fruits and vegetables and can carve meat, poultry, and fish quite well too.
Fibrox Pro Santoku
This Japanese-style blade is perfect for newbies in the kitchen.
Just like the classic design described above, this Santoku does practically everything.
But unlike traditional Santokus, this can be had for less than $50!
Henckels: The Pioneer of German Excellence
Germany knows how to engineer good steel so it isn't any wonder why many of the best cutlers hail from this country.
The oldest and arguably the best here is Henckel.
In 1731, Peter Henckels founded and trademarked the cutlery company Zwilling.
His son, Johann Abraham Henckels grew the company, opening a store in several cities all over the world: Berlin in 1818, New York in 1883, and Vienna in 1884.
Now, they operate numerous brands in several countries including big names in hairdressing and cookware.
The Henckel knife line, however, is still their best seller.
Related: best Henckels knife sets
Creating the Knife
Having been in the business for nearly 300 years, Zwilling J.A. Henckels has nearly perfected the formula of their steel and the craft of making knives.
Their factory in Solingen uses two main processes: Sigmaforge and Friodur.
Sigmaforge, a technology used only by this company, is used to strengthen the steel and increase its resistance to staining.
Friodur, on the other hand, is a process that involves cryogenic tempering or immersing the blade in liquid nitrogen to ensure edge retention and prevent corrosion.
Essential Features
The stamped, entry-level product line of Henckels is surprisingly affordable.
But some experts have claimed that it has almost the same features as its forged/frozen $500 ones.
Made from high-carbon, stain-resistant German steel, their knives mostly have bolsters, have at least ¾ tang, have good HRC rates (55-58), and are quite sharp (15 degrees on each edge).
When you've got something like that under 50 bucks, you buy it ASAP.
Pros and Cons
Pros:
Very long history means reliability
Unique construction method – Forging and Freezing
Guaranteed durability
Their basic product line is quite inexpensive
Cons:
Comes in very basic (plain black) designs
Their forged sets are way more pricey than Victorinox's
Notable Product Lines
Kramer 34891-203 Chef's Knife
If you can shell out $500 in just one product, this wonderful variant from Henckels deserves it.
Designed by the famous Bob Kramer, this is made of German steel, finished by Japanese craftsmen, and is given that wonderful Damascus chevron pattern.
To be perfectly frank, there is very little else that a cook would want in a kitchen tool.
Twin Signature Santoku
Although it works just as well, this particular blade is pricier than its counterpart in Victorinox because of the construction: full tang bonded to the handle, triple-riveted, and made extra sharp (10 degrees on each edge)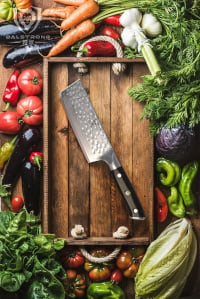 Want FREE Knives?
We give these knives a quick twirl and review, and then we pass them on to a few lucky home chefs!
By subscribing, you agree to get emails from me, Ryan Leavitt. I'll respect your privacy and you can unsubscribe any time.
In Summary
To be honest, these rivals are practically the same when it comes to function.
Not only have they honed their skills in cutlery-making, but both also made sure that they will be able to offer their products at a good price.
If you're just beginning to learn how to cook, either of the two will be perfect for you.
You won't be breaking the bank but you'll get a decent knife that can last you several years.
But if you're willing to splurge a bit, go for the high-end Henckels. You will never regret it!
Ryan Leavitt
Hi my name is Ryan Leavitt a Marine Corps Veteran and currently an over the road trucker (Long Haul). I am no expert chef but am enjoying preparing my own meals on the road and testing all the different knives.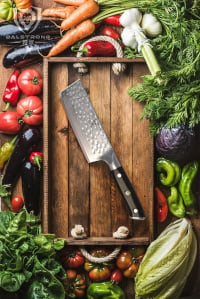 Want FREE Knives?
We give these knives a quick twirl and review, and then we pass them on to a few lucky home chefs!
By subscribing, you agree to get emails from me, Ryan Leavitt. I'll respect your privacy and you can unsubscribe any time.