In the world of kitchen knives, Victorinox and Wusthof are some of the most well-known names.
But many people still wonder: which brand is the better option?
For most professional chefs, Wusthof easily takes the cake.
Their knives are engineered with incredible precision and manufactured with close attention to detail.
Just about any Wusthof model out there will be fit for a professional kitchen.
However, Wusthof knives are expensive, which is why some home cooks would rather opt for Victorinox.
If you're undecided on whether to buy a Victorinox or Wusthof knife, you've come to the right place.
In this Victorinox vs Wusthof comparison, we dive deep into the features of both brands to help you decide on the better option for your kitchen.
| | | |
| --- | --- | --- |
| | Victorinox | Wusthof |
| Price | $$ | $$$ |
| Construction | Forged and Stamped (depends on the model) | Forged (except for Wusthof Gourmet) |
| Knife steel | X50CrMoV15 | X50CrMoV15 |
| Handle material | Fibrox, PP | Polyoxymethylene, wood (depends on the model) |
| Are there box sets available? | Yes | Yes |
| Lifetime Warranty | Yes | Yes |
Victorinox: Certified Swiss Precision
Before the turn of the 20th century, Victorinox founder Karl Elsener produced the knives for the Swiss Army soldiers.
Since then, the brand has become a trusted household name.
While their pocket toolset is one of the most recognizable items worldwide, their cutlery line – specifically their blades – is a must-have.
Creating The Knife
Victorinox's name is a combination of Victoria (Elsener's mother) and Inox, short for acier inoxydable or stainless steel – the material used in manufacture during the early 1900s.
Today, they use a mix of vanadium to enhance its hardness plus chromium and molybdenum to resist corrosion.
Most Victorinoxes are stamped or cut to shape from a large sheet of steel.
'Specialized' version, especially those preferred by gourmet chefs, are made from X50CrMo V15 steel and are forged instead of stamped.
The most recent addition to their cutlery line is their ceramic blade, which is extremely lightweight, surprisingly sharp, and resistant to acids.
Essential Features
Most stamped knives, like the Victorinox, are lighter than forged ones.
This gives the user more control over the chopping board.
Also, your wrists won't get too tired when slicing continuously – especially when a recipe calls for a pound of carrots to julienne.
Serviceable kitchen knives are sharpened to a 17-20 degree angle.
Victorinox's edges can go as low as 15 degrees per side, making slicing tomatoes to thin sheets easy-peasy.
This doesn't blunt fast either, with a Rockwell Hardness rate of 56, so you can wait a year or so before it loses its factory-level sharpness.
Some people like the fact that many Victorinox variants – serrated or Santoku – come in different handle types and even color.
But the main feature that many loves about this brand is its value for money.
Their entry-level chef's knife, for instance, can be had for less than $20.
Rarely can one find something so efficient, stylish, and cheap?
Victorinox Pros and Cons
Pros
Good weight and balance
Quite sharp
Stylish
Very affordable
Perfect for beginner home cooks
Cons
Most variants do not have a full tang.
Not as durable or long-lasting as forged knives
Notable Variants
Fibrox Pro Chef's Knife
Made of lightweight stainless steel, the sloping blade measures 8 inches long and 2.5 inches wide.
The handle is made of non-slip TPE (thermoplastic elastomer) for a secure grip.
Thanks to the edge's beautiful curve, this is great for chopping, mincing, and even carving meat.
It is truly a must-buy for beginner home cooks.
Black Swiss Classic Chef's Knife
If you want more comfort when working on your chopping board, this is a great choice.
With a 6-inch straight blade and an ergonomic handle, this is an all-purpose kitchen implement.
It is big enough for slicing and dicing and relatively small for peeling fruits and vegetables.
Swiss Modern Carving Knife
One of the more expensive options in their line is an elegant tool with a high-carbon blade and walnut wood handle.
It resembles their Chef's knives so it can slice thinly.
But because it is sharpened at an even lower degree, it is great for carving cooked meat.
Wusthof: Precision Forged Perfection
Wusthof, a German family-owned and operated cutlery company, is arguably one of the best in the world today.
Founded in the early 19th century by Johann Abraham Wusthof in Solingen, Germany, the company has been producing brilliant blades for over two hundred years and serving over 80 countries worldwide.
And although they have maintained their factory in Solingen – surprising for a world-renowned company – they have made astonishing innovations to ensure that everyone can own a decent tool that suits their skills in the kitchen.
Related: Best Wusthof knife sets
Creating the Knife
X50CRMOV15, the steel formula the company uses, is possibly one of the most impressive.
It has the right mix of carbon chrome and stainless steel and is fortified by chromium, vanadium, and molybdenum alloys.
They have a 40-step process that combines the latest laser and robotic technology for precision and superb craftsmanship.
Human intuition is also imperative with the process ending in an ocular and tactile inspection.
All of these make the product hard, sharp, and resistant to corrosion.
It also ensures easy re-sharpening when necessary.
Essential Features
Besides their special steel, most Wusthofs are forged and have a full tang.
This gives the knife a good weight, more balance, and better stability.
Its steel is also harder than most in the market, making it way durable than its competitors.
Most variants have edge angles measuring 14 degrees on each side, making these knives wonderfully sharp.
Their Santoku, a real favorite among pros, has an angle of 10 degrees.
With a Rockwell hardness score of 58, it's firm enough to last long before your next scheduled sharpening.
Unlike Victorinoxes, Wusthofs have a more classic, no-nonsense design with handles made of wood or steel.
With all those features, it's no wonder why Wusthof blades are quite pricey.
Their basic 8-inch knife already costs over $150.
But don't worry, besides guaranteed durability, the company offers a lifetime warranty for all its products.
Wusthof Pros and Cons
Pros
Favored by professional chefs all over the world
Made of special steel
Mostly forged, rarely stamped.
It has a full tang, good bolster
Incredibly sharp, almost no need to re-sharpen
Cons
Quite expensive
Limited design
Notable Variants
Classic Chef Knife
If you're ready to go pro, this original Wusthof design is a must-buy.
It features an 8-inch stainless steel blade with a full bolster weighing 8.5 ounces, a full tang, and a riveted handle measuring 4.5 inches.
An all-purpose knife, this can slice, dice, mince and do so much more.
Classic Ikon Cook's Knife
Made from a combination of high carbon and stainless steel, this one is very much like the Classic Wusthof, except that it has indentations along the edge, which lessens the friction between the knife's surface and the food.
From the sharp tip to the handle's end, this measures 12.75 inches and weighs a little over 6 ounces.
Classic Ikon Hollow Edge Nakiri
One of their few variants under $100, this precision-forged Asian-style blade is thinner than the usual cleaver.
It measures 13 inches long – from the blade's flat end to the contoured POM (Polyoxymethylene) handle.
The surface is nearly 3 inches wide and features the same vertical indentations as the Classic Ikon described above.
With its full tang and half bolster, this Nakiri weighs a little over 9 ounces.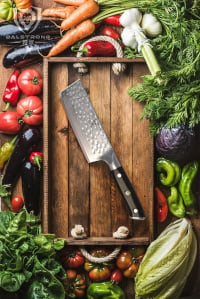 Want FREE Knives?
We give these knives a quick twirl and review, and then we pass them on to a few lucky home chefs!
By subscribing, you agree to get emails from me, Ryan Leavitt. I'll respect your privacy and you can unsubscribe any time.
In Summary
There is no doubt that both Victorinox and Wusthof are good brands.
Gordon Ramsay's likes swear by the latter and, if you have money to spare, go ahead and buy their most basic blade.
But if you're considering both function and cost, the former is a great choice.
At the end of the day, it's all about what you need.
Ryan Leavitt
Hi my name is Ryan Leavitt a Marine Corps Veteran and currently an over the road trucker (Long Haul). I am no expert chef but am enjoying preparing my own meals on the road and testing all the different knives.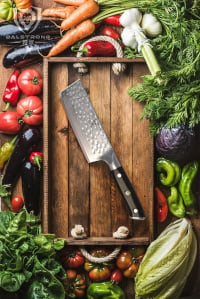 Want FREE Knives?
We give these knives a quick twirl and review, and then we pass them on to a few lucky home chefs!
By subscribing, you agree to get emails from me, Ryan Leavitt. I'll respect your privacy and you can unsubscribe any time.