Chefs and cooks spend a lot of time finding the right knives for their kitchen.
After all, the knife is the most important tool for any chef.
And two brands that chefs often compare with each other are Victorinox and Zwilling.
Both companies are known for creating incredible kitchen knives that are built to last.
But which is the better option?
For most experts, Zwilling is the obvious choice, as they are one of the most trusted manufacturers in the business.
Any Zwilling knife will be exceptionally sharp and a great fit for home and professional kitchens.
However, if you're looking to save some money, Victorinox has some great options available on a budget.
If you're still undecided about these two brands, you've come to the right place as we put them up against each other in this Victorinox vs Zwilling comparison.
Read on to find out more.
| | | |
| --- | --- | --- |
| | Victorinox | Zwilling |
| Price | $$ | $$$ |
| Construction | Forged and Stamped (depends on the model) | Forged and Stamped (depends on the model) |
| Number of collections | 5 | 14 |
| Are there block sets available? | Yes | Yes |
| Knife steel | High-carbon stainless steel | High-carbon stainless steel |
| Lifetime Warranty | Yes | Yes |
Victorinox Brand Overview
Besides chocolates, the Victorinox knife – particularly that one in the nifty little red toolset – is one of Switzerland's best exports.
And they have been producing this for over a century.
It all started in 1884 when Karl Elsener opened a cutler shop in a town called Ibach-Schwyz, naming it Victoria after his mother.
Elsener, with other master cutlers, supplied knives to their army years later advancing his craftsmanship.
In 1921, Inox – more commonly known as stainless steel – was invented.
Utilizing this innovation, together with other technological advances of the time like automation, reshaped the company.
Elsener then gave it a new name: Victorinox.
The rest, as they say, is history.
Related: Best Victorinox knife sets
Creating the Knife
Inox (Acier inoxydable) was further developed and refined under Elsener's company.
The German and French steel blend, exclusively used in Victorinox products, is composed of Chromium, Silicon, Carbon, Molybdenum, and Manganese.
The combination of all these makes their blades hard yet pliable, sharp, resistant to the elements, and long-lasting.
To widen their product line, they also started using materials other than their unique inox.
Their ceramic knives, for instance, have been very popular in recent years.
Another variant that they're quite proud of is their Damascus steel.
Highly effective in cutting almost anything, they have only produced a few thousand since 2010 because this is very expensive to manufacture.
Essential Features
One key feature of most Victorinox household kitchen blades is that they are stamped instead of individually forged.
This makes their knives thinner and lighter therefore easier to handle, especially for beginner cooks.
Their special steel is rated HRC 55-58 which is relatively soft compared to Asian-style knives with ratings of over 60.
Soft metals are quite easy to re-sharpen when it gets dull.
However, it must be honed every day before use to get optimal cuts.
Rarely will you find Victorinox handles made of natural materials like wood.
Instead, special thermoplastic like Fibrox (low maintenance, heat and cold resistant, doesn't harbor bacteria) is used.
Because the blade is stamped (with 50% tang and no bolster), the handle is ergonomically shaped to have a bolster and is bonded to the steel.
Perhaps the best thing about Victorinox is that it's affordable.
It is a challenge to find a good knife for less than a hundred bucks.
With this brand, you'll have one for a third of that!
Pros
Low-priced
Good balance between the blade and the handle
Lightweight
Easy to use, especially for new cooks
Cons
Needs daily honing and may require sharpening every six months
Some think stamped knives are not as good as forged ones
Best-Selling Product: Swiss Classic Chef's Knife
This variant is one of the most recommended in the brand's line.
With a slight curve on the spine and the belly then tapered to the end, this is perfect for easy chopping, dicing, and mincing.
Equally sharpened on both edges, this can slice both meat and vegetables well.
The Fibrox handle is beautifully contoured for easy grip.
This comes in four blade lengths: 5, 6, 8, and 10-inch.
Zwilling Brand Overview
Believe it or not, this German company has been producing knives for almost 300 years.
It all started in 1731 when Peter Henckels built his first workshop in Solingen, Germany, and trademarked Zwilling.
A few years later, they have opened stores all over the world including New York and Vienna.
And because of their commitment to their craft, they started winning awards in the World Fair as well – in London (1851), Paris (1855), Chicago (1893).
Today, Zwilling J.A. Henckels operates numerous brands all over the world under its very wide umbrella including Staub, Demeyre, Miyabi, and Ballarini, among others.
However, their knives – the reason why they are such a big name in the culinary world today – is still produced in Solingen.
Creating the Knife
Just like Victorinox, Zwilling has been perfecting their steel and craftsmanship for centuries.
And they have found the best process which can give them more than just decent knives every single time.
The Zwilling Sonderschmelze – a combination of carbon and chrome – is special steel formulated by the company for their knives.
This gives the steel the right hardness, smoothness, and sheen you'd see pros use in fancy restaurant kitchens.
It undergoes two main processes: Sigmaforge (precision forging) and Friodur (cooling down for hardening).
Every step of the way, their skilled workers ensure that the products live up to the quality that Zwilling is known for.
Essential Features
There are Zwilling variants that have a low HRC of 57 and there are others that go as high as 63.
The former is easy to sharpen while the latter would not require sharpening for a long time.
A lot of their blades – thick on the spine, curved on the belly, and tapered to a tip – are full-tang, triple-riveted and heavy bolstered.
When it comes to handles, you'll be left with simple yet efficient lines.
Although made of special thermoplastic, they opted for the classic black color rather than bright colors other brands are known for.
You will hardly find a Zwilling under $100.
However, you can be sure you're getting a kitchen tool that will last you forever.
Pros
In terms of knife hardness – a lot of variants to choose from
Good weight and well-balanced
Full-tang, triple-riveted – handle won't come off
Doesn't need sharpening for a long time
Cons
A bit expensive for most
Not a lot of style (handle colors) to choose from
Best Selling Product: Traditional Chef's Knife
Also highly recommended and used by professional (and famous) chefs all over the world.
Because it is forged and thick on the spine, this can cut through different kinds of food – even hard vegetables and meat bones.
You can choose from different blade lengths (6, 7, 8, 10-inch) and see which fits better in your hand.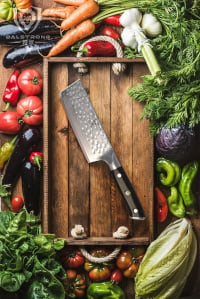 Want FREE Knives?
We give these knives a quick twirl and review, and then we pass them on to a few lucky home chefs!
By subscribing, you agree to get emails from me, Ryan Leavitt. I'll respect your privacy and you can unsubscribe any time.
In Summary
Understandably, it is quite difficult to choose between the two.
Their long history in the business equals unparalleled quality, honing their very unique manufacturing process to come up with products that ensure first-rate performance.
Now that you have been introduced to both brands and have a good idea about what each can offer, you will have to figure out what fits your needs.
If you don't mind spending a couple of hundred dollars on one piece, go for Zwilling.
If you're an amateur cook who wants to give a good knife a try but has $50 to spare, Victorinox will do well.
Whichever it is, you can be assured you're getting one of the best.
Ryan Leavitt
Hi my name is Ryan Leavitt a Marine Corps Veteran and currently an over the road trucker (Long Haul). I am no expert chef but am enjoying preparing my own meals on the road and testing all the different knives.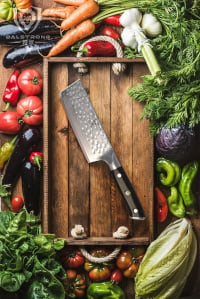 Want FREE Knives?
We give these knives a quick twirl and review, and then we pass them on to a few lucky home chefs!
By subscribing, you agree to get emails from me, Ryan Leavitt. I'll respect your privacy and you can unsubscribe any time.