We often use the drop point knives but may not know that the knife we are using is actually a drop point knife.
This type of knife is simple, attractive, and visually appealing for you.
It has the most common blade shape and you often use it to carry out a variety of tasks.
If it is your first time buying and you are searching for the right product, then stick around.
Today in this article, we will directly answer the question of "what is a drop point knife and what is it used for?"
Now let's break each element down and get into the details of it.
The definition
You may have seen the knives that have spiny blades and the spine continues throughout the length of the knife giving it the characteristic shape.
In other words, it is the knife in which you will observe the spine that will feature from the handle to the tip, thus called "drop point".
However, now the different kinds are available and you can find a lot of variations in this type.
Keep in mind that it is very different from the clip-point knife.
The basic difference in both is that in the clip point knife the spine is pointed inwards.
On the other hand, it is the one in which the spine is pointed outwards.
Let's make it more simple.
The spine of it is convex while that of the clip point knife is concave.
What is it used for?
Well, just like other knives, we can say that they are used to carry out a variety of tasks and they are not only for limited purposes.
You can easily carry them for your day-to-day cutting and slicing tasks.
It is due to this reason, many people use the most advanced day carry blades or knives with them that come up in the configuration.
This knife is not only an attractive product but also helps you with other functional tasks as well.
The thin blade is specifically designed for efficient cutting and slicing.
The interesting part is that this knife may seem like the belly of the knife and you can perfectly use it to gratify your hunger and feed your belly.
In the kitchen, chefs and cooks widely use this knife for food preparation and other purposes.
This knife is very strongly associated with utility.
The feedback and reviews on the online knife selling websites reveal that people love to keep these knives in the kitchen.
They seem less aggressive and sound more professional and interesting for the knife enthusiasts.
The shape is also traditional and strongly associated with the utility.
People often bring these knives with them whenever they go camping.
A big blade with a belly and strong handles are the features that make these knives suitable for cutting wood, and other chopping and grinding tasks.
Want to know the best part?
The most common use of these knives is for hunting purposes.
You can understand its role in hunting purposes from the fact that these knives are often called "hunting knives".
Basically, the knives that are used for hunting purposes often come up with big bellies and this type of cutter already has that.
These ones have the big functionality of having a tip at the end, but the tip is not too sharp.
This feature has a great advantage because the hunted meat does not require sharp-tipped knives, otherwise they lose all of their delicacies.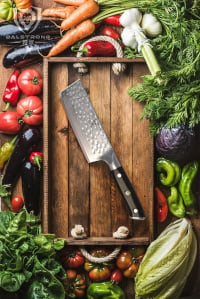 Want FREE Knives?
We give these knives a quick twirl and review, and then we pass them on to a few lucky home chefs!
By subscribing, you agree to get emails from me, Ryan Leavitt. I'll respect your privacy and you can unsubscribe any time.
Drop point vs Tanto point?
Have you ever wondered why I am comparing it with the Tanto knife only?
The reason is I have seen people debating over both types a lot.
People often make the comparison and discuss which of the two knives is better?
I have read a lot of such discussions on the online knife selling platforms, so I have decided to proceed with this debate.
Keep in mind that these blades and the tanto point ones are very different from each other, and we can see the functionality difference due to the difference in the structure of the blades of both.
Though the blades of both knives are sharp and efficient, the difference lies in their bellies.
They come up with handsome bellies while the tanto knives do not have considerable bellies.
The belly feature gives them an edge over the related knives because the belly allows the efficient cutting of the meat or anything thick.
Well, it does not mean that the tanto knives do not have good blade shapes.
Some people claim that they become more efficient and fast while carrying out their cutting and piercing tasks using the tanto point knives.
While the other people have quite an opposite experience.
My personal experience about using these knives is also in the favor of drop point.
These knives are highly efficient and allow you to proceed with the cutting process more cleanly.
However, it depends on personal preferences as well.
But my opinion is that if you want to proceed with the cutting of meat and vegetables, you should go for a drop point knife.
On the other hand, if you want to cut fragile objects like cutting out coupons, cakes, and other thin objects.
Another difference that makes the tanto point knife different from it is the sharpness of the tip.
Tanto knives have sharper tips.
Thus, in case you need to deal with a knife that has a sharp tip, you should choose the tanto knife.
How to choose the best one?
As we discussed earlier, drop knives are available in the market with a lot of variations.
To make everything clear like a crystal, I am going to discuss some examples below.
Without further ado, let's dive in to see what are features that make certain choices your favorite.
Benchmade Griptilian
It is a bit expensive choice that can fit into a variety of roles.
The one which I have bought is the FRN handles version and I am quite satisfied with it.
However, if you want to go for the advanced versions, then the G10 version can turn out to be the right choice.
I have not used the G10 version, but the great number of positive reviews, overall price tag as well as appearance reveal that these are the versions of the drop-point knife that you must use for.
Cold Steel American Lawman
Cold Steel is a knife manufacturing company and has been making stunning knives over the years.
Here it is not my purpose to advertise this company, but I am just telling you that this fantastic production of this website has blown my mind.
The most important feature of this knife is that it has an extremely comfortable handle that will make it very easy for you to carry out the tough cutting and slicing tasks without any considerable trouble.
I have used this knife for various tasks so many times, and this has become my favorite.
If you want to opt for the more superb experiences, then you should go for the G10 version of this knife that is a bit costly but will leave you with marvelous experiences.
Protech Runt
This knife has new and advanced functionality ad practicality, yet it also possesses the classic charm.
The size of this knife is smaller than the other normal drop point knives, hence it can easily fit into your hands, and you can use it to carry out a variety of tasks.
To be very honest, I have not used this knife, yet I have read a lot about its characteristics such as its blade is made up of stainless steel, and the handle consists of anodized aluminum.
Final Thoughts
The use of drop point knives is getting immense popularity and people will use them in the future more than ever.
If you are in search of one to add to your collection, then you can choose from any of the knives given above.
My first practical encounter with these knives was when I took admission to a hostel.
Well, I have tried to cover all the basics of this knife.
If you still have questions, you can ask them in the comments section.
Ryan Leavitt
Hi my name is Ryan Leavitt a Marine Corps Veteran and currently an over the road trucker (Long Haul). I am no expert chef but am enjoying preparing my own meals on the road and testing all the different knives.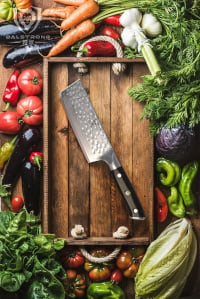 Want FREE Knives?
We give these knives a quick twirl and review, and then we pass them on to a few lucky home chefs!
By subscribing, you agree to get emails from me, Ryan Leavitt. I'll respect your privacy and you can unsubscribe any time.