A duct knife is a tool specifically designed for cutting duct board, the slightly rigid material made of fiberglass used for insulation as an alternative for metal ducts.
There are several variations of this task-specific tool but the most basic one simply has dual edges: straight on one side and serrated on the other.
Another interesting design consists of the double-edged blade and a swingable wire cutter attached to the handle.
Because this isn't something that regular Joes (those having nothing to do with duct board installation) would want to own, manufacturers do a whole lot of revisions to the basic design to increase the number of applications of the piece.
But if you are in the business of duct board cutting or planning to do some DIY job at home, shelling out $20 or so would be worth it.
Now let's have a look at its overall structure and other functionalities…
Is it full tang?
No, it is rarely a full tang product.
The edges are not ground straight.
As we know that the full tang knife is the one that has the tang extending throughout the length and also passes through the handle.
Does it come with a holder?
Yes, it often comes up with the holder or a nice sheath.
The holder serves as the security tool and protects the blade while it is not in use.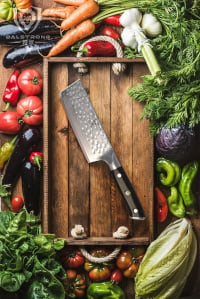 Want FREE Knives?
We give these knives a quick twirl and review, and then we pass them on to a few lucky home chefs!
By subscribing, you agree to get emails from me, Ryan Leavitt. I'll respect your privacy and you can unsubscribe any time.
What is a Milwaukee tool duct knife?
It is a particular type that is engineered to stay sharper for longer durations.
The sheath of the Milwaukee knife is made up of plastic.
In most cases, it is 5 times sharper than the common duct knives.
Moreover, it is durable and the edges are extraordinarily sharp.
The best part is that it is quite inexpensive and you can easily purchase the good one for $20.
At this price range, the one that you purchase covers the hand tool warranty.
The price of the Milwaukee blade is a little higher, but it will not break your bank.
Note:
This model often is full tang, so if you are looking for one that can help you with a variety of tasks, you should prefer this.
It is a perfect option for tough cuts.
What to know when buying?
It is no secret that finding the right duct knife can be tough for you, especially when you do not have any prior experience dealing with the knives.
Let's have a look at some features that make it the right choice for heavy-cutting tasks.
Lanyard hole.
Full tang, in case, you have to deal with the heavy cutting.
Double edges blade for efficient and versatile cutting.
It also enhances the overall applications of it.
A strong and durable sheath.
It is important to find a strong and high-quality duct knife because it is very helpful in carrying out the duct repair tasks.
Drawbacks
Many people complain that the sheathe breaks so quickly because it is made up of plastic.
It is one of the major disadvantages of duct knives.
While making a tight duct repair, the sheath goes away so often.
The repairing of the sheath created further confusion.
It is the only drawback that distracts many people from using it.
Overall customer reviews
When you search it on Google and see what people are thinking about this knife, you will come to know that many people are satisfied overall with the quality, but they do not know how to deal with the plastic fragile sheath.
The feedbacks of the people are like:
It is awesome… but sheath quality has confused me, I got mine caught on the rest arm of my mower and it snapped.
I do not know whether it is replaceable or not
The edge is perfect, yet not suitable for daily use due to fragile sheath
The products have been working perfectly for three months, yet I do not know how to handle the sheath that should be made up of the stronger material instead of plastic.
I love duct knives but the fragile sheath is a big flaw in my opinion.
It worked perfectly for 3 months, but now the sheath has been broken.
This breakage has made the entire knife useless.
Aw, it's too sad for me to lose mine.
It is excellent and performs all the cutting tasks perfectly until the sheath breaks and snaps off.
Final Verdict
The duct knife is a matchless one when it comes to cutting the duct and other glass-like material, but the problem is, the sheath material needs a bit of improvement.
Everything else is fine about this amazing product.
So if you have not considered buying it for duct cutting purposes, now you should.
By the way,
Have you ever used duct knives?
What was your experience with the sheath?
Make a quick comment right now and share your experiences with us.
Ryan Leavitt
Hi my name is Ryan Leavitt a Marine Corps Veteran and currently an over the road trucker (Long Haul). I am no expert chef but am enjoying preparing my own meals on the road and testing all the different knives.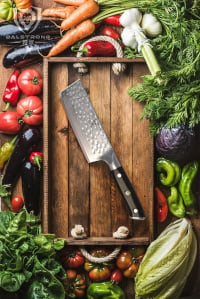 Want FREE Knives?
We give these knives a quick twirl and review, and then we pass them on to a few lucky home chefs!
By subscribing, you agree to get emails from me, Ryan Leavitt. I'll respect your privacy and you can unsubscribe any time.