The Tourne is a type of paring knife that has a downward curving blade. It is used to 'tourne' or slice round vegetables, like apples and potatoes, into oblong pieces. Some also refer to this as the Bird's Beak, a peeling knife, or simply as a curved paring knife.
Tourne is a French term that means 'turned'. This is also a (French) method of peeling and slicing fruits and vegetables so that it becomes oblong (and for strict ones, seven-sided) pieces so that it looks pretty and so that these cook evenly and at the same time.
Some may think that this 'special' pare-r is only for professionals but experts disagree.
Because of its shape – curved down like a bird's beak – this is a better paring and peeling tool than the regular type with the straight edge.
To know more about this particular blade, read on. By the end of this, you might want one for yourself.
What is it?
Having origins in the history of French cooking, the word "Tourne" means 'turning' or 'shaping'.
Even with a French name, professional chefs around the world use this versatile knife in their restaurants.
Talking about the material used, most Tourne knife uses stainless steel just like other common household knives.
This is the most typical steel used as it is regarded as food-grade and avoids rust that can contaminate food.
This small blade has a shorter blade of about 2 to 3 inches, making it easy to store.
The handle is designed to be comfortable to use, as professional chefs use it for garnishing without using a chopping board.
This is one of the few knives that is used by holding the item in one hand, and the knife in the other.
The size of the blade is usually shorter than the handle.
What is it used for?
It is a very helpful tool in peeling fruits and vegetables.
Its thin blade enables the user to have thinner peels.
Some users have said that they are better than ordinary vegetable peelers.
Use the bottom half of the blade like a normal paring knife.
It allows the user to be more in control of what is being peeled, including those with uneven edges.
The best example would be for removing ginger skins.
Professional chefs use this one for making beautiful garnishes too.
The small size and the thin blades allow the user to make thinner peels, like creating a flower out of tomato skins.
This is also used for making a french cut, where fruits and vegetables are cut into football-like pieces for a fancier look.
The usual vegetables used are potatoes and carrots.
Some use this to slice small pieces such as garlic and shallots.
They use the beak at a 45-degree angle, using only the tip to make thin slices.
Some also use this for shrimp deveining, with the help of the beak as well.
You may also use this to remove fish bones.
Another best use of the tip or the "bird's beak" is to remove unwanted spots in an item, without the need to chop off the full area of the item.
Use it to remove the eyes of a pineapple, or the black spots of a potato.
This will maximize the usable portion of a fruit or vegetable.
You may also use this one for cutting long-stemmed vegetables, like asparagus.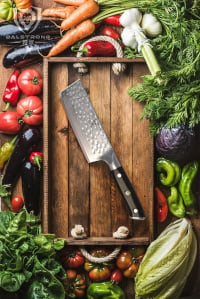 Want FREE Knives?
We give these knives a quick twirl and review, and then we pass them on to a few lucky home chefs!
By subscribing, you agree to get emails from me, Ryan Leavitt. I'll respect your privacy and you can unsubscribe any time.
Maintenance tips
Because of its thinness, do not use the tip on very hard surfaces.
The sharp tip may break, which may cause serious injury or accident.
Only use it on items with medium to soft textures.
Forcing it may also cause the tip to be dull.
With the unique shape, you may use a special sharpening tool for this kind of knife.
There is a patented three angular sharpener made by a popular knifemaker based in the US.
It has a small sharpening rod where you can scratch the blades, allowing the original curve of the blade to follow.
This is also perfect if you own other knives in your household with curved blades, such as a flexible fillet knife.
An ordinary whetstone can also be used in sharpening a Tourne knife, but proceed with caution as it needs to be extra careful because of the blade's shape.
It is recommended to follow the user's manual that is commonly attached to the packaging.
This will contain special instructions that will help you keep your knife last longer.
It will also indicate if the knife is dishwasher safe, considering the material used for the handle too.
Where to buy
Some kitchen knife enthusiasts and home cooks prefer owning a Tourne knife to a paring knife, as its unique blade shape gives additional benefit to the user.
Even it is gaining popularity, the Tourne knife may not be easily available with a lot of kitchenware sellers and even in supermarkets.
Going online is a great option to buy unique knives, as it offers more brands with competitive prices.
It will also help you buy it easier if you have a preferred brand.
This will also help you explore different sellers around the world.
It is also important to check shipping costs and regulations in your country regarding buying sharp objects overseas.
In buying this one online, be aware of substandard pieces.
Carefully review the item by reading specifications and materials used.
Reading online reviews or watching YouTube videos will also help in getting more insight on what should be considered when buying a Tourne knife.
Conclusion
This is a small knife that has multiple functions.
It can peel better than your vegetable peeler and garnish foods as well.
Comparing to an ordinary paring knife, this is a better choice.
The unique blade shape makes this one a multifunctional piece that will make cooking and preparing foods easier.
Ryan Leavitt
Hi my name is Ryan Leavitt a Marine Corps Veteran and currently an over the road trucker (Long Haul). I am no expert chef but am enjoying preparing my own meals on the road and testing all the different knives.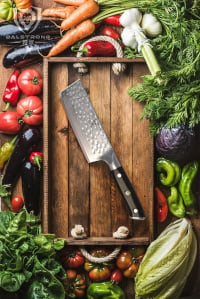 Want FREE Knives?
We give these knives a quick twirl and review, and then we pass them on to a few lucky home chefs!
By subscribing, you agree to get emails from me, Ryan Leavitt. I'll respect your privacy and you can unsubscribe any time.