The Electric knife is an electrical-powered device that is used to slice food, particularly cooked meat like smoked beef brisket, baked whole chicken or turkey, and pork roast. Most designs consist of two serrated blades which move in a sawing motion to make clean, even slices.
Humans have always found ways to make chores faster and easier.
One very good example of this is the invention of the electric knife – a knife which is powered by electricity (or battery).
While this is a sharp tool that can be used for different ingredients, it is marketed primarily for cooked meat – briskets, roasts, and baked poultry.
Some people swear by this gadget because it does the job well – cut through meat with very little effort and get perfect slices with the thin strip of crispy skin on top included every single time.
The question now is: do you need it?
Do yourself a favor and read on to know.
Slicing a variety of food types
When we learned what it is used for, we were impressed with how versatile it can actually be.
The reason is simple, you can use this unit for a variety of different situations.
It can go well beyond kitchen use.
However, the main use is definitely in the kitchen.
You will find yourself eliminating many pros and cons while making the cooking experience a lot more versatile and distinctive at the same time.
If you have large cuts of meat, trying to slice everything manually can take a lot of time and effort.
We believe that the electric knives deliver a much better set of results, and the cutting experience is even better.
Usually, the electric knife comes with 2 serrated blades.
These are clipped together and they will start moving lengthways.
You can think of it as a saw, but in this case, it's fully electrical and it will not require any input or anything else from your side.
It just makes a lot of sense to give it a shot and use it, since it does provide you with the results and experience you would expect.
When was it invented?
It isn't really something new, even if it feels like it.
The first electric knife was invented in 1939 by Jerome L Murray.
However, the invention is contested by others like Clem E Kosterman that also filed a patent.
The bottom line is that such a knife has been around for decades, and it continues to stand out with its performance and resilience.
One thing to keep in mind is that modern electric knives are either cordless or corded.
Cordless models can be more expensive, but they are still versatile and really easy to adapt to your own requirements.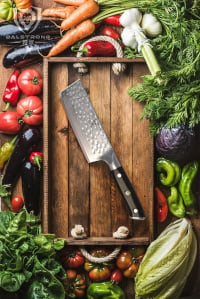 Want FREE Knives?
We give these knives a quick twirl and review, and then we pass them on to a few lucky home chefs!
By subscribing, you agree to get emails from me, Ryan Leavitt. I'll respect your privacy and you can unsubscribe any time.
Can you use it for anything other than food?
Absolutely, the fact that it has a dual blade system really makes the electric knife stand out from the crowd.
It's definitely one of the main advantages that you can use, and the quality itself can be second to none.
You can use it to cut metal, wood, polyurethane foam rubber, and a variety of semi-solids or solids.
It all comes down to finding the right product and making sure you cut it adequately and without any problems.
Doing that can indeed make a huge difference.
Can it help you with cooking?
One of the main reasons why this type of automated cutter exists is to help you avoid exertion upon cutting large slices of meat or anything that might be difficult.
It makes cutting simpler and more resilient, while still giving you all the necessary assistance and support.
You will appreciate just how easy it can be to cut things with it, and the experience itself can be an amazing one overall.
We recommend you use it specifically for cooking, but as we said, it can be versatile and suitable for other tasks.
If you do want to use it for anything other than cooking, it makes sense to buy a separate set of blades.
This way, in case those are damaged, you won't have to worry about any issues at all.
The approach is great, and it will certainly be well worth it in the long run.
Is it accurate?
Yes, with the electric knife you can easily cut any type of meat and other food items evenly.
You don't have to worry about accuracy, the blade is kept straight during the entire process.
They are designed with carving in mind, so the entire cutting process will maintain the direction and ensure accuracy.
Conclusion
Buying an electric knife is a very good idea if you're cooking meat or any tough food ingredients often.
This knife makes cutting a lot simpler and easier, and it eliminates many of the downsides that might arise.
It does take a little bit of time to adjust and implement this wisely, and the experience can indeed be a great one.
Overall, we believe that it can be useful, especially if you like cooking at home.
You just need to find one that suits your distinct needs and requirements.
Ryan Leavitt
Hi my name is Ryan Leavitt a Marine Corps Veteran and currently an over the road trucker (Long Haul). I am no expert chef but am enjoying preparing my own meals on the road and testing all the different knives.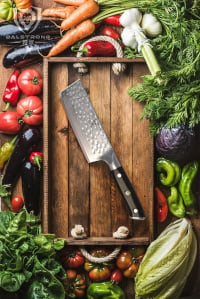 Want FREE Knives?
We give these knives a quick twirl and review, and then we pass them on to a few lucky home chefs!
By subscribing, you agree to get emails from me, Ryan Leavitt. I'll respect your privacy and you can unsubscribe any time.