The Oyster knife, as the name implies, is a utensil that is used to shuck or pry open the shell of an oyster. Its blade is usually short and shaped like a spear (thick at the base and tapered to a pointy end) and beveled on one side so it can slice through the muscle membranes inside. Its handle is often thick and stubby so it can be easily and safely gripped.
There are over a hundred different kinds of knives – some are versatile while others are designed for a particular task.
The Oyster knife can be categorized under the second type.
Used to shuck (only) oysters, this may seem like it's just for professional use and a completely useless little tool for the common household kitchen.
But if you do like oysters and want to serve them at your dinner table, there is a very good point to having a special knife for this shellfish.
What is its role?
Its name is a dead giveaway, this knife is used to pry open the clam or oyster shells.
Since those shells are very hard and durable, it's extremely important to ensure that you have a reliable tool to open them.
This type of knife has a beveled, yet very sharp blade.
The way you use it is you add it into the shell and then you start prying the shell apart.
The reason why you need it is that it allows you to cut through the oyster muscle and membrane, which is very helpful.
It also has a dedicated round shield too.
This is built into the handle and its main purpose is to protect you.
It avoids any injuries that come from you toughing the sharp edge of the shell.
It also makes it easier to prevent any situations when the knife would indeed fall apart.
The more you focus on this, the better since it will eliminate many concerns while still bringing in the best results and value.
Related: Best oyster shucking knives
When were they made?
It's hard to know, but the first time this tool was available commercially was in 1900.
Since then, people have started buying them more and more, especially in the coastal regions.
However, the initial oyster knives have been around for centuries, and they were adapted based on the region and necessity solutions available at that time.
Blacksmiths started creating it because it was easier for people to use a knife instead of home tools so they can open up those shells.
It took a bit of time for the shield to be implemented, and that was after a lot of trial and error.
Thankfully, that solution managed to become very popular, and it still is extremely helpful and useful up to this date.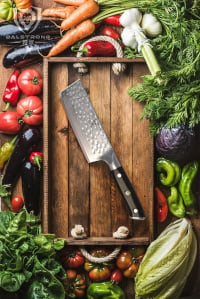 Want FREE Knives?
We give these knives a quick twirl and review, and then we pass them on to a few lucky home chefs!
By subscribing, you agree to get emails from me, Ryan Leavitt. I'll respect your privacy and you can unsubscribe any time.
How can you identify the best type of oyster knife you can use?
That usually depends on a multitude of factors.
When you want to acquire one, you want to avoid one that's super sharp.
That can end up leading to personal damage, so might as well go with a material like stainless steel.
Not only does it offer a very good value, but you retain a lot of strength, which can make a huge difference.
A good rule of thumb is to choose the 420 HC stainless steel because it's resistant to corrosion.
Since you will use it near/with water sometimes, you do want to ensure that there's no real corrosion to deal with.
Another important aspect is the overall length.
Based on our experience, you want to have a 3" long blade.
It might not seem that much, but you have to keep in mind the use of this blade.
This is not going to help you in combat.
It's a blade to open up oysters, and it does a very good job in a situation like that.
A long blade usually snaps when you add pressure from the side, so a short blade is always preferred.
Remember, you will use this very often and you need to open up clamshells, so you need a really good grip.
That's why ergonomics are super important here.
You just want to take that into consideration and you will appreciate the great return on investment.
A lot of people want to get one with an upturned tip.
This makes it easier to work into the hinge.
And once you get there, it's easier than ever to start prying shells apart.
This does take a bit of trial and error, but you will find that it will deliver the efficiency you want without any problems.
Conclusion
A dependable, reliable oyster knife is necessary if you need to open up clams and oysters often.
It makes a lot of sense to invest in this type of product, as you will appreciate the resilience and outstanding return on investment.
We recommend you to take your time and you will be very impressed with the quality and durability of such an item.
It's important to get a short, stainless steel one to avoid corrosion, so keep that in mind upon choosing this type of knife!
Ryan Leavitt
Hi my name is Ryan Leavitt a Marine Corps Veteran and currently an over the road trucker (Long Haul). I am no expert chef but am enjoying preparing my own meals on the road and testing all the different knives.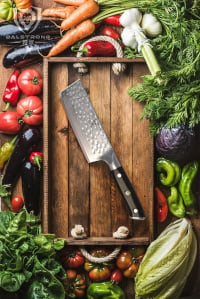 Want FREE Knives?
We give these knives a quick twirl and review, and then we pass them on to a few lucky home chefs!
By subscribing, you agree to get emails from me, Ryan Leavitt. I'll respect your privacy and you can unsubscribe any time.