Wusthof, a favorite among top chefs and connoisseurs, has surely proven itself in the cutlery industry. Many companies find it hard to compete with a highly-respected 200-year old company. But Calphalon has found its niche, grabbing the attention of home cooks and amateurs. Their SharpIN technology is an attractive feature for cooking newbies who have no idea how to maintain their kitchen tools.
Hardly anyone disputes the quality of a Wusthof. But it is also quite pricey.
One American brand – Calphalon – is arguably just as good as the German big-timer but is just a third of its price.
Wusthof
Calphalon
Headquarters
Solingen, Germany
Perrysburg, Ohio, USA
Steel Used
X50CrMoV15
Generic high carbon, no-stain steel
Knife Construction
Mostly forged, a few stamped
Mostly forged, a few stamped
Premier Collections
Classic
Contemporary SharpIN
Best Asset
Industry reputation

Incredibly long history

High-quality pieces

Self-sharpening capability
Price Point
A bit pricey
Fairly priced, especially the sets
Let's look at the two brands and see which suits you (and your budget) better.
Calphalon: An All-Around Kitchen Supplier
In 1963, Ronald Kasperzak founded the Commercial Aluminum Cookware, producing pots and pans for cooking.
Truly committed to his craft, Kasperzak invented a wonder in 1968: hard-anodized aluminum which is based on a material used in aerospace engineering.
This made his products more durable, resistant to corrosion, and all sorts of warping.
He dubbed this invention Calphalon.
In the following decades, they added various items to their product line: electric kitchen appliances, baking materials, and cutlery.
In 1992, they renamed their brand to Kasperzak's amazing invention: Calphalon.
In 1998, Newell Brands purchased the company.
This conglomerate is also the owner of popular brands in various industries such as Sharpie, Reynolds, Crock-Pot, Oster, Coleman, Contigo, and so many others.
Formulating the Steel, Crafting the Knife
There isn't a lot of information about the specific designation of the steel that the company uses. They do say it is German-made high-Carbon stainless steel, which is quite reassuring.
There also isn't a lot of information about how they make the knife.
They do have forged pieces – as evidenced by certain features like full bolsters and tangs – but the specifics about the process aren't shared either.
What they do say is that their products can stay sharp for a lifetime; something that is slightly disheartening because connoisseurs and master chefs will tell you that there is no such thing.
Even high-Carbon Japanese knives will dull and require re-sharpening.
The Best in the Calphalon Line
The reason, perhaps, for their saying that their blades can stay sharp 'forever' is because of their SharpIN Technology.
What they did was to install ceramic sharpeners inside the individual slots of the knife block so that the edge will get sharpened when you pull a piece out or put it back in.
Take note that this is only for those with straight edges. Serrated ones like bread and steak knives can't be sharpened in that manner.
They also only have four series: Classic, Contemporary, Precision, and Select.
All these are quite similar to each other, to be honest, with only the handle materials differing.
Some collections don't have the Sharp-In Technology either and are merely replaced by a honing rod.
The Calphalon Conundrum
There are two main points which are considered downsides by experts.
• You really can't get a single piece when you buy a Calphalon. They only have knife block sets.
If you're out looking for a whole array, this may be a good buy. But if you're just looking for a Chef's knife or a Santoku, you should go for another brand.
• They have suffered recall problems in the recent past.
Many have pointed to the fact that the company has outsourced its manufacturing in China. When you look at the space near the bolster, you'll see that etched there.
This shouldn't be a problem.
But when the company did a total recall of a particular knife because of sudden breakages which caused injuries, this has undeniably marred the brand.
Wusthof: The Big Shot of Solingen
It was in 1814 when Johann Abraham Wusthof started to make shears in his small Solingen cottage.
He didn't have a company yet, so to say, with only one helper and given mostly commissioned work.
His persistence made him think and work bigger. And his sons got the same drive.
In 1836, they made the pocket knife a mainstay in their product line.
By 1869, they were making different other blades and cutlery pieces including daggers and forks.
By 1881, they automated their factory, thanks to the steam engine.
And In1881, their wares reached New York City.
Today, they are one of the most respected brands in the industry.
And while they can move their factory and headquarters elsewhere, they decided to stay in historic Solingen.
Related: Top rated Wusthof knife sets for the money
Formulating the Steel, Crafting the Knife
One of the most important features of a Wusthof is its steel: X50CrMoV15 (58 HRC).
• The X stands for Stainless steel
• 50 is the 0.5% carbon content which ensures sharpness
• CR means Chromium, a hard metal that is resistant to stain
• MO means Molybdenum, another metal that also works against staining
• V is for Vanadium, a malleable metal that is added for its ability to make alloys hard, resistant to corrosion, and holds its edge for a long time.
• 15 is the percentage of Chromium in this alloy
They make 1.7 million knives every year and each piece goes through a laborious 40-step process.
They have taken advantage of new technology such as mechanized drop hammers and laser-assisted grinding but a craftsman is there to work on the knife from start to finish.
The Best in the Wusthof Line
The Classic is the most favored in the line – used by popular chefs like Gordon Ramsay.
It also has a 4.8 average rating on Amazon which just means that regular home cooks are in love with it.
• The blades are durable and sharp, with edges of 14 degrees on each side. These do not require sharpening for a long time although the company has tools for this as well.
• It has thick, hefty bolsters and full exposed tangs that ensure balance.
• The classic-looking black handle is made of durable Polyoxymethylene (POM) that is triple-riveted to the tang.
But if you're not into this, the company has five other forged blades including Ikon, and four stamped ones such as Gourmet.
Wusthof's Weakest Point
This is not a weakness although many do consider this its downside: the price.
Wusthofs are pretty expensive, with one piece going as high as $150. FYI, that's almost a whole Calphalon set.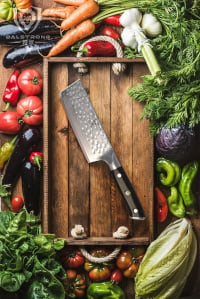 Want FREE Knives?
We give these knives a quick twirl and review, and then we pass them on to a few lucky home chefs!
By subscribing, you agree to get emails from me, Ryan Leavitt. I'll respect your privacy and you can unsubscribe any time.
In Conclusion
Except for the recall situation that Calphalon had recently, it's not a completely bad brand.
Sure, this isn't their forte (the pots and pans are). But they do have durable forged knives made of German steel.
Plus, their SharpIn Technology is quite impressive.
But if you already have a set and just want a single well-made piece that can last you almost a lifetime, Wusthof is the must-have one. It is pricey but it's worth it.
Ryan Leavitt
Hi my name is Ryan Leavitt a Marine Corps Veteran and currently an over the road trucker (Long Haul). I am no expert chef but am enjoying preparing my own meals on the road and testing all the different knives.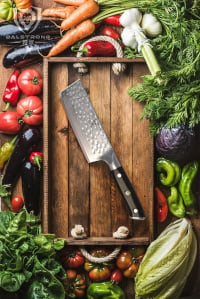 Want FREE Knives?
We give these knives a quick twirl and review, and then we pass them on to a few lucky home chefs!
By subscribing, you agree to get emails from me, Ryan Leavitt. I'll respect your privacy and you can unsubscribe any time.