It is quite difficult to say which is the better brand between Wusthof and Mac because they are polar opposites in so many ways. However, these two come from the well-known City of Blades – Solingen and Seki, respectively – so you can be sure you're getting a quality knife whichever between the two you will choose.
Wusthof of Solingen, Germany is one the best cutlery companies in the whole world, many admit that it is difficult to compete with their technology and craftsmanship. But if there is one brand that has the same drive for innovation and talented artisans under their wing, it's Mac of Seki, Japan.
Wusthof
Mac
Headquarters
Solingen, Germany
Seki, Japan
Steel Used
X50CrMoV15
Molybdenum High Carbon
Knife Construction
Mostly forged, a few stamped
Stamped, Forged
Premier Collections
Classic
Original, Professional
Best Asset
Industry reputation

Incredibly long history

High-quality pieces

Lightweightness and sharpness
Price Point
A bit pricey
A bit pricey
Let's get to know them better…
Wusthof: A Solingen Pride
In 1814, Johann Abraham Wusthof began making shears in his small cottage.
At this time, he only had one employee and would work on commission for other bigger companies in town.
In 1836, one of his sons added the pocket knife as a mainstay in their product line.
By 1869, they were making different other blades and cutlery pieces – daggers, forks, cleavers, penknives, and so on.
When the steam engine was invented, they automated their factory.
And by 1881, Johann's other son brought their wares to New York.
Today, they have thousands of different knives globally available through their sister companies in different countries. But up to this day, their main headquarters is in Solingen.
Related: Wusthof knife sets
Formulating the Steel, Crafting the Knife
The essence of any blade is its steel. The company understands this well that's why they use only the best: X50CrMoV15 (58 HRC).
The X stands for Stainless steel
50 is the 0.5% carbon content which ensures sharpness
CR means Chromium, a hard metal that is resistant to stain
MO means Molybdenum, another metal that also works against staining
V is for Vanadium, a malleable metal that is added for its ability to make alloys hard, resistant to corrosion, and holds its edge for a long time.
15 is the percentage of Chromium in this alloy
Every single one of the 1.7 million knives that they create every year goes through the laborious 40-step process.
And while several of the steps in this process are mechanized and laser-assisted for consistency, the need for manual work with human touch and sight was never eliminated.
The combination of the two is the secret to their success.
The Most Highly-Acclaimed Series in the Wusthof Line
The company currently has thirteen different variants – seven are mechanically forged (the hammering and cooling down is helped by a machine) while four are stamped.
Classic is still considered by many as the best of all their cutlery lines. Many experts laud this because of its functionality and elegance:
The blades are durable and sharp, with edges of 14 degrees on each side. These do not require sharpening for a long time although the company has tools for this as well.
It has thick, hefty bolsters and full exposed tangs that ensure balance.
The classic-looking black handle is made of durable Polyoxymethylene (POM) that is triple-riveted to the tang.
This line consists of over 70 different pieces organized into 30 or so sets that range from 2 to 36 items per set which may include accessories like blocks, honing tools, and shears.
Wusthof at a Glance
German-based
Uses X50CrMoV15 steel with HRC 58
With a 14-degree edge on each side
The handle is made of POM
Has a lot of variants, kinds of knives per variant, and sets available
Classic Chef's knife 8-inches costs over $150
Mac and Its Humble Beginnings in Seki
T. Kobayashi, Mac's chairman, had troubles when he used a traditional German knife in a professional kitchen abroad.
It's too heavy and quite bulky making it hard to use on the chopping board, and slightly dangerous with its extremely pointy tip breaking off easily when dropped.
In 1958, he returned to Seki, Japan, and began designing a knife that is just as functional as the German ones he used but lighter, sharper, and less pointy.
By 1965, he registered two patents that featured the general look of Western-style chef's knives but with a curved tip.
His plan paid off because today, he sold millions of that design worldwide.
Formulating the Steel, Crafting the Knife
Mac uses VG-5 steel, a blend that contains a lot of Carbon for hardness (measuring 59 to 61 HRC) and sharpness and quite a bit of Molybdenum for rust resistance.
The process isn't as lengthy as Wusthof's with only 15 steps. But this doesn't mean that they cut back on quality.
The whole procedure is made or supervised by professional Seki craftsmen from hammering the steel to shape, hand grinding the edges, and sharpening the pieces on water-cooled whetstones.
The Most Highly-Acclaimed Series in the Mac Line
Compared to its German counterpart, Mac only has seven different variants which still include the very first design T.Kobayashi came up with – the Original Series.
Many connoisseurs agree that their best is the Professional Series with its straightforward knives that just cut extremely well.
The blade is hammered to just 2mm (at the spine) but is extremely hard.
The Mac edge is a hybrid of the Ryoba or the western-style V and the Kataba or the Japanese single bevel which ensures straight and thin cuts. Each side is sharpened to a 15-degree angle.
It has a thick but partial bolster, giving balance to the blade and helping users to sharpen the edges easily.
It also has a full tang but is completely sheathed inside the handle.
The handles are made of Pakkawood and are more Western-looking (narrowed at the bolster and flares at the butt).
Some of the knives are dual-riveted only (paring and utility) while the others are triple-riveted (cleavers, bread, and roast slicers, Granton slicers)
Mac does not have a whole lot of pieces per variant. The Professional Series only has a dozen or so.
Focused on quality over quantity, you wouldn't find sets of 10 in a block like other brands.
Mac at a Glance
Made in Japan
Uses VG-5 steel with HRC 59-61
Double-beveled 15-degree edge, one side is almost straight while the other is angled.
The handle is made of Pakkawood
Has a good number of variants, just a few knives per variant, and even fewer pieces per set
Professional Chef's knife with indentations is over $170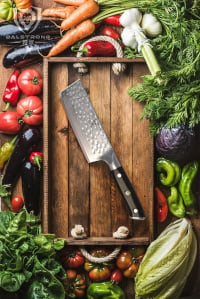 Want FREE Knives?
We give these knives a quick twirl and review, and then we pass them on to a few lucky home chefs!
By subscribing, you agree to get emails from me, Ryan Leavitt. I'll respect your privacy and you can unsubscribe any time.
Which Works Better for You?
When it comes to knives, it's hard to say which is the best because users will always have different requirements.
What you need to do is find out what exactly you need and match that up with the tool that can provide those.
Both Mac and Wusthof are possibly in the top 10 list of the best knives of all time.
Both are a bit pricey, true. But this splurge – whether you get the German or the Japanese one – is an investment that you won't regret.
Ryan Leavitt
Hi my name is Ryan Leavitt a Marine Corps Veteran and currently an over the road trucker (Long Haul). I am no expert chef but am enjoying preparing my own meals on the road and testing all the different knives.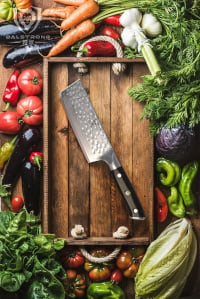 Want FREE Knives?
We give these knives a quick twirl and review, and then we pass them on to a few lucky home chefs!
By subscribing, you agree to get emails from me, Ryan Leavitt. I'll respect your privacy and you can unsubscribe any time.