Wusthof and Mercer are the same in various ways from the steel used and the manner of construction to the clean no-nonsense profile. The biggest distinction between the two is the price. The former is quite expensive while the latter is surprisingly affordable.
People who love cooking will always include Wusthof in their top five lists of best knives. But shelling out $100 or so per piece is difficult for a lot.
Luckily for thrifty home cooks, there are cutlery companies that churn out almost the same quality as Wusthof but offer it at half or a third of its price.
Mercer is one of those.
Mercer
Wusthof
Headquarters
East Setauket, New York, USA
Solingen, Germany
Factory Location
Taiwan
Solingen, Germany
Steel Used
X50CrMoV15
X50CrMoV15
Knife Construction
Forged
Mostly forged, a few stamped
Premier Collections
Renaissance
Classic
Best Asset
Incredibly low-priced for its quality
Industry reputation

Incredibly long history

High-quality pieces

Price Point
Affordable
A bit pricey
Wusthof: A Name Synonymous to Superior Quality
Born in a small cottage in the City of Blades that is Solingen in 1814, Wusthof began as a shears manufacturer.
The name wasn't even registered at the time because its owner/worker Johann Abraham Wusthof was merely subcontracted by bigger companies in the region.
His sons had bigger dreams.
In 1836, they started making pocketknives. In 1869, they added other cutleries and blades – daggers, forks, cleavers, penknives, practically anything they can forge. In 1880, they transferred to a bigger location and used the steam engine to power their factory. In 1881, one of Abraham's sons traveled to New York and partnered with local sellers.
The company continued to grow and branch out all over the world. But Abraham's ancestors decided that Solingen will only be their home, as it has been for the past 200 years.
Related: Wusthof knife sets
Formulating the Steel, Crafting the Knife
Wusthof has used various steel blends over the years but, when X50CrMoV15 came along, they knew that this would be the perfect raw material for their products.
This stainless steel has 0.5% carbon content for sharpness, 15% Chromium and Molybdenum for durability and stain resistance, and Vanadium for corrosion resistance and long-lasting edge.
A whole lot of their knives are still forged, undergoing a complicated 40-step process. Many of these are mechanized and laser-assisted to ensure consistency.
But they understand that the human touch is still a must-have in this business. Grinding, sharpening, and polishing are all done by hand.
The Wusthof Line and Its Best Series
As of the moment, there are about a dozen different variants under the brand. Most of these are forged while some are stamped.
The latter are naturally less expensive, about a third of the cost of the former.
The most highly acclaimed of the whole bunch is the Classic because of its functionality and simple elegance.
The basic Chef's knife, for instance, has a pointy tip, a wide profile with a slight curve on the sturdy spine, and a deep convex belly, full and thick bolster, and full and exposed tang. The durable POM handle is triple riveted to the tang.
This particular line has more than 70 knife styles – from the more familiar western ones to traditional Japanese designs.
It is also made available in more than two dozen sets, some containing a full block of blades while others just have two.
Wusthof at a Glance
• Made in Germany
• Uses X50CrMoV15 with HRC 58 for all their blades
• Edge is sharpened at 14-degrees on each side
• Forged kinds have full bolsters and tangs
• Most handles are made of thermoplastic POM
• A forged piece costs $100 or more
• Top of the line
• It will last a long time
Mercer: The Go-To for Restauranteurs
There isn't a lot of information about how this company started. However, they have been around for decades already, (quietly) supplying culinary schools in North America.
With so many professionals relying on these low-cost yet high-quality wonders, news spread to humble home cooks.
One of the most interesting things about Mercer is that it's not a pricey brand but it competes with high-ticket names like Wusthof, Henckels, and Shun.
Possibly one of how they have lowered their cost is by outsourcing their workforce in Asia. But they have chosen a pretty good country to do this – Taiwan.
On top of that, their quality control is just as strict as the leaders in the industry.
Five simple traits make Mercer: quality, performance, service, delivery, and price. And they have stuck to those unfailingly – especially when it comes to the fifth one.
Formulating the Steel, Crafting the Knife
One of the very good examples of their commitment to quality and performance is their choice of raw material.
They have not scrimped at all, using the very same steel blend as Wusthof: X50CrMoV15.
They also follow the same process as their top-of-the-line competitors: precision forging. This just means that the knives are still hammered into shape, cooled down, ground, sharpened, and then polished but with the help of machines to ensure consistency.
The Mercer Line and Its Best Variant
Like most top manufacturers, they have minimized their series to just less than a dozen.
Aside from making the choice for buyers easier, they can also focus on the designs and refine them to near perfection.
They have a line of forged variants like the MX3, ZuM, and Genesis. They also have stamped variants like Millennia, Praxis, and Ultimate White.
Interestingly, they have a separate line for Japanese blades with the 'Wa' (round handles) called the Asian Collection.
Often lauded is their Renaissance series.
The basic chef's knife is precision-forged from one piece of steel, from the tip to the tang. It almost has all the characteristics of the Classic except for its partial bolster.
This is a good design choice because it makes honing and resharpening an easy task.
Mercer at a Glance
• American-owned with headquarters in New York but made in Taiwan
• Uses X50CrMoV15 with HRC 56 to 58
• Sharpened to 15 degrees on each side
• Top variants have short bolsters and full tangs
• Handles of top variants have thermoplastic POM handles
• The most expensive pieces are at $60
• Smartly designed, originally intended for culinary students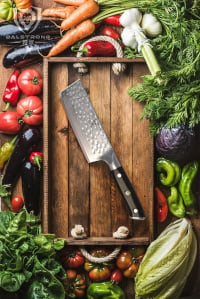 Want FREE Knives?
We give these knives a quick twirl and review, and then we pass them on to a few lucky home chefs!
By subscribing, you agree to get emails from me, Ryan Leavitt. I'll respect your privacy and you can unsubscribe any time.
Which is the Better Buy?
Master chefs and blade connoisseurs will tell you the must-haves of a decent kitchen knife.
However, it will be hard to pit one brand against another because, at the end of the day, it all depends on what the user needs.
To be honest, certain variants of Mercer and Wusthof are similar to each other.
And this is since the two are made from the same steel blend and went through practically the same process.
The real disparity lies in the price tag.
If you can shell out a hundred bucks per piece, go ahead and treat yourself to a Wusthof. If you're on a budget, the Mercer is a great purchase as well.
Ryan Leavitt
Hi my name is Ryan Leavitt a Marine Corps Veteran and currently an over the road trucker (Long Haul). I am no expert chef but am enjoying preparing my own meals on the road and testing all the different knives.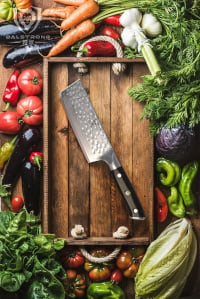 Want FREE Knives?
We give these knives a quick twirl and review, and then we pass them on to a few lucky home chefs!
By subscribing, you agree to get emails from me, Ryan Leavitt. I'll respect your privacy and you can unsubscribe any time.