Both the Wusthof and Sabatier are wonderful. Either will surely work great in the kitchen and, more importantly, last long. The real trouble with the latter is that there are numerous companies all over the world carrying that name, it's hard to pinpoint an 'authentic' piece.
A lot of high-quality knives are incredibly expensive at a hundred dollars or so apiece, but the price tag is your assurance that this will work throughout your lifetime – and even get a chance to pass it on to your kid.
Two of these great investments are Wusthof and Sabatier:
Wusthof
Sabatier

(originators)

Headquarters
Solingen, Germany
Thiers, France
Steel Used
X50CrMoV15
Commonly X50CrMoV15
Knife Construction
Mostly forged, a few stamped
Forged
Premier Series
Classic
Top Thiers companies:

ETS Sabatier, Therias et L'Econome

Best Asset
Industry reputation

Incredibly long history

High-quality pieces

Industry reputation

Elegant pieces

Price Point
A bit pricey
Quite expensive

(if it is an authentic Sabatier)
Sabatier: A Name Synonymous to Excellence
If Germany has Solingen and Japan has Seki, France has Thiers.
This French district is the home of cutlery making since the Middle Ages.
By the 19th century, when the industrial age was booming, many craftsmen started to brand their products.
Two families began using the name Sabatier for their well-forged pieces: Jean of Le Moutier and Philippe of Bellevue. Interestingly, these two aren't related to each other at all, although both are from Thiers.
Naturally, this caused a bit of a trademarking dispute, with each providing evidence that they were the first to use the name.
Unfortunately, this was not settled all that well. And because this is not a registered brand name, many cutlery companies from all over the world use this name. It, after all, connotes quality.
Even sadder, there are now numerous shoddily-made knives that are stamped with this name.
How to be Sure You've Got an Authentic Piece?
The first two companies mentioned above, that of Jean's and Philippe's, are your best bet at getting the real deal.
But any company based in Thiers will give you a wonderful, fully-forged piece.
ETS Sabatier Aine and Perrier ('K') is owned and operated by Philippe of Bellevue's descendants and is still based in their old address in Thiers up to this day.
Therias et L'Econome (Mexeur & Cie, L'Unique) claims to have been making knives in the region since 1819.
Thiers Issard (Elephant knives), also from the cutlery district, has been around since 1958.
Rousselon Freres (Mexeur Lion) has been in business since 1991, although they say they were registered in 1812.
Sabatier Diamant
Cuisinox (Trompette and V Range) owned by Amefa Couzon and Richardson Sheffield are also bona fide knives. In 1971, the pair took over Jean of Le Moutier's company.
There are many French-sounding brands out there but words like 'garanti' and 'vrai' or phrases like 'Made in France' do not assure you're getting the real thing.
A Sabatier association was formed so the brand name will be protected. Over thirty different manufacturers are part of this association.
If you get any of those, you're sure to get an authentic Sabatier. To know all the brands included in the aforementioned association, check out the official website that is Sabatier.com.
Formulating the Steel, Crafting the Knife
The distinction of Thiers-made knives from the rest located elsewhere is very important because of the traditional way that the French have adhered to over the years.
While other manufacturers have given in to complete automation, those in Thiers still use the traditional forging techniques from hand-shaping the steel, grinding the edges, and polishing the pieces.
And they all employ the locals.
Each company mentioned above uses its steel blends, although many have turned to the durable and stain-resistance X50CrMoV15 with an HRC of 58.
Whichever they use, you just need to make sure that you're getting a fully-forged knife.
Check the Price Tag
Another way that may correctly point you to an authentic knife is by looking at the price tag.
You might get 'lucky' and find one online that's discounted. But if the Chef's type you're eyeing is less than $20, you might want to scroll to the next one.
Genuine Sabatiers are pricey.
The least expensive slicer under Aine and Perrier ('K') is over $50 already. Some can go as high as a hundred bucks, depending on the materials that were used in construction.
Wusthof and Its Long, Celebrated Solingen History
Solingen, Germany's City of Blades, is home to many bladesmiths since 1067. As time went by and people got more refined in the dining room, craftsmen started making cutlery.
Some of them passed on their crafts from one generation to the next, continuing that tradition up to this day.
Johann Abraham Wusthof was one of those people.
In 1814, he started to make shears in his cottage, often sold to other cutlery shops in town.
In 1836, one of his sons added the pocket knife as a mainstay in their product line.
By 1869, they were making different other blades and cutlery pieces – daggers, forks, cleavers, penknives, and so on.
When the steam engine was invented, they automated their factory.
And by 1881, Johann's other son brought their wares to New York.
Today, Wusthof can be found globally. But Abraham's descendants chose to stay put and continue to grow in Solingen.
Related: Wusthof knife sets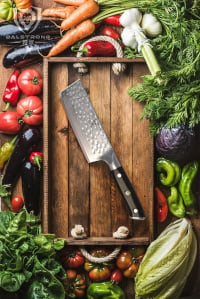 Want FREE Knives?
We give these knives a quick twirl and review, and then we pass them on to a few lucky home chefs!
By subscribing, you agree to get emails from me, Ryan Leavitt. I'll respect your privacy and you can unsubscribe any time.
With Wusthof, You're Sure to be Getting the Real Deal
Because they have stayed in the same spot for the last 200 years, buyers can be sure that all 1.7 million knives that they create every year have been made in their Solingen factory.
They do not farm out their production to any other company or country.
Today, the company makes 10 different series including the award-winning Classic, the highly acclaimed Ikon, and the budget-friendly Gourmet.
They have discontinued eight other variants including the Grand Prix, Culinar, Emerilware. But you might still be lucky and find a piece or maybe even a set sold on eBay or Amazon.
Wusthofs Are Pricey Too
Their top-rated Classic line is very expensive for several reasons: it is made of good materials and is also fully-forged. A single, 8-inch chef's knife costs over $150.
Their Gourmet line is more budget-friendly because these are stamped. The Gourmet 5-inch Santoku costs a little over $50.
It's almost impossible to come across a $20 Wusthof.
If you do, you might be lucky to have chanced upon a sale. But be wary too, it could be a fake.
Which is the Better Option?
Even blade connoisseurs are careful claiming that one brand is better than the other because this judgment should be left for individual users.
Some may like the heaviness of forged steel, others may prefer the lightness of a stamped one, and so on.
What you really need to be sure of is getting an authentic product.
Whether you're getting the German one or the French one, don't scrimp too much.
Just spend the right amount on quality. You can have a knife that will last you a lifetime.
Ryan Leavitt
Hi my name is Ryan Leavitt a Marine Corps Veteran and currently an over the road trucker (Long Haul). I am no expert chef but am enjoying preparing my own meals on the road and testing all the different knives.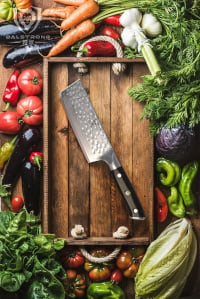 Want FREE Knives?
We give these knives a quick twirl and review, and then we pass them on to a few lucky home chefs!
By subscribing, you agree to get emails from me, Ryan Leavitt. I'll respect your privacy and you can unsubscribe any time.