Japanese-style kitchen knives are the preference of a lot of different chefs and home cooks around the world.
And when shopping for Japanese knives, two brands to look out for are Yoshihiro and Shun.
They are both Japanese brands and they both deliver products with great consistency.
But which is the better option?
Shun knives are highly recommended for professionals.
All their collections contain premium knives made with incredible precision and craftsmanship.
But if you need more flexibility when it comes to choices, Yoshihiro is the brand for you with their extensive list of collections.
And in this article, we're putting the two brands up head to head so you can see which one suits your needs better.
| | | |
| --- | --- | --- |
| | Yoshihiro | Shun |
| Price | $$$ | $$$ |
| Design | Japanese-style | Japanese-style |
| Bevel | Single and double beveled | Single and double beveled |
| Construction | Forged | Forged |
| Are they handmade? | Yes | Yes |
A Brief Overview Of Yoshihiro
This company traces its history back over a hundred years, but it only began selling its knives to the worldwide market in 2008.
They are known as one of the go-to brands for Japanese kitchen knives for professional chefs and home cooks alike.
They have the ability to offer their knives to a wide variety of customers because of their immense collection of knives.
Yoshihiro has knives that are affordable but can be real workhorses in the kitchen, and they also have premium collections that are designed to go in the knife rolls of the best chefs all around the world.
The company's base of operations is in Beverly Hill, California, though they make sure that their products are expertly crafted in Japan to keep the tradition alive.
There are over 20 different steels that they use for their products, which allows customers to really find something that suits all their needs perfectly.
A Brief Overview Of Shun
The Shun brand only became known worldwide in 2002, when the brand was launched for the international market.
However, the company that owns Shun, the KAI Group has been around since 1908 and has been making high-quality Japanese kitchen cutlery since then.
Currently, the brand has seven different collections that you can choose from, with their most popular line being the Shun Premier, which boasts a beautiful finish and is one of the sharpest blades you can have in the kitchen.
While the brand does have a collection that is more budget-friendly, the majority of its products have a pretty steep price tag.
That's why this is a brand recommended for professionals and those who take the culinary arts very seriously.
Related: Top-rated Shun knives for your money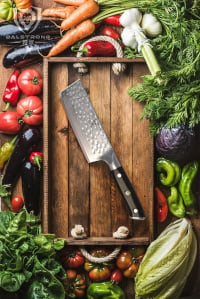 Want FREE Knives?
We give these knives a quick twirl and review, and then we pass them on to a few lucky home chefs!
By subscribing, you agree to get emails from me, Ryan Leavitt. I'll respect your privacy and you can unsubscribe any time.
Yoshihiro Vs Shun – A Head To Head Comparison
Performance & Durability
When it comes to performance, either one of these brands can treat you really well.
Yoshihiro makes sure to use the latest techniques and ideas in the world of knives to make sure their products are up-to-date and perform to the highest standard.
You can easily use a Yoshihiro product in a hot kitchen and not have to worry about damage or discoloration.
The same goes for Shun.
This is a brand for professional chefs and people who take cooking seriously, so you can expect top-quality performance.
Shun blades feel very comfortable in the hand because of their close attention to detail with every aspect of the knife from the tip of the blade down to the butt of the handle.
One of the most well-known features of a Japanese chef knife is that it is built to last.
And that couldn't be more true with both of these brands.
Both of these companies make sure to use high carbon steel in all their knives, from their cheapest model to their most expensive model.
This consistency is a huge reason that these brands are so respected in the world of kitchen cutlery and anyone looking for a long-lasting knife should put these two brands under consideration.
Construction
Since Yoshihiro has so many different collections, the construction of each one varies.
However, what does stay consistent is the use of high-carbon stainless steel in their knives.
As mentioned earlier, the company uses up to 20 different types of steel in their blades, but they make sure that all of these are ideal for making knives.
A lot of their knives are also forged, which basically means that it is made from a single piece of stainless steel that is expertly worked on by craftspeople to produce a high-quality product.
Shun prides itself on the fact that all its blades are forged by experts who have been trained in the craft of Japanese knife making.
After the blades are forged, they are then attached to the handle which will either be made of PakkaWood, Tagayasan, or Textured Pp/TPE.
The materials used in the handle, along with the way it is shaped are the reason that Shun knives feel so comfortable in the hand.
A good thing about both of these brands is that all their knives are full-tang.
That means that the blade runs throughout the handle, giving the knives much more balance.
Notable Collections
Yoshihiro Hongasami
This is one of the brand's best.
It features knives forged from high-carbon Blue Steel #2 with HRC63-64.
This is one of the most premium blade materials out there and will make for a knife that will literally slice through just about anything with ease.
These knives have a Rosewood handle with the classic Japanese octagonal shape, which may take some getting used to if you've never used Japanese chef knives, but will feel great once you get the hang of it.
This is a rather expensive collection to shop from, but it's an investment that you won't regret, especially if you're a professional who works in a busy kitchen.
Shun Premier
With this brand, it doesn't get much better than the Premier collection.
It features a beautiful finish that fuses a Damascus swirl and a hammered pattern.
Aside from being eye-catching, it also prevents food from sticking to the blade when slicing.
These knives are made with 67 layers of stainless steel that results in an incredibly sharp and durable blade.
All the knives have a PakkaWood handle that has a rustic and elegant finish.
This is another one of Shun's most premium knives, and it would be a great investment for any chef, especially if you want to make the shift to Japanese-style kitchen cutlery.
Pros & Cons Of Yoshihiro
Pros:
Wide variety of products
Expertly crafted knives
All knives are full-tang
Razor-sharp
Most of their products come with a sheath
Cons:
The price of their best knives can be really expensive
Pros & Cons Of Shun
Pros:
All knives are forged and full-tang
Well-made handles
Razor-sharp right of the box
Ideal for professional chefs
Innovative designs
Cons:
Shun knives are expensive
Our Verdict – Which Brand Should You Choose?
These are very similar brands.
They both craft their knives in Japan, have great quality control, and will make for very premium tools in the kitchen.
However, Shun knives tend to be more suited for professionals since their knives tend to be pretty expensive.
But since Yoshihiro has such a wide catalog, you can find affordable options as well as very expensive ones.
So if you're looking to save up on money but still get a quality Japanese-style knife for your kitchen, we recommend Yoshihiro.
This brand is also ideal if you work with a lot of fish in the kitchen since their sushi and sashimi knives are largely considered to be some of the best in the world.
But regardless of the brand you choose, as long as you're comfortable with your choice at the end of the day, then you have nothing to worry about!
Ryan Leavitt
Hi my name is Ryan Leavitt a Marine Corps Veteran and currently an over the road trucker (Long Haul). I am no expert chef but am enjoying preparing my own meals on the road and testing all the different knives.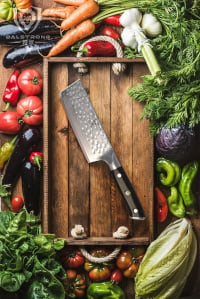 Want FREE Knives?
We give these knives a quick twirl and review, and then we pass them on to a few lucky home chefs!
By subscribing, you agree to get emails from me, Ryan Leavitt. I'll respect your privacy and you can unsubscribe any time.