If you've decided to get a Zwilling, you should know that you've made a good choice.
The next step is to pick out the specific series, which is an undertaking since there are over a dozen listed on their website.
We'll help you out with that, starting with the Five Star and the Four Star.
Zwilling's Five Star and Four Star are practically the same series, it's hard to tell each other apart when they're placed side by side. The former has been discontinued and (rumor has it) rebranded into the Twin line.
Five Star

(Discontinued)

Four Star

Place of Origin

Solingen, Germany
Solingen, Germany
Steel Used
X50CRMOV15
X50CRMOV15
Construction Method
Forged
Forged
Blade Profile and Edge
Smooth and polished

Sharpened to 15 degrees per side

Smooth and polished

Sharpened to 15 degrees per side

Bolster
Full
Full, slightly thicker
Tang
Sheathed, length undisclosed
Sheathed, ¾ length
Handle
Black polypropylene
Black polypropylene
Price
A bit pricier

(cut rates after discontinuation)

Mid-priced
Construction Method
The two series in question undergo the same construction process: Zwilling's proprietary Sigmaforge and Friodur.
The traditional method of forging involves heating a piece of metal then hammering it as thinly as possible and into shape. Zwilling believes that this is still the best way to go but automating that process renders consistent products.
Sigmaforge includes heating a piece of metal to 1000 degrees Celsius in a furnace to give it its initial features: the blade, bolster, and tang.
Friodur is an important part of the process that cools that piece of steel down to -70 degrees Celsius.
To refine it further, the piece is again heated to 250 degrees Celsius and then cooled down once more.
The combination of Sigmaforge and Friodur gives the unfinished piece sharpness, astounding edge retention, flexibility, and corrosion resistance.
Steel Used in Construction
Zwilling JA Henckels makes use of two types of steel for their knives.
MC6 / ZDP189 is for their Japanese brand Miyabi. The rest are made with stain-resistant and high-carbon steel X50CRMOV15, also used by many other top cutlery companies.
X50CRMOV15 is a steel alloy that has 0.5% Carbon and 15% Chromium. It also includes two other elements – Molybdenum and Vanadium.
This clever mix of metals is what makes the blades hard, sharp, resistant to stain and corrosion, and have long edge retention.
Both the Five and Four-stars are made with this stainless steel with an HRC of 55-58.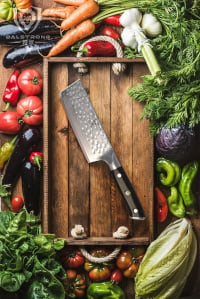 Want FREE Knives?
We give these knives a quick twirl and review, and then we pass them on to a few lucky home chefs!
By subscribing, you agree to get emails from me, Ryan Leavitt. I'll respect your privacy and you can unsubscribe any time.
Edge Angles and Finishing
The blades of the Five and Four-star series are given edge angles of 15 degrees on each side.
Most of the 40-step-process the knife undergoes are mechanized.
A machine does the forging, cooling, grinding, and even the riveting of the handle.
However, it's one of Zwilling's talented workers who will manually polish the blades and hone them to its wonderful edge angles. They are only helped by a laser meter in case there is deviance from the actual sharpness.
Bolster Style
These two variants are both given full bolsters.
Although the difference is very minute and almost unnoticeable, the larger knives of the Four-star series do have thicker bolsters.
Tang Length and Composition
Both aren't given full tangs.
The Four-star only has three-quarters the length of the handle.
There actual tang length of the Five-star is not disclosed but it is not full either.
Both are concealed, completely sheathed in the handle.
Handle Material and Form
Their rounder handles are also made of the same black polypropylene material, given a matte finish, and seamlessly attached to the bolster.
This plastic is preferred by some manufacturers because it is lightweight and can be textured to prevent slipping.
The handle's form is one feature where the two variants recognizably differ.
The Five-star variant has a full curving top (aligned with the spine) and a slightly concaved belly which ends in a flat butt.
On the other hand, the Four-star has a straighter top, a pronounced concaved bottom, and a comma-like end when the pinky finger can loop around comfortably.
Blade Shape and Form
This feature is another disparity between the series in question.
But it isn't that obvious until you place a specific kind of knife from each variant side by side.
Let's take the 8-inch Chef's knife from each series as an example.
The one from the Four-star series has a wider profile, measuring 0.94 inches at its widest.
The other from Five-star has a narrower profile, measuring 0.87 inches at its widest so it has a pointier-looking tip.
The same is true with paring knives, utility blades, serrated slicers, and so many more.
Overall Weight and Balance
Not a lot of people weigh their knives but this is another feature where the two variants are quite different. Listed below is the weight of particular knives per the Zwilling series:
• 8-Inch Chef's Knife
The Five-star: 0.44 lbs
The Four-star: 0.47 lbs
• 7-Inch Hollow-Ground Santoku
The Five-star: 0.36 lbs
The Four-star: 0.44 lbs
• 6-Inch Meat Cleaver
The Five-star: 0.66 lbs
The Four-star: 0.88 lbs
As you can see, there is a very small disparity in the weight of the same item.
But this is a feature that is relative to the user. Some like it heavy while others want it lightweight.
The must-have feature is balance.
You can check this by lifting a piece with a finger or two in the bolster.
If it is level, you've got a well-balanced piece. If it tilts to the handle or the blade, that side is heavier than the other; ergo not balanced.
Pricing and Warranty Offers
This is another feature where the two series are completely different.
Even though both are made from practically the same materials and in the same method, Zwilling's Five-star is offered at a higher price than the Four-star. There is almost a $50 difference for specific kinds of knives.
And this is possibly the reason why the latter is a favorite among buyers compared to the former.
Zwilling JA Henckels offers a lifetime warranty for defects in material and/or workmanship, as long as it was bought from an authorized seller.
To know more about this, check out their website.
Which is Better?
It is hard to say which of the two is the superior option. Except for a few things, everything is practically the same.
It depends on which feels good in your hand. And it would seem that this would be focused more on the grip you have on the handle.
To be sure about this, you would have to visit a physical store and hold the pieces in your hand.
Discontinued and Rebranded
Although you would still find brand new pieces sold through Amazon and even on the Zwilling website, Five Star knives are discontinued after the company has overhauled several of their lines.
Some have commented that the knife lines with TWIN are those which have been revamped but there is no news as to which specific old model has the new moniker.
Pro-Tip: It's a Good Time to Buy Now!
And since that is the case, you might want to visit various shopping sites already.
Many of their products still labeled as Five Star are now sold at a cut-price.
There was no news of problems with the manufacture of this particular variant so you need not worry about defects. Also, you're getting a Zwilling…
Whichever You Go For, Getting a Zwilling is a Great Decision
Zwilling JA Henckels is one of the most popular cutlery brands in the industry not just because of their long history in the business but also because of the exacting standards which they have put up for themselves and, unsurprisingly, have always met.
When it comes to quality, there are just a few other bladesmiths in the world that can overshadow the German geniuses of Solingen.
To be honest, most people only look at the price tags of the two series and go from there.
The Four Star is a well-designed and made series.
But that is not just the reason why many go for this: it's also the cheaper option, especially if there aren't any sales.
The Five Star is currently out of commission but, as mentioned earlier, you can still find a few pieces offered online.
If you don't mind paying a little bit of extra, go for this. And if you're lucky, you just might get one for half the price at most.
Ryan Leavitt
Hi my name is Ryan Leavitt a Marine Corps Veteran and currently an over the road trucker (Long Haul). I am no expert chef but am enjoying preparing my own meals on the road and testing all the different knives.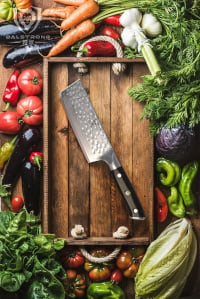 Want FREE Knives?
We give these knives a quick twirl and review, and then we pass them on to a few lucky home chefs!
By subscribing, you agree to get emails from me, Ryan Leavitt. I'll respect your privacy and you can unsubscribe any time.