Zwilling JA Henckels is, without a doubt, one of the best cutlery brands in the whole world that, if you choose to own one, you did yourself a huge favor in the kitchen.
For now, let's zoom in on Gourmet and Professional S.
The main difference between Gourmet and Pro S is that the former is laser stamped and the latter is forged. The construction gives the two its distinct characteristics from blade profile to the total weight and balance of the pieces. This also causes the price to diverge because Gourmet is nearly $100 cheaper than the Pro S.
Gourmet
Professional S

Place of Origin

Solingen, Germany
Solingen, Germany
Steel Used
X50CRMOV15
X50CRMOV15
Construction Method
Laser stamped
Forged
Blade Profile and Edge
The belly is more upturned

Thinner at the spine

Flatter belly, lower tip

Thicker at the spine

Bolster
None
Full
Tang
Full and exposed

Full and exposed

Handle
Black POM

Thin and contoured

Matte black ABS

Thicker and contoured

Price
Low-cost

Around $50

A bit pricey

Over $100
Steel Formulation
There are only two types of steel that Zwilling JA Henckels uses:
• MC6 / ZDP189 is for their Japanese brand Miyabi.
• X50CRMOV15 is for the rest of their series.
X50CRMOV15, used by so many other top brands like Wusthof and Victorinox, is a stainless steel alloy that makes for hard, sharp, stain-resistant, and durable knives. This contains containing 0.5% Carbon and 15% Chromium.
Molybdenum and Vanadium are the two other metal ores found in this mix.
Both the Gourmet and Pro S are made with X50CRMOV15 with an HRC of 55-58.
Construction Method
Professional S, a forged piece, undergoes the proprietary Sigmaforge and Friodur.
Gourmet is laser-stamped but also undergoes Friodur.
Sigmaforge involves scorching a rectangular metal slab to 1000 degrees Celsius and then letting it go through a machine, giving it its initial shape: the blade, bolster, and tang.
Laser stamping is merely letting a thin sheet of metal pass through a cookie-cutter of sorts, immediately yielding the individual knife pieces.
Friodur is the process that cools the heated steel down to -70 degrees Celsius.
This is what affords the shaped steel its incredible sharpness and resilience.
All are reheated to 250 degrees Celsius for further refinement and then cooled down for the finishing touches.
Grinding it to its sharp edge, polishing the metal parts, and buffing the thermoplastic handles are all done manually, but machine-assisted for consistency.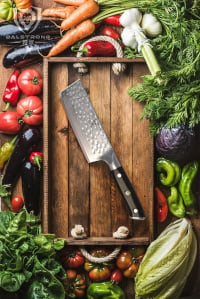 Want FREE Knives?
We give these knives a quick twirl and review, and then we pass them on to a few lucky home chefs!
By subscribing, you agree to get emails from me, Ryan Leavitt. I'll respect your privacy and you can unsubscribe any time.
Blade Shape and Form
To make a complete comparison of the two collections, let's use their 8-inch Chef's knives as an example.
• Both the spines are straight three-quarters of the way until it gently bends down to the tip.
• Gourmet's belly is more pronounced from the heel compared to Pro S' which is a bit parallel to the spine halfway from the heel.
• The blades' length is the same but the width differs as the former is about 0.5cm shorter than the latter.
• The spine of the former is also thinner by a centimeter as this is stamped compared to the other which is forged.
Edge Angles and Finishing
All Zwillings are sharpened to a 15-degree angle so expect this from the two series.
If you do get a Santoku or any other Japanese-style blade from either variant, except that the edges are sharper with a 10-degree angle on each side.
As aforementioned, the blades are honed and polished by hand.
Bolster Style
This is the feature that separates the two at first sight: Pro S has a full bolster while Gourmet does not have a bolster.
A Professional S knife has a thick, almost round bolster from the spine that tapers to a straight, thin column at the heel.
This acts as a finger guard, preventing accidental nicks while slicing and dicing.
The Gourmet piece does not have that but the heel is given a curved obtuse angle so that the tip of the heel is far from the gripped fingers.
Tang Length and Composition
All Zwillings have full tangs which are also made of the same material as the blade. Full-tanged knives are must-haves as this equals durability.
The tangs of these two series are exposed, which means that you can see the length of it from the top and the bottom of the handle.
Handle Material and Form
Both have the same Western-style ergonomic shape: flat on the sides, straight at the top, slightly curved at the bottom, and with a rounded-off, comma-shaped butt.
The Gourmet handle is made from a black matte POM while Pro S is from a black matte ABS.
But both are bonded to the tang and, for additional durability, triple-riveted.
The latter has a cool logo etching on the center rivet, something that the former doesn't have.
Overall Weight and Balance
Stamped knives are always lighter than forged ones so the Gourmet 8-inch Chef's knife is just 0.41 pounds compared to Pro S' 0.57 pounds.
Many have commented that forged blades are more balanced, thanks to the bolster.
It would seem that the Professional S wins in this particular feature.
Pricing and Warranty
Stamped pieces are always less expensive than forged ones.
There is at least a $100 difference between the two series' 8-inch Chef's knife options, particularly if the Pro S is on sale.
It's always a great idea to go straight to the brand's website when buying a piece or a set but don't immediately ignore other shopping sites since they may offer better deals.
Zwilling has a very generous warranty offer as long as you bought their product straight from them or a licensed retailer. To know more about this, check out their website.
The Better Option
These two Zwillings look almost alike but are completely different because of the construction method the two went through.
The truth is, it's hard to conclude which is the better option for you.
If you like lightweight pieces that won't tire you out immediately, go for Gourmet.
If you prefer the heft and good balance in a knife, choose Professional S.
If you're on a budget, go for the former.
If you can shell out a bit more for a high-quality forged piece, go for the latter.
Whether You Get a Gourmet or a Pro S, You're Getting a Zwilling
And that is a wonderful decision.
Zwilling JA Henckels is one of the most beloved brands in the cutlery industry not just because of their long history in the business but also because of their exacting standards.
Even better, they have always met or even surpassed those standards.
What more can you ask for?
Ryan Leavitt
Hi my name is Ryan Leavitt a Marine Corps Veteran and currently an over the road trucker (Long Haul). I am no expert chef but am enjoying preparing my own meals on the road and testing all the different knives.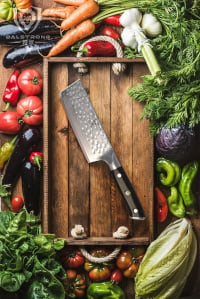 Want FREE Knives?
We give these knives a quick twirl and review, and then we pass them on to a few lucky home chefs!
By subscribing, you agree to get emails from me, Ryan Leavitt. I'll respect your privacy and you can unsubscribe any time.