Germany has always been at the forefront of engineering innovations so their brands are always the first option for various needs – even those in the kitchen.
When it comes to the latter, two names always ring a bell: Zwilling JA Henckels and WMF.
Zwilling JA Henckels is a brand known for its high-quality knives. WMF, on the other hand, is more popular for its pots and pans. But the latter has also jumped into the cutlery business to add to their wide array of offerings. It is hard to compete with one of the giants in the business so they have marketed their pieces to home cooks looking for good quality matched with low prices.
Wusthof
WMF
Headquarters
Solingen, Germany
Geislingen an der Steige, Germany
Steel Used
X50CrMoV15
No designation
Knife Construction
Mostly forged, a few stamped
Forged and stamped
Premier Series
Classic
Grand Class
Best Asset
Industry reputation

Incredibly long history

High-quality pieces

Pricing
Price Point
A bit pricey
Quite affordable
All About Zwilling J.A. Henckels
In the whole of the European continent, one town has been relied on when it comes to forging blades since the 1100s: Solingen. This is why it's called the City of Blades.
There are numerous cutlery companies in this town alone but Zwilling is arguably the most well-known. Here is a century-by-century account of their history:
• 1731
Peter Henckels establishes the company, using Zwilling as its trademark.
• 1818
JA Henckels, Peter's son, opens a sales outlet in Berlin.
They continued to win awards for their innovative knife designs in Paris, Chicago, and other chief cities all over the world, furthering their global popularity.
• 1900's
The company continued to expand and, more importantly, enhance its technology.
Friodur, their ice-hardening technology, was invented and patented in the late 1930s.
• 2000's
They partnered with several companies in other industries like Staub, Demeyere, and Ballarini.
Their Knives
Zwilling started with this in the 18th century and has had almost 300 years of developing the best.
The company currently has seventeen different series which include Pro, Four Star, and Gourmet; and all these are made from one special steel formula: X50CRMOV15.
X50CRMOV15 is a stainless steel alloy that makes for hard, sharp, stain-resistant, and durable knives. This contains Carbon, Chromium, Molybdenum, and Vanadium.
Aside from their steel blend, they have a special process that is unique from others: Sigmaforge and Friodur.
These two are the 21st-century translation of heating a piece of metal, hammering it to shape, and cooling it down before grinding and polishing it into a sharp and shiny cutting tool.
FYI: They have also partnered with a high-end Japanese brand, Miyabi.
This branch of the company makes high-quality, traditional Japanese knives.
Their Cookware
Zwilling has seven different collections in its cookware section. Carrara Plus, Spirit 3-Ply, and Clad CFX are just some of these.
All those utilize the Ceraforce technology – essentially a non-stick ceramic coating that highlights great features like quick-release, nice browning, and fast clean-up.
As aforementioned, they have partnered with well-known brands like the Italian Ballarini (non-stick cookware), French Staub (cast iron), and Belgian Demeyere (stainless steel).
Other Kitchen Essentials
They also have flatware (spoons and forks), electrical appliances (blenders, kettles, toasters), glasswares (cups, wine glasses), and items for storage.
While all these items are guaranteed to have excellent quality, most people visit the Zwilling website to check out their knives. There is no doubt what their bestseller is.
All About WMF
In 1853, mill owner Daniel Straub established a metalworks repair company in Geislingen an der Steige with brothers Louis and Friedrich Schweizer. They named it Metallwarenfabrik Straub and Schweizer.
It didn't take long for them to be recognized. A decade later, they were awarded a medal for their silver-plated tabletop creations in London.
With that special distinction came new possibilities as in 1880, they merged with Ritter and Co., forming what is now known as WMF (Wurttembergische Metallwarenfabrik).
Under the sculptor/designer Albert Mayer who was hired as the company director from 1884 to 1914, the company has produced not just functional wares but also beautiful ones.
Since then, they have had a simple philosophy: make the everyday food experience a pleasure, from preparing and cooking to dining and drinking.
Their Knives
WMF only has ten different series which includes Damasteel, Spitzenklasse, and Yari.
Many of these are stamped although they do have forged pieces, some of which are even Damascus-clad. They also have a ceramic line which is quite popular compared to their steel knives.
However, their blades haven't been acclaimed as much as other German brands like Zwilling or Wusthof. And they're not even listed in the top 20 best knives in the whole world.
Their Cookware
To be honest, WMF is more known for this. After all, they started as a metalworks company that focused more on cookware and tableware rather than knives.
Their cookware line is categorized per material used:
• Non-stick (Permadur element)
• Uncoated (Transtherm – great for induction cooking)
• Cromargan (unique WMF stainless steel)
• Silargan (ceramic compound)
• Cast Aluminum
They also have more options when it comes to the individual pieces per set. For instance, WMF has steamers, roasting pans, and pressure cookers.
A lot of their products are suitable for the oven and over induction cookers – something that most modern homes require.
Other Kitchen Essentials
Compared to Zwilling, WMF has a wider array of manual gadgets and electrical appliances for prep and cooking:
• Tongs and other cooking spoons
• Corkscrews
• Potato mashers, garlic presses
• Electric mills, salt, and pepper shakers
• Baking utensils and other needs
• Storage bins
As aforementioned, part of their philosophy is to make dining and drinking pleasure.
This is why their specific line of tabletop needs has been highly acclaimed by chefs, restauranteurs, and gourmands.
• Plates
• Serving bowls and platters
• Flatware
• Children's cutlery set
• Cups
• Wineglasses
• Carafes and thermos
• Tea strainers
• Table accessories like table napkin rings and candlestick stands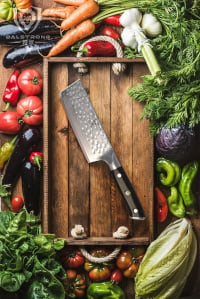 Want FREE Knives?
We give these knives a quick twirl and review, and then we pass them on to a few lucky home chefs!
By subscribing, you agree to get emails from me, Ryan Leavitt. I'll respect your privacy and you can unsubscribe any time.
Pricing and Warranty Offers
The pricing of the products greatly depends on what their specialty is.
For example, one of Zwilling's most highly-regarded knives is the Four-Star 8-inch Chef's knife is $20 to $50 more expensive than the same piece from WMF's Grand Gourmet.
On the other hand, WMF's Permadur Element frying pan is $40 pricier than the same Zwilling Spirit pan.
Which Should You Choose?
Here's the unvarnished popular opinion among pros and connoisseurs:
Zwilling JA Henckels is the go-to brand for knives. They're better at manufacturing these.
WMF, on the other hand, is more dependable with its pots and pans.
But whether you're looking for a whole set of knives or just a couple of pieces of frying pans, the most important thing that you should do is check it out in a physical shop.
You don't just look at these items (although a lot of their products are so well-designed, they look good exhibited on your wall) – these require handling. That's why you must hold them in your hand, maybe try these out, before purchasing.
There's no question about their quality. But if you want to know which suits you, give them a try first.
Ryan Leavitt
Hi my name is Ryan Leavitt a Marine Corps Veteran and currently an over the road trucker (Long Haul). I am no expert chef but am enjoying preparing my own meals on the road and testing all the different knives.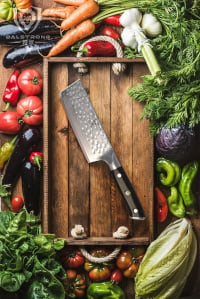 Want FREE Knives?
We give these knives a quick twirl and review, and then we pass them on to a few lucky home chefs!
By subscribing, you agree to get emails from me, Ryan Leavitt. I'll respect your privacy and you can unsubscribe any time.